LINN SONDEK LP12 HIGHLAND PARK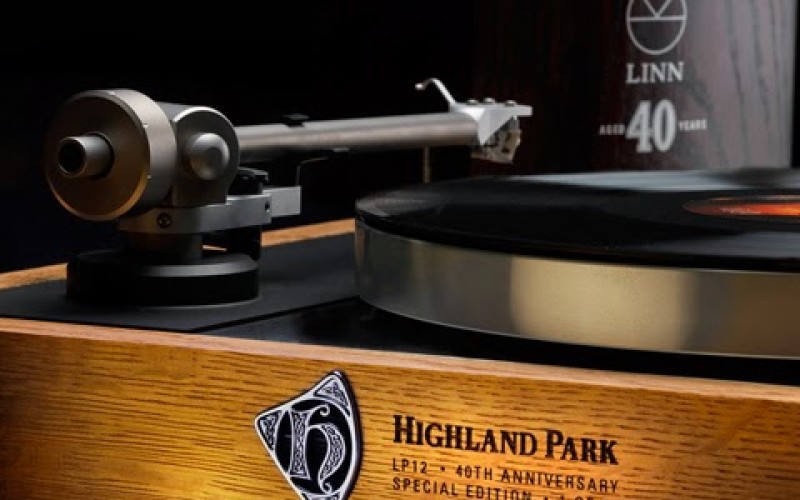 Specjalna jubileuszowa edycja słynnego gramofonu. W urodzinowym pakiecie za 28,5 tys. euro butelka 40-letniego single malta z destylarni Highland Park
Jubileuszowa seria składać się będzie zaledwie z 40 egzemplarzy. Podstawa została wykonana z dębowego drewna stosowanego w beczkach do leżakowania whisky, ale to chyba najmniej istotny szczegół. Ważna jest konfiguracja tej wersji, a składa się na nią m.in.: wkładka Kandid, ramię Ekos SE i przedwzmacniacz Urika. Jednym zdaniem – Szkocja pokazuje światu to, co najlepsze.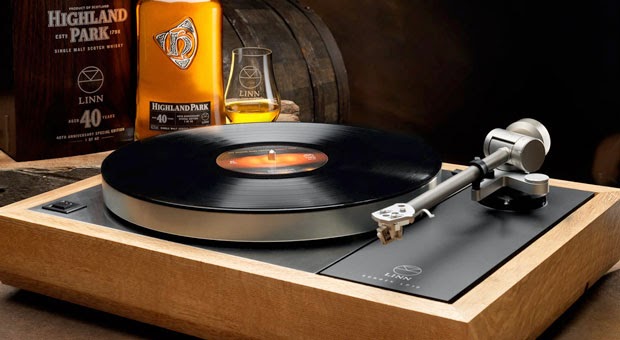 LIMITED EDITION 'WHISKY CASK' SONDEK TURNTABLE MARKS THE 40TH ANNIVERSARY OF A MODERN ICON
Linn and Highland Park collaborate to toast 40 years of exceptional music performance at home. It's 40 years since the birth of Linn and the Sondek LP12 turntable truly changed the world of hi-fi forever. To mark the anniversary, the makers of the best sound systems in the world have joined forces with Highland Park, the makers of the best spirit in the world to stimulate the senses of music and whisky lovers alike.

Both pioneers in their field and united by their Scottish roots, these globally renowned companies have combined their expertise, craftsmanship and passion for excellence to create a Limited Edition, Sondek LP12 Turntable.

This limited edition collaboration features Linn's highest performance turntable which has been encased in a beautiful wood plinth, crafted from the solid oak casks used to mature Highland Park's award winning whisky. The turntable has also been paired with a special bottling of Highland Park 40 year old, designed exclusively for Linn. The highly collectable offering brings together two powerful passions – music and whisky – allowing fans to appreciate the sounds of classic vinyl with the perfect dram in hand.

Linn is a British technology and manufacturing success story. The company is renowned for designing and making the best music systems in the world, producing everything in-house at their factory just outside Glasgow.

The iconic Sondek LP12 turntable is the product on which the company was founded and it remains the benchmark for turntables worldwide. Designed by founder Ivor Tiefenbrun, it was his passion for music and commitment to excellence that inspired him to create the turntable. Highland Park is crafted at one of the oldest single malt distilleries in Scotland, situated on the remote islands of Orkney. Highland Park Single Malt Scotch Whisky has long been regarded as one of the best whiskies in the world. It is the attention to detail and the commitment to time honoured distillation practices, long forgotten by the mainstream industry, which set this whisky apart and clearly puts it in a class of its own.

Angus Lawrie, Marketing Director for Linn, said: "We're delighted to be working with such an established and quality driven brand to mark this special occasion. Both Highland Park and Linn have a strong heritage in their respective fields. We share the same values in terms of passion, innovation and exacting standards to ensure we continue to make world-leading products".
Gerry Tosh, Global Marketing Manager for Highland Park, said "Working with Linn and helping to produce such a special version of their iconic Sondek LP12 Turntable is a great honour. Not only have we helped create a great looking piece of kit, the density of our hand selected, Spanish oak casks has also added to the already impressive sound quality. The joining together of Linn and Highland Park, makes perfect sense and has created a powerful sensory platform that will appeal to both the whisky lover and the music lover – this is sure to be a highly sought after offering that will be desired by both our fans from all over the world."
There are just forty Limited Edition Sondek LP12 Turntables available worldwide. These can be ordered through Linn's global network of specialist retailers, priced £25,000.