MARSHALL KILBURN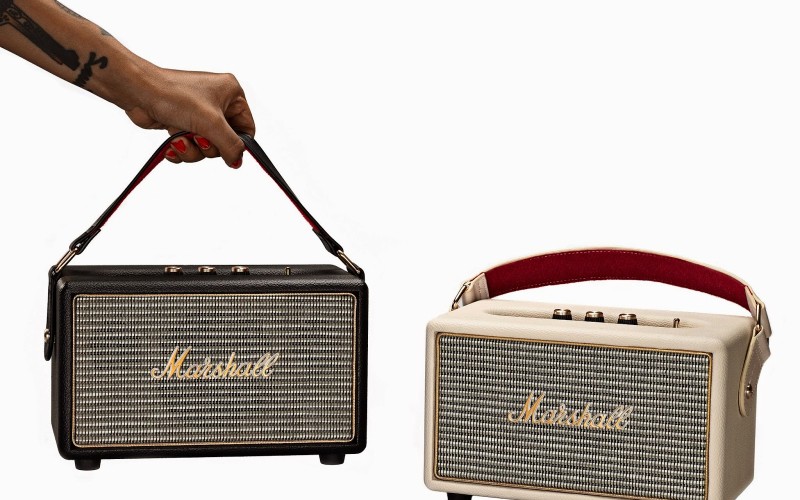 Przenośne kolumny z własnym zasilaniem. Wintydżowy gadżet, który efektownie wypełni każdy loft
MARSHALL HEADPHONES TOGETHER WITH MARSHALL AMPLIFICATION PROUDLY PRESENT THE RELEASE OF THEIR FIRST PORTABLE ACTIVE STEREO SPEAKER. LET US INTRODUCE: THE KILBURN. AVAILABLE IN BLACK AND CREAM, THE MARSHALL KILBURN WILL BE LAUNCHED AT LOCAL RETAILERS IN MORE THAN 100 COUNTRIES AND WORLDWIDE AT MARSHALLHEADPHONES.COM IN JUNE 2015 FOR $300 USD.
Embodying the raw, wayward spirit of rock n roll, the Kilburn portable active stereo speaker takes the unmistakable look and sound of Marshall, unplugs the chords, and takes the show on the road.
With 20 hours of portable capabilities, the Kilburn is an unrestrained speaker, free from the confines of wires and chords. The built-in battery life of up to 20 hours means the jams will be kicking for as long as you are. Available in black or cream, and weighing in at a taut 3KG, the Kilburn is a lightweight piece of vintage styled engineering.
Setting the bar as one of the loudest speakers in its class, the Kilburn is a compact stout-hearted hero with a well-balanced audio which boasts a clear midrange and extended highs for a sound that is both articulate and pronounced. The analogue knobs allow you to fine tune the controls to your personal preferences while the guitar-influenced leather strap enables easy and stylish travel.
The amplifier styled construction with classic Marshall logo means it will look as good as it sounds. Charge it up, plug it in, crank it up, and take pride in your new piece in a long line of Marshall's unwavering legacy of loud.
About Marshall Headphones:
Marshall is a true rock legend. That uniquely clear and expressive sound combined with a mythical stage presence has enraptured music fans around the world for five decades. We're celebrating the brand's rich heritage with commemorative products that live and breathe Marshall.
The legacy begins in a small drum shop in Hanwell in the 1960s, where Jim Marshall sought to give a bunch of then-local guitarists the sound they wanted – a sound that was harder, crunchier and richer. The result was the JTM45, an amp that reverberated with a sound that was much heavier than anything ever heard before. And in a twist of rock and roll fate – those guitarists, much like the Marshall name, would go on to revolutionize music forever.