MARSHALL MAJOR II BLUETOOTH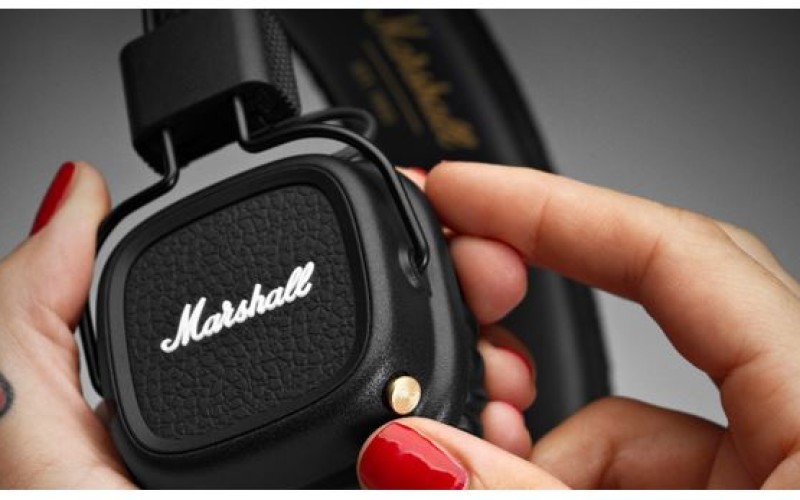 The Major II Bluetooth keeps the music going strong with over 30 hours of play time on a single charge, which is above the industry standard. Turn on, tune in and rock out to the custom 40mm dynamic drivers tuned for excellent bass response, smooth mids and sizzling highs.
Major II Bluetooth® connects to your device using Bluetooth aptX®. Not only can you blast your favorite tunes in CD-like audio quality, aptX also minimizes audio/video syncing issues, allowing you to watch movies without experiencing horrible lip sync. The double-ended coil cord with mic & remote is completely detachable and compatible with any music player that has a 3.5mm jack. When listening to music wirelessly, you can use the empty 3.5mm socket to share audio with someone else.
With the integrated analogue control knob you can play, pause, shuffle and adjust the volume. Phone functionality is also included so you can answer, reject or end a call with a few simple clicks. The built-in microphone allows you to have conversations or record voice memos through your device.
The Major II Bluetooth is the perfect travel companion. Its collapsible design make the headphones easy to store when they're not in use. Marshall Major II Bluetooth will be available in EMEA on February 26th, and later this spring in US for $150 at MashallHeadphones.com.
MAIN FEATURES
1. BLUETOOTH
BLUETOOTH APTX GIVES YOU THE FREEDOM AND CONVENIENCE OF A WIRELESS HEADPHONE COMBINED WITH OVER 50 YEARS OF TRIED AND TRUE MARSHALL PERFORMANCE.
2. PLAYTIME
THE MAJOR II BLEUTOOTH KEEPS THE MUSIC GOING STRONG WITH OVER 30 HOUR OF PLAYTIME ON SINGLE CHARGE. THIS IS ABOVE THE INDUSTRY STANDARD.
3. PHONE FUNCTIONALITY
WIRELESSLY ANSWER, REJECT OR END A CALL WITH THE CONTROL KNOB.
4. CONTROL KNOB
THE ANALOGUE CONTROL KNOB GIES YOU EASY ACCESS TO PHONE AND REMOTE FEATURES.