MARSHALL STOCKWELL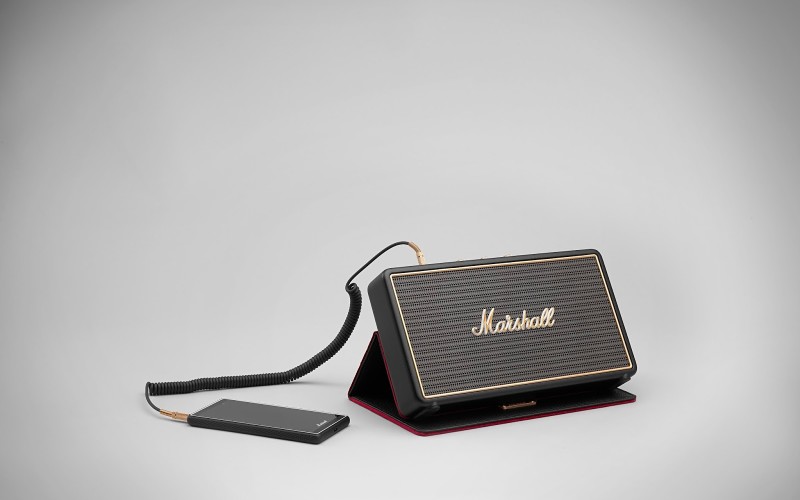 Przenośne głośniki. Chyba nie tak sobie wyobrażamy rozwój jednej z najbardziej rokendrolowych marek na świecie...
THE BIGGEST LITTLE TRAVEL SPEAKER IN ITS CLASS
BUILT FOR LIFE ON THE ROAD, THE STOCKWELL IS THE SMALLEST TRAVEL SPEAKER MADE BY MARSHALL TODAY. WEIGHING JUST 1.20 KG (2.65 POUNDS), IT'S DESIGNED TO GO JUST ABOUT ANYWHERE. STOCKWELL WILL BE AVAILABLE FOR PURCHASE AS A STAND-ALONE SPEAKER OR WITH A MULTI-FUNCTIONAL FLIP COVER. THE FLIP COVER WILL ALSO BE MADE AVAILABLE TO PURCHASE SEPARATELY ($40 USD). STOCKWELL WILL SHIP IN Q4 FOR $229 USD WITHOUT FLIP COVER OR $259 USD WITH FLIP COVER.
BIG THINGS COME IN LITTLE PACKAGES
The Stockwell packs a sonic punch. Featuring two 2.25" woofers and two-channel Class D amplifiers, it is the loudest speaker in its class. Volume, bass and treble can be adjusted quickly and easily with the retractable analogue control knobs located at the top of the speaker.
CONNECTIVITY AND PLAYING TIME
Using the Stockwell to receive and end phone calls is a breeze, just tap the phone button on the control panel to answer, or tap the on/off button to end a call. Stockwell is equipped with Bluetooth 4.0 technology and a 3.5mm to connect a multitude of listening devices. It also has a handy USB port that works as a charging station for devices using a compatible charger. Rechargeable lithium-ion batteries are built into the Stockwell, which give it 25 hours of playing time.