McINTOSH MB100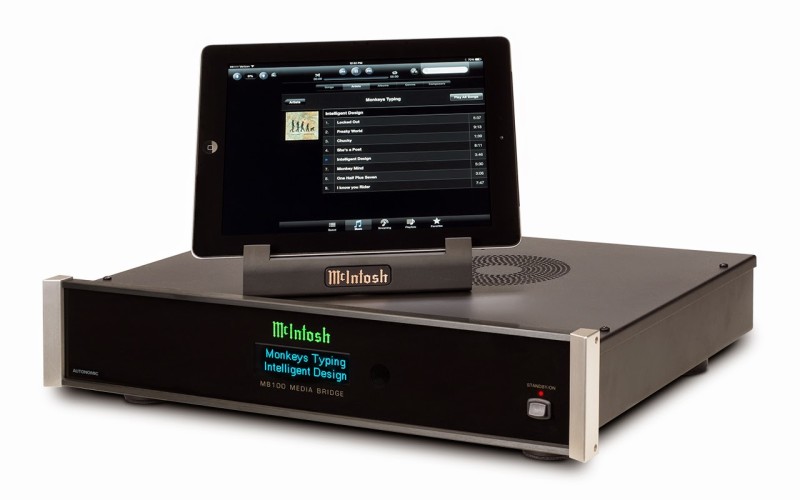 Centrum muzyczne z wewnętrznym dyskiem 1 TB oraz konwerterem 24/192 pozwalające m.in. na bezprzewodowe zarządzanie zasobami cyfrowymi oraz synchronizację z komputerami i chmurą. Stacja umożliwia m.in. dostęp do serwisów streamingowych, radia internetowego oraz podłączenie do każdego systemu computer audio poprzez wejścia USB. Cena - 6500 USD
With music now being created, stored and distributed in an assortment of ways, you need a simple yet sophisticated device to manage it all. The MB100 Media Bridge does just that by connecting you to all your favorite web based and hard drive stored digital music and allows it all – including uncompressed, lossless 24-bit/192kHz files – to be enjoyed in legendary McIntosh sound.
With all of its onboard storage and external connection capabilities, it can easily serve as the hub for all your digital media. A 1TB internal hard drive is included for content storage, while four USB ports and one eSata port allows you to connect additional external hard drives or flash drives full of content. The high speed network port connects you to your preferred online streaming services such as Pandora®, SiriusXM®, Spotify®, Rhapsody and TuneIn (subscriptions may be required), while additional streaming services may be added in the future. You can also add your favorite internet radio stations as presets. Two analog or two digital outputs connect the MB100 to the rest of your audio system, or connect it via USB to any of your other McIntosh products that accept USB audio. Creating two independent zones of audio is available when using the USB connection in combination with the analog or digital outputs.
The MB100 can automatically synchronize the content stored on your networked computers so it is readily accessible and playable. Guests can stream music from their personal iOS devices to the MB100 via AirPlay®. When connected to a video monitor, you can watch a slideshow of your favorite photos while playing the music of your choice.
All of your content can be backed up to the Amazon Cloud Drive or Apple iCloud. This also allows for your music to be synchronized across multiple homes or locations. The MB100 can even be configured so that your new music purchases from either cloud service can be automatically added to your library for easy enjoyment.
The MB100 utilizes the same highly regarded 8 channel, 32-bit, 192kHz DAC with wide dynamic range and extremely low distortion as our D100 digital preamp. The DAC is isolated from the motherboard, ensuring music at all levels is reproduced with extreme precision and elegance. The operating system and music player are housed on a state-of-the-art solid state hard drive for fast response times, quiet operation and durability. The MB100 is controlled via an iOS or Android app, a web browser, or a remote control with TV interface and is compatible with many popular home automation systems allowing for easy integration into your existing setup.