McINTOSH MB20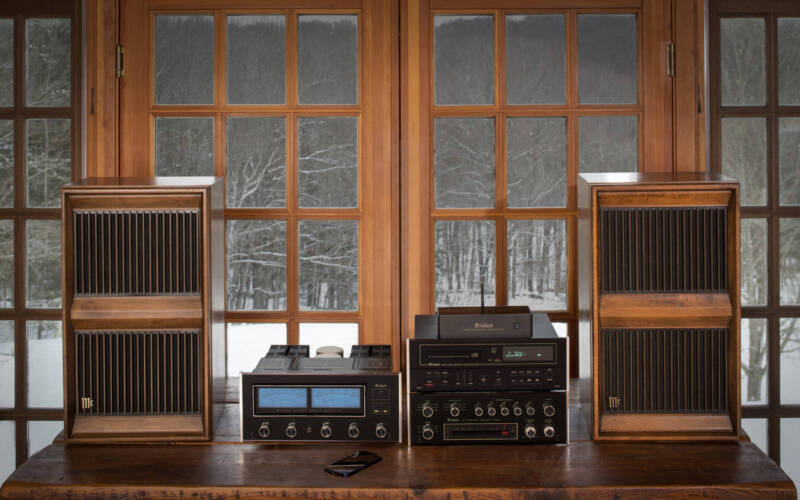 McIntosh Announces MB20 Bluetooth Transceiver
The MB20 Bluetooth Transceiver is an easy and simple solution to add McIntosh quality Bluetooth® streaming capabilities to virtually any McIntosh (or non-McIntosh) home audio system of any era. It can quickly turn a vintage McIntosh system that you've treasured for decades, or a family heirloom system that you've inherited, into a modern home music system capable of playing the digital music stored on your phone, in your cloud accounts, or from your preferred streaming services. It is a small (its footprint not much bigger than a smartphone), stand-alone, complete Bluetooth streaming solution.
As a transmitter/receiver, the MB20 has been designed to provide a superior Bluetooth connection to audio equipment that lacks Bluetooth connectivity. As such, it has been engineered as a Class 1 Bluetooth device. Class 1 devices can typically operate at a range of up to 150 feet (45.7 meters)1 in ideal conditions with limited obstructions. As a Receiver, the MB20 employs an extremely sensitive receiver for better reception, even from Class 2 devices, with the maximum range determined by the capabilities of both actively paired devices. An external antenna helps maximize its range for better performance. As a Transmitter, it has a range 10x greater than that of a typical Class 2 Bluetooth device.
The compact MB20 comes with a variety of analog and digital inputs and outputs to connect it to your home audio system – most notably amongst them being balanced inputs and outputs, making it one of the only Bluetooth transmitter receivers to offer these superior audio connections that help deliver top-quality audio performance. For connecting it to your system via analog cables, it includes one stereo set of both balanced and unbalanced inputs, along with a stereo set of balanced and unbalanced outputs. For digitally connecting it to your system, such as for use with an outboard Digital-to-Analog Convertor (DAC), it has one each of both coaxial and optical inputs and outputs.2
The MB20 uses Bluetooth 5.0 with support for both the high bitrate Advanced Audio Coding (AAC) standard as well as Qualcomm® aptX™ HD for hi res audio playback. It also features Qualcomm aptX Low Latency for improved audio transmission speed to deliver sound in sync with applicable visual media. When used as a Receiver, the MB20 uses a high-performance 32-bit DAC with 192kHz internal processing for optimum sound quality; when used in combination with a separate outboard DAC, the MB20's digital output is fixed at 96kHz to be compatible with most third-party DACs in order to maximize performance and maintain audio signal integrity. When in Transmitter mode, it uses an equally capable high-performance Analog-to-Digital Convertor (ADC) with 110dB Signal-to-Noise Ratio (SNR).
As a transceiver, the MB20 can function as either a Bluetooth Receiver or Transmitter (but not both at the same time). Simply set the switch on the back panel to the proper setting for the desired Receiver or Transmitter usage.
Usage examples:
In Receiver mode, you can stream to the MB20 via Bluetooth from any compatible device with Bluetooth streaming capabilities; this audio can then be played through your McIntosh system regardless of when your amplifier or preamplifier was made.
When in Transmitter mode, you can stream from the MB20 to any device capable of receiving Bluetooth streamed audio. In this setup, you could stream the music stored on physical media, such as CDs or vinyl records, to your wireless Bluetooth headphones or wireless Bluetooth speakers.
If you have more than one audio system in your home that are within range of each other1 then a third option is to add an MB20 to each system and set one to Transmitter mode and the other(s) to Receiver mode. Then you could stream music stored on a physical medium, such as from a CD player or turntable, from one system to the other system(s) in your home. Or if you have the need for a high-performance audio link from one part of your house to another but running cables is not possible, then two MB20s wirelessly connected in this manner could create a full wireless encode/decode bridge.
It comes in a black, custom aluminum chassis with a black glass top panel, letting it fit right in with any McIntosh system. The MB20 will also work with any non-McIntosh home audio system that has the proper inputs and outputs. It includes a wall mount charger with adapters for some of the most common outlets used around the world.3
The MB20 is a Bluetooth Class 1 device. Actual range of Bluetooth Class 1 technology may be affected by physical obstacles as well as the performance of devices with which the MB20 is intended to connect, particularly Class 2 devices.
The MB20 cannot be used as a stand-alone Digital-to-Analog Convertor (DAC).
Includes a wall mount charger with a Type A (120V 60Hz) plug for use in the United States; adapters for use with Type F (220 – 240V 50 – 60Hz or "Schuko") and Type I (220 – 240V 50Hz). As defined by the International Electrotechnical Commission.
Pricing and Availability
Orders for the MB20 can now be placed with Authorized McIntosh dealers with shipping expected to begin in May 2021 to the United States and Canada, and to the rest of the world shortly thereafter.
Suggested retail price (VAT, shipping and any customs duties related to current standards of individual countries are excluded): $500 USD.