McINTOSH MX122 A/V PROCESSOR FIRMWARE UPDATE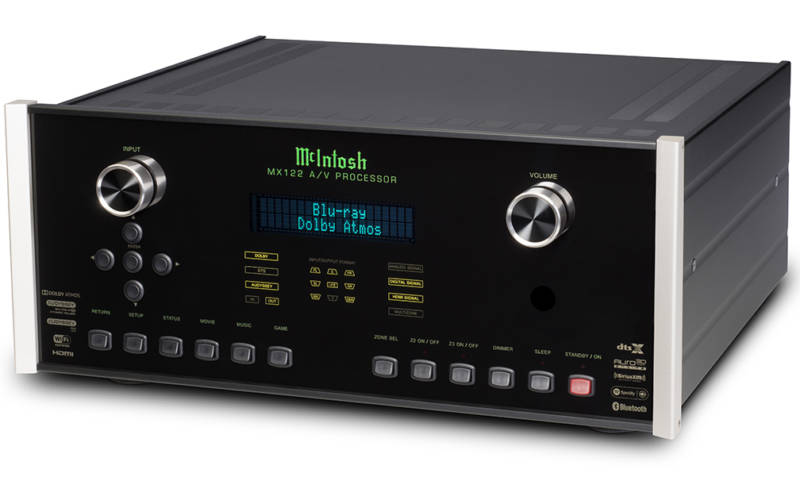 DTS:X™ and Auro-3D® now available on the MX122 with free update
McIntosh, the global leader in prestigious home entertainment and ultimate-quality audio for over 65 years, is happy to announce the release of a free firmware update that brings full support for both DTS:X and Auro-3D* object-based 3D audio to the MX122 A/V Processor. Since its release earlier this year, the MX122 has had full support for Dolby® Atmos and now with this update, the MX122 supports all the leading object-based 3D audio technologies. The free update also adds DTS Neural-X as well as other minor improvements.
The MX122 can serve as the brain center for an advanced home theater system for years to come. It is fully compatible with modern 4K Ultra HD video sources and can upscale lower resolutions to 4K Ultra HD for the best possible picture quality. It combines the best-in-class audio performance of the legendary McIntosh Reference System with the latest in home theater technology.
To perform the update, the MX122 must be connected to a router that has internet access. This can either be a wired Ethernet connection or a wireless connection using the MX122 Wi-Fi capabilities. To begin the update process, go to the following menu: Setup > General > Firmware > Update > Check for Update > Update > Update Start. The update process, electrical supply and internet connection should not be interrupted during the firmware installation.
*The Auro-3D portion of the update is not available in Japan and China.
About McIntosh
Founded in 1949, McIntosh Laboratory is known for offering distinguished quality audio products, superior customer service and the ultimate experience in music and film. All McIntosh products are handcrafted at the Binghamton, NY factory by over 150 employees with a passion for music and the McIntosh heritage. McIntosh continues to define the ultimate home entertainment experience for discriminating consumers around the world, with the iconic "McIntosh Blue" Watt Meters globally recognized as a symbol of quality audio. Since its inception, McIntosh has been powering some of the most important moments in music history and pop culture. From President Lyndon Johnson's inauguration speech to Woodstock to the infamous Grateful Dead "Wall of Sound," McIntosh has not only witnessed history, it has shaped it. With McIntosh, customers have the ability to create their own premium audio experience – and truly live their music. Visit www.mcintoshlabs.com to learn more.