McINTOSH MX160 x SDDP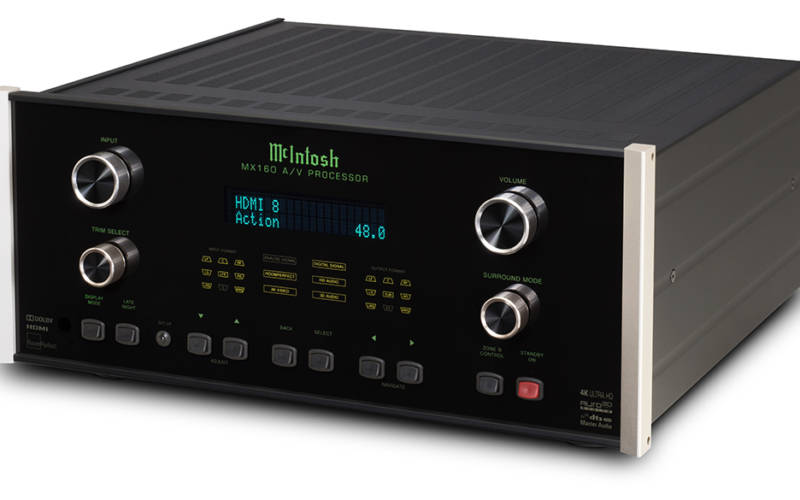 McIntosh MX160 A/V Processor Receives Control4® SDDP Certification
Binghamton, NY – July 12, 2017 – McIntosh, the global leader in prestigious home entertainment and ultimate-quality audio for over 65 years, is happy to announce the MX160 A/V Processor has received Control4's Simple Device Discovery Protocol (SDDP) Certification.
The MX160 A/V Processor is teeming with all the latest home theater technologies to give a luxury entertainment experience in the comfort of one's home. It is fully compatible with native 4K Ultra HD video sources and can upscale lower resolutions to 4K Ultra HD for the best possible picture quality. In addition, it supports leading object-based 3D audio technologies such as Dolby® Atmos and Auro-3D®. It also features advanced room correction technology in order to deliver the absolute best sound experience possible.
SDDP is software that is built into a manufacturer's product to make integration with a Control4 home automation system simple and seamless. By incorporating SDDP into the MX160 A/V Processor, installation complexity, configuration time and costs are reduced. It also helps alleviate potential incompatibility with other devices within home.
"We're excited to add Control4's SDDP Certification to the MX160 A/V Processor," said McIntosh President & CEO Charlie Randall. "Our MX122 A/V Processor received certification earlier this year and our dealers and end customers have benefited from it. We are eager for our MX160 customers to realize those same benefits."
Founded in 2003, Control4 is a leading global provider of smart home automation solutions offering personalized control of virtually any device in a home or business. Control4 certified custom integrators work with home and business owners to deliver smart solutions that provide convenience, peace of mind and customized control over lighting, music, video, security and energy in a single room or throughout an entire home.
"We welcomed McIntosh as a SDDP certified partner in March when they received certification for their MX122 A/V Processor, and we're pleased to continue our support of their renowned audio products, backed with the dealer and customer benefits that Control4 compatibility offers," said Noel Gouff, Senior Director of Business Development at Control4. Visit Control4.com to learn more about SDDP certification and all of the available Control4 smart home solutions.
To implement Control4 SDDP in the MX160, the MX160 must be using firmware version 2.0.14 and above. Authorized McIntosh dealers can assist customers with the update process. The update process, electrical supply and internet connection should not be interrupted during the firmware installation.
About McIntosh
Founded in 1949, McIntosh Laboratory is known for offering distinguished quality audio products, superior customer service and the ultimate experience in music and film. All McIntosh products are handcrafted at the Binghamton, NY factory by over 150 employees with a passion for music and the McIntosh heritage. McIntosh continues to define the ultimate home entertainment experience for discriminating consumers around the world, with the iconic "McIntosh Blue" Watt Meters globally recognized as a symbol of quality audio. Since its inception, McIntosh has been powering some of the most important moments in music history and pop culture. From President Lyndon Johnson's inauguration speech to Woodstock to the infamous Grateful Dead "Wall of Sound," McIntosh has not only witnessed history, it has shaped it. With McIntosh, customers have the ability to create their own premium audio experience – and truly live their music. Visit www.mcintoshlabs.com to learn more.
About Control4
Control4 is a leading global provider of automation and networking systems for homes and businesses, offering personalized control of lighting, music, video, comfort, security, communications, and more into a unified smart home system that enhances the daily lives of its consumers. Control4 unlocks the potential of connected devices, making networks more robust, entertainment systems easier to use, homes more comfortable and energy efficient, and families more secure. Today, every home and business needs automation horsepower and a high-performance network to manage the increasing number of connected devices. The Control4 platform interoperates with more than 10,000 third-party consumer electronics products, ensuring an ever-expanding ecosystem of devices will work together. Control4 is now available in 91 countries. Leveraging a distribution channel that includes over 5,500 custom integrators, retailers, and distributors authorized to sell the full-line of Control4 products, Pakedge branded networking solutions and Triad Speakers, Control4 is delivering intelligent solutions for consumers, major consumer electronics companies, hotels, and businesses around the world.