McINTOSH MX160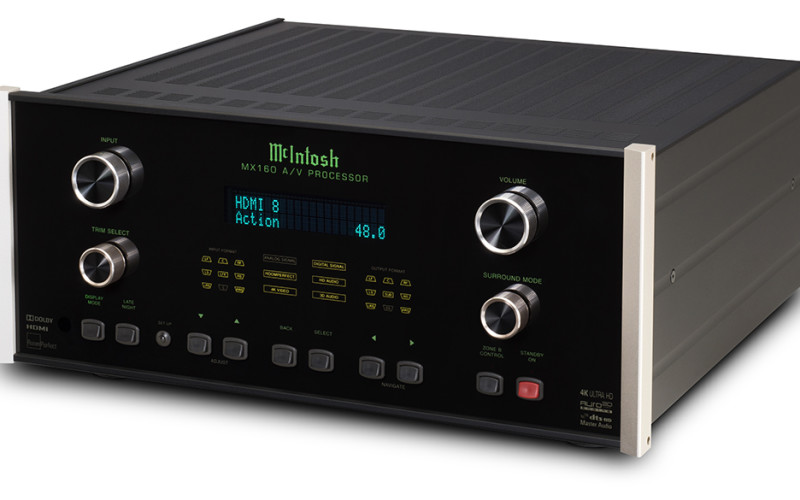 New MX160 processor brings RoomPerfect room-correction technology, 4K Ultra HD and 3D audio support to home cinema systems everywhere!
McIntosh Laboratory, the global leader in high-performance home entertainment systems for over 65 years, has launched a stunning new featurepacked processor. The new MX160 replaces the existing MX151 and brings the legendary McIntosh sound and build quality to home cinema connoisseurs everywhere.
The new MX160 supports RoomPerfectTM room-correction technology, which adjusts the audio to the specific acoustics of the room. It also supports new object-based 3D audio formats, including Dolby® Atmos and Auro-3D®.
There's support for Dolby TrueHD, DTS-HD Master AudioTM and, of course, other popular legacy formats including DVD and Blu-rayTM. All audio is processed according to the legendary McIntosh sound and performance standards, not found in any other home cinema processor.
There's full support for 4K Ultra HD native sources, plus up-conversion to 4K Ultra HD for the best possible picture quality from 1080P, 720P and 576P/480P inputs. The MX160 offers an incredible eight HDMI inputs and four outputs for current and future TV compatibility, plus offers a 3D video pass-through feature. An HDBaseT output is also included to provide degradation-free, uncompressed digital video and audio, over long cable runs between the MX160 and projectors or televisions.
The MX160 features balanced outputs for 11.1 (also known as 7.1.4) audio channels, plus four auxiliary channels for use in bi-amping speakers or driving additional subwoofers. For digital audio sources, the MX160 features four optical and three coaxial inputs, one USB (up to 24-bit/192kHz data), plus an XLR connector. For analogue audio, there are two sets of stereo balanced inputs, four sets of stereo unbalanced inputs, a dedicated phono input, plus a set of 7.1 multichannel unbalanced inputs.
All analogue and digital connections can be custom-named for simplified system operation and matched in volume level for a smooth transition between sources. Bass and treble controls offer further audio fine-tuning.
The classic black glass front panel, knobs, illuminated logo and custom-machined brushed-aluminium end-caps make the MX160 a rousing addition to any home cinema system.
Like all its products, the MX160 is handcrafted in the Binghamton factory (NY) and boasts classic 1950s styling with contemporary features and performance.
Price and availability
The MX160 sells for £13,995