McINTOSH PS2K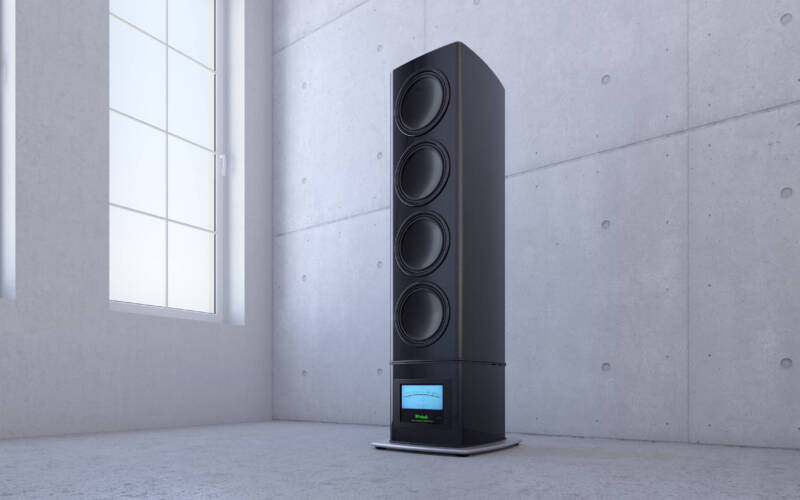 MCINTOSH LAUNCHES NEW PS2K POWERED SUBWOOFER
The PS2K Powered Subwoofer is powerful to say the least. With four 13″ woofers and massive magnets at the heart of the subwoofer, the system uses McIntosh's patented Low Distortion High Performance (LD/HP®) Magnetic Circuit Design to significantly reduce distortion while increasing the driver's power handling and efficiency. Each of the four woofers is driven by a dedicated 500 Watt Class D amplifier, which unite together to unleash a total power output of up to 2,000 Watts. The amplifiers are calibrated to minimize distortion and produce clear, tight bass with astonishingly low distortion in even the most expansive listening spaces. Users can now feel the pain and passion in their favorite songs and the nuanced sound effects in the latest blockbuster.
More than just a tool to deepen the bass of sound, the PS2K Powered Subwoofer further pushes the pinnacle of McIntosh craftsmanship with its innovative multi-layer carbon fiber cones. Previously, carbon fiber cones were made from a single layer of carbon fiber that had a bit of flexibility that could negatively impact sound. The new multi-layered carbon fiber cones are now integrated into a joint with a voice coil that are very strong and can resist long extended excursion travel and creates extreme rigidity that forbids unwanted flexing.
"McIntosh has always prioritized top of the line sound quality, innovation, versatility, and longevity within its products," said McIntosh President Charlie Randall. "The PS2K Powered Subwoofer is a true testament to all of the brand's core principles. We are incredibly excited to see consumers' reactions as they transform their listening spaces with this premium subwoofer."
In addition to its breathtaking design, the PS2K features a variety of connection options that are compatible with virtually any installation. Whether you have a two-channel stereo system or a multi-channel home theater setup, the PS2K offers balanced and unbalanced stereo inputs and outputs, as well as balanced and unbalanced subwoofer inputs and outputs. Its daisy-chaining abilities allow for further connectivity for users who prefer to use more than one PS2K in a singular system.
The PS2K also comes with two indispensable McIntosh protection technologies. The first is Power Guard®, a feature created to monitor the audio input signal coming into the amplifiers to make near speed of light adjustments to prevent harsh sounding clipping in real time. The second, Sentry Monitor™, is a fuse-less short-circuit protection circuit that disengages the amplifier's output stage before the current exceeds safe operating levels and automatically resets when operating conditions return to normal.
The PS2K's high black gloss finish, carbon trim, and aluminum base, along with its included glide feet for hard floors and spikes for carpeting will be unveiled for the first time at the world renowned CEDIA Expo on September 7, 2023.
AVAILABILITY
The PS2K Powered Subwoofer will be available at Authorized McIntosh Dealers starting in October 2023 with an MSRP of $50,000 USD.