MERIDIAN EXPLORER 2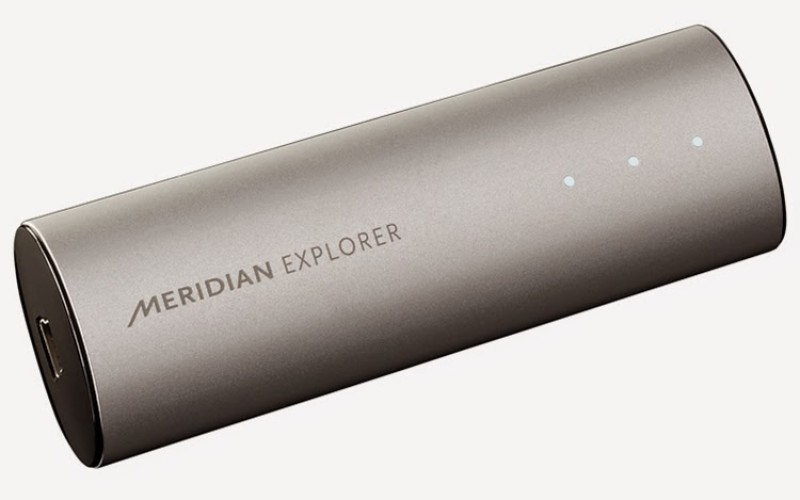 Nowa wersja kieszonkowego konwertera produkowanego na Wyspach Brytyjskich. Cena w okolicach 1000 złotych. Szczegóły - w informacji poniżej
Meridian is pleased to announce our new Explorer2. Like the original Explorer, it is a portable USB DAC with enhanced features and performance making it the highest performance offering in its category. We are very proud of the fact that Explorer2, like the original, is still manufactured by hand, with pride, in Huntingdon, and by the same people who build every Meridian product.
The Portable USB DAC category is a fast moving one and we knew that despite the enormous success of Explorer we were going to need to "up our game" with its successor. Therefore, the Explorer2 has been developed following considerable owner and market feedback and design innovation. We would like to share some of these with you highlighting Explorer2's capabilities, improvements, and the decisions into its design.
1. Meridian Resolution Enhancement – This is something we felt strongly that Explorer2 needed to offer. Explorer2 features the full suite of Meridian's award winning resolution enhancement technologies in including proprietary up sampling and apodising. These are key performance enhancing technologies taken from our Reference 800 Series range. By allocating more DSP processing, Explorer2 can perform these techniques and increase performance of "standard" content all the way up to 24bit/192kHz resolution. This feature set is unique in Explorer2's category and we feel it is one of its key performance advantages.
2. No Optical Digital Output – After speaking with many Explorer owners we found that very few of them used this feature. The decision to forgo this option was therefore made so that this DSP processing power could be reallocated and allow Explorer2 to perform up sampling and apodising to a full 24Bit/192kHz with standard content. In the end, we took the advice of a most respected Vulcan, "The needs of the many, outweigh the needs of the few". We hope you will agree with our decision!
3. .47ohm Headphone Socket – Once again, after speaking with many Explorer owners, we found that many of them have multiple pairs of headphones. These suit various listening environments and styles of music. To accommodate this wide variety of headphones, Explorer2 has an output impedance of .47ohms. This allows Explorer2 to have supreme control and the ability to drive any headphone, in ear, over ear, closed or open back.
4. 0 to -100dB Extended Range Headphone Volume Control – Along with many types of headphones comes various sensitivities. Sensitive headphones present a unique problem to any volume control. At low levels the adjustments are often course and give large volume changes with single small changes. This makes it extremely challenging to set your desired low listening level. Explorer2 introduces volume control with an extended range of 0 – 100db which in turn, means finer steps in volume at low listening levels, even with the most sensitive of headphones.
5. Dual Sensing Outputs – In order to get even more performance out of Explorer2 we gave it an auto sensing circuit that monitors its outputs, defeating the one that is not currently being used. This offers the benefit of lower overall noise in the chosen output.
6. Firmware Upgradable – Explorer2 has the ability to accept firmware updates to allow it to incorporate new emerging audio technologies. Watch this space… 7. Pricing – Despite all of the improvements made, Explorer2's US price will remain a very competitive $299.00, while the new price point of £199.00 in the UK offers exceptional value.
Explorer2 will be available for sale on December 5th, 2014. We would encourage you to place a reservation with your Premium Partner if you would like to have one before Christmas as we expect initial demand to exceed production.