METAXAS SOLITAIRE & SOLILOQUY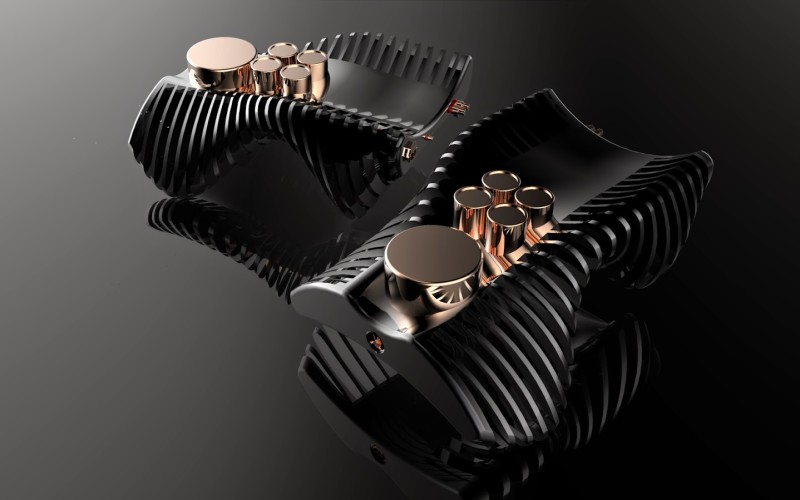 Czysta ezoteryka. High end w najwyższej ewolucyjnej formie. Niepowtarzalne wzornictwo. Kostas Metaxas zapowiada na 30-lecie firmy specjalne jubileuszowe wydanie swoich monobloków. A także kilka innych drobiazgów
Metaxas Solitaire & Soliloquy – 30th anniversary edition, to be released late 2015
Almost 30 years after its first introduction into hi-end audio folklore, the newly designed and significantly updated Metaxas Power Amplifiers – the Solitaire and Soliloquy Mono-blocks, will once again be available to serious Audiophiles, Recording Engineers and Music purists.
The Solitaire still offers 150WRMS of ultra-high bandwidth sonic nirvana, whereas the more expensive Soliloquy trades off the extra power [only 100WRMS] for precision discrete transistor voltage regulation of both input and high-current output stages.
The new dual-Printed circuit board construction places the delicate small-signal circuitry on the upper board and uses high-current ultra-high-frequency "wave-guide" design for the power delivery lower board.
Custom designed driver and power transistors made to Metaxas specification are all individually computer batch selected, matched and load tested.
As for the sound quality – more depth, transparency and realism. All informed by the over 300 concert recordings and 50 operas recorded by Kostas from 2003-2010.
The sensual, organic and striking casework is cast and then machined from aluminium. Absolutely every part of the amplifier including the circuit, topology, layout and casework has been designed by Kostas Metaxas. It is the logical evolution of his groundbreaking design concepts pioneered in the early 1980's.
The Solitaire/Soliloquy amplifiers will be joined by a new IKARUS integrated amplifier, a TRIBUTE preamplifier & professional mixer and new PRINCE portable and EMPEROR electrostatic monitor loudspeakers.
SPECIFICATIONS:
150WRMS 8 Ohms, DC-500kHz, Soliloquy 100WRMS 8 Ohms DC-500kHz.
Prices to be determined.
ABOUT
Kostas Metaxas is an artist-designer, electrical and concert recording engineer[metaxas.com], broadcast television documentary and film producer[www.ikon.tv]. He has recorded over 300 concerts, over 50 operas, including music legends Chic Corea with Gary Burton, Charles Dutoit with Yves Thibaudet, Nigel Kennedy and even Sir Neville Marriner [www.ikon.tv].
He is assisted by his two sons – Andreas [Electrical Engineer-Designer] and Alessandros [Marketing -Designer]. and consults-designs for the international luxury industry[exero.com].