MISSION M3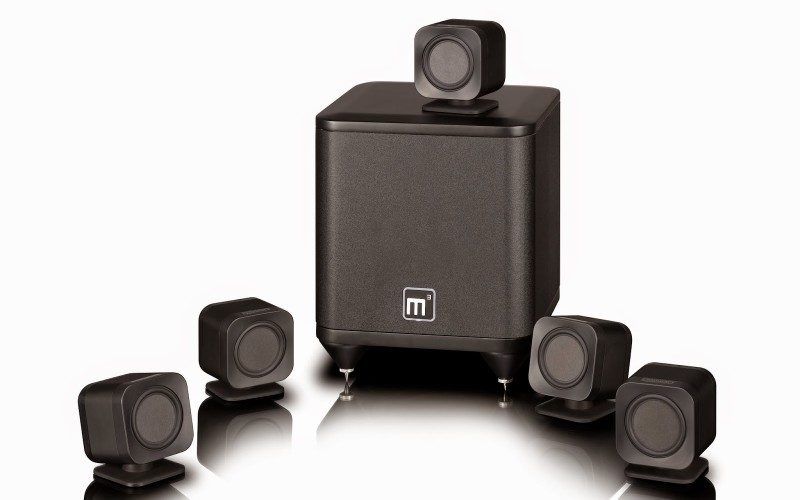 Zestaw mały, ale jak go podkręcić, może nieźle narozrabiać. Konstruktorzy zastosowali w nim coraz popularniejsze przetworniki BMR
Building on its forebear, M3 is designed specifically for fuss-free home cinema, and maintains the incredibly svelte dimensions that M-Cube fans have come to expect and appreciate.
Reviewing the debut M-Cube package What Hi-Fi? Sound and Vision said the diminutive speakers delivered 'larger, more immersive sound than seems credible' and M3 aims to again delight listeners with its ability generate a wall of sound from a room-friendly design. Featuring five dinky satellites – each one small enough to fit in the palm of your hand – a stylish, yet powerful, subwoofer backs-up the speaker quintet. Employing a 200mm long throw driver, the M3 sub works in sonic harmony with the satellites to create a seamless sound field, ideal for excelling with music tracks as well as movie soundtracks.
The key to the system's ability to deliver high quality sound, no matter where the listener sits in the room, is its BMR (Balanced Mode Radiator) driver technology. The BMR drivers disperse sound over a 90-degree angle, plus, crucially, can handle a full range signal. This means that the little speakers connect directly to the user's AV amp, freeing the subwoofer for placement wherever the customer/installer wishes to place it.
(The original M-Cube design required users to connect the NXT-driven satellites directly to the subwoofer, to accept a filtered signal.) Simply add a suitable home cinema amplifier, tune the subwoofer using the easy-toaccess controls and you've got an incredibly smart looking and terrific sounding 5.1 sound system.
In keeping with the non-invasive looks, the M3 is easy to install. Out of the box, the satellites come with compact table stands attached, ready and waiting to being placed in flat surfaces. For those who prefer their wall of sound attached to an actual wall, the package also includes bespoke wall brackets. Job done.
Peter Comeau, Director of Acoustic Design for IAG, Mission's parent company, led the M3 design development. Peter previously designed speakers for the Mission brand between 1999 and 2005, so the M3 project sees him returning to work on a favourite baby, as he describes: "From the outset of the design we always wanted M-Cube to be small and discrete yet pack a bigger acoustic punch than you could ever imagine from speakers this small. For M3 we've really upped the standard thanks to years of development on our own BMR driver. I'm really happy that M3 delivers such an enjoyable and believable movie experience in such a versatile package."
The Mission M3 is available now priced £699.95. Customers – those creating perhaps a Dolby Atmos-capable set up, or those building a desktop arrangement – can also buy individual M3 satellites.