MODERN BRITISH AUDIO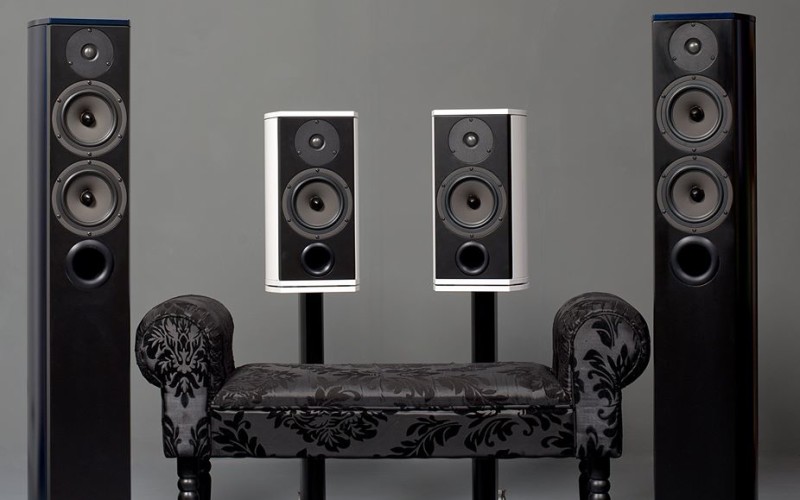 Nowa brytyjska audiofilska marka na radarach. Wytwarza kolumny głośnikowe i wzmacniacze, miejscem produkcji są Wyspy. Szczegóły w komunikacie poniżej
In an age when many once great British hi-fi brands are in overseas hands, with manufacture shifted to the Far East, it's refreshing to hear of new truly-British companies entering the market. Modern British Audio, which débuted at Munich in May, created much interest in the emerging company's audiophile range all hand-built in The Garden of England.
Founded by keen audiophile Darren Hollands, MBA Co already has three products in an expanding portfolio while actively seeking worldwide distribution for its loudspeakers and electronics.
The line-up includes Progression floor standing loudspeakers, Pulse stand-mounts, plus the Status integrated amplifier. And the team isn't stopping there. Already on the drawing board is a smaller, sealed speaker dubbed The Spur, and a co-axial-based centre speaker called The Centrice.
"Everything we manufacture is built here in the UK", says a thrilled Darren Hollands who's well aware of brands flying the British flag but with everything made in overseas factories. "Our luxuriously finished loudspeaker cabinets, for example, are made from aircraft-grade aluminium extrusions. These provide an elegant, rigid and pure sound by reducing typical cabinet colouration to a minimum."
The newbies have all their amplifier circuit boards and metalwork manufactured to exacting standards in the UK, while everything is hand-assembled at their own premises on the Kent coast.
"We've exciting plans to extend the electronics range", adds Darren. "There'll be pre-amps, a stand-alone DAC, power amps, plus a 'lifestyle' integrated amplifier.
The range
The remote-controlled Status integrated amplifier is in a class of its own. With a strong emphasis on minimising noise and distortion. The dual-mono design combines the high performance benefits of pre/power combinations in a single-box solution, along with optional built-in digital input facilities.
It comprises two separate 180W/ch (8 ohm) monoblock amplifiers coupled to a top-quality analogue control pre-amp stage. Separate digital and analogue power supplies are used in the pre-amp section, with an advanced switch-mode design (offering very low standby dissipation) feeding linear regulators to provide ultra-clean supplies for the pre-amp control and DAC sections. Ultra-low noise regulators are used in a two-stage regulation design for the analogue side of the pre-amp.
The integrated Bluetooth 4.0 receiver, when combined with the DAC, makes the most from portable device streamed music. In pursuit of audio purity, the DAC's differential analogue outputs are coupled directly to a dedicated differential pre-amp input to maintain signal integrity, reject noise and minimise distortion.
"The £5495 Status represents a no-compromise design revealing our brand philosophy", says Darren. "Our aim is to create audiophile products delivering a powerful yet transparent sonic performance to enhance people's enjoyment and to reveal musical detail they've never heard before.
MBA's first two loudspeaker designs, the Pulse and Progression, caused a stir at the High End in Munich when they were unveiled. Two loudspeaker models, sublimely mixing cutting edge materials, acoustic excellence and stunning aesthetics.
Using aluminium cabinets gives an un-matched level of structural integrity and the ability to produce them in a shape that would be difficult, if not impossible, using traditional manufacturing techniques. "The models' sculpturally curved cabinets fulfil our desire to create speakers that are aesthetically desirable", according to Darren. They are offered in several standard finishes of anodised black, silver or gold, plus powder coated in white, black, blue or silver. The customer can also specify just about any custom colour to truly personalise their speakers.
Both the stand mount Pulse and floor-standing Progression are two-way designs and feature 19mm aluminium dome tweeters with Ferro-fluid damping and 146mm paper cone bass/mid drive units, which are specially treated with a Nextel® coating. Front ported in design, the speakers boast a low frequency response down to 42Hz and 36Hz for the Pulse and Progression respectively.
"A minimal design full length cloth grill is provided, further adding to the contemporary industrial design", he said. Dedicated matching stands for the Pulse, and a built-in plinth on the Progression, provide a stable and graceful platform for the speakers to operate optimally while completing MBA's appealing visual statement.
"We always wanted a speaker different from the rest", adds Darren. "One which performs better than most in its price category while exuding a real desire to be owned and played"
Sound is absolutely paramount to the MBA brand's concept. No corners have been cut in producing these models which sound every bit as good as they look.