MOON AUDIO OPULENCE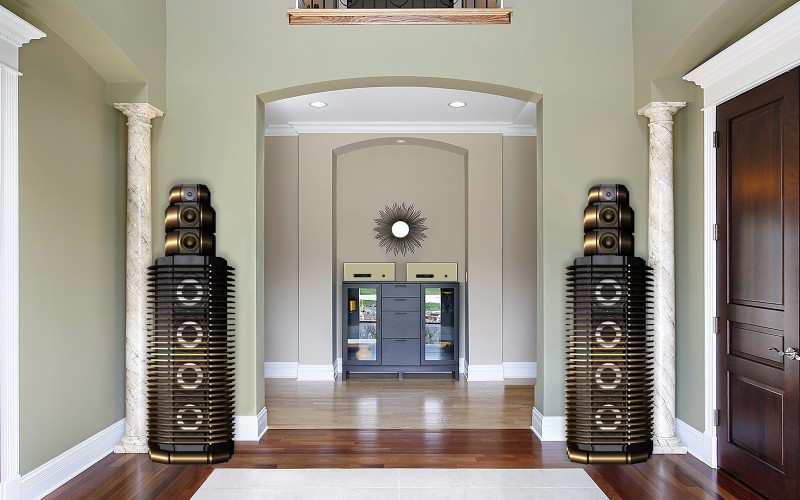 Kolumny za ponad milion dolarów!
The MoonAudio Opulence is a state of the art audio transducer system designed to redfine what is possible in home music reproduction. A strictly limited edition run of only 10 pairs will be produced, each pair hand-signed by the designer.
The Opulence is the latest in the series of what MoonAudio calls its "ultra-limited edition functional acoustic art works". MoonAudio sells its limited edition products to a refined client base offered exclusively through HigherFi, the world's largest retailer of ultra-luxury audio products.
Each unit is hand-crafted using the world's best materials, parts and drivers and manufactured in the USA. The Opulence weighs over one ton due to an integrated internal vibrational control system derived from stealth fighters and tactical submarine technology.
The Opulence also employs innovative magnetic control systems developed from nuclear reactor containment to structure internal magnetic fields in a way that is non-damaging to music reproduction. The designers of the Opulence have been involved in the ultra high end audio industry internationally for the past 25 years where they methodically crafted the crucial design elements integrated into the products design. Installation and set-up in the customers home anywhere in the world is included in the purchase price.
These speakers play lound, go deep and are silky smooth without adding any coloration.
SPECIFICATIONS: Finishes: Any adonized color
Frequency Response: 15Hz to 90Khz
Impedance: 8 Ohms
Efficiency: 96db
Connectivity: Single or Bi-wire or Bi-Amp
Dimensions: 72″ (H) x 18 1/2″ (W) x 32″ (D)
Weight: 3,100lbs
Retail Price: $1,100,100 / pair

Zamówienia – tutaj.