MUSICAL FIDELITY M1 SDAC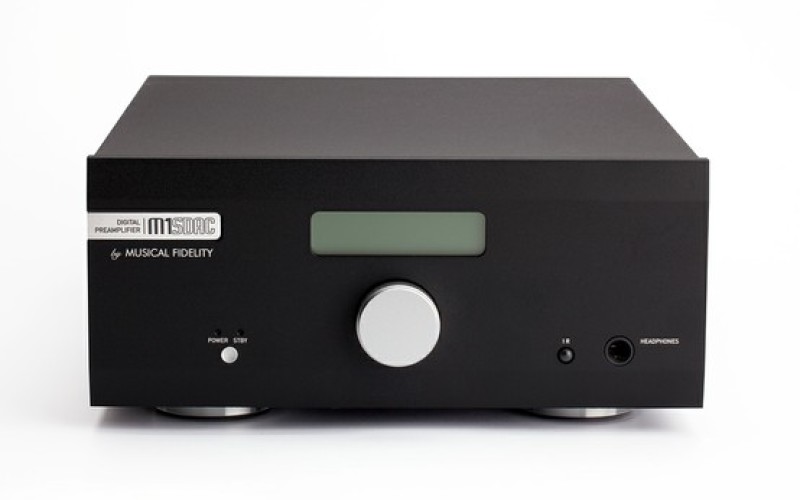 Sprytny maluch z Anglii, czyli urządzenie, które pełni jednocześnie funkcję przetwornika, preampu, wzmacniacza słuchawkowego, a na dodatek jest wyposażone w odbiornik Bluetooth/apt-X
Musical Fidelity have announced their M1 SDAC, a high performance DAC/ADC, preamp, headphone amp and Bluetooth/apt-X receiver in one compact solution that is due to be £799.
Connectivity
• 2 x COAXIAL inputs (will accept up to 24bit/192kHz)
• 1 x AES/EBU balanced input (will accept up to 24bit/192kHz)
• 1 x USB input (will accept up to 24bit/192kHz, asynchronous)
• 1 x Optical input (will accept up to 24bit/96kHz)
• 1 x Bluetooth V 2.1 apt-x receiver (up to 24bit/48 kHz and up-sampled to 24bit/192kHz)
• 2 x RCA Analogue inputs
• 1 x COAXIAL output
• 1 x Optical output
All digital inputs are internally up-sampled to 24-Bit/192kHz.
M1 SDAC: DAC
The SDAC is 24 bit/192kHz true up-sampling with asynchronous re-clocking. It has six digital inputs: 2 x COAX, 1 x Optical, 1 x AES/EBU balanced, 1 x USB (asynchronous up to 192 kHz), and Bluetooth apt-X 48kHz.
Musical Fidelity's Bluetooth apt-X 48kHz is different to all the others. As with the M6 DAC the I2 bus is taken straight from the Bluetooth receiver module to the up-sampling circuitry, bypassing all other electronics. This elegantly simple (but complex to implement) circuit design yields exceptional results.
The USB input is the same as the state of the art VLINK192, asynchronous up to 24bit/192 kHz.
The DAC section also has an analogue to digital converter (ADC). This useful facility ensures that the M1 SDAC gives a digital output for any selected input.
Headphone amp section
The M1 SDAC's headphone amp is high performance. It has an ultra-low output impedance, outstanding linearity, low distortion and is capable of 2 watts peak output. It will drive any headphone with ease and authority. The Headphone and Pre-amp outputs have independently "remembered" volume settings for convenience.