MUSICAL FIDELITY MERLIN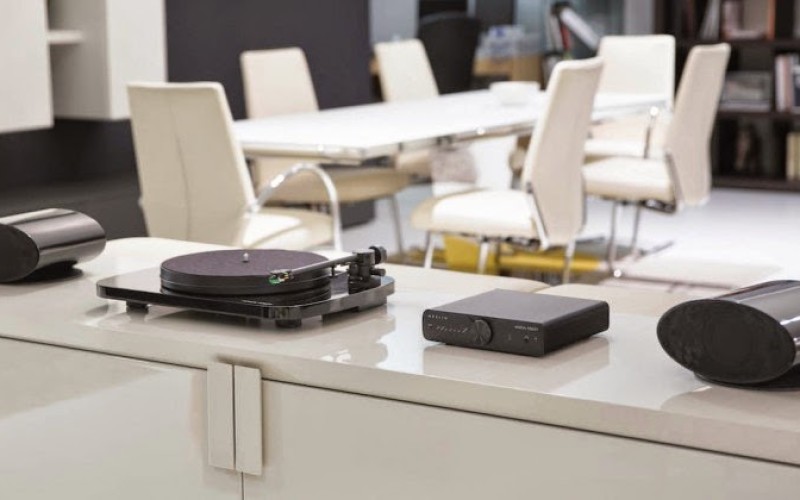 System za 1300 funtów. Składa się z gramofonu, kolumn oraz cyfrowego napędu
Everybody loves vinyl. Sales of vinyl records hit an 18-year high in the past 12 months with forecasts of more than 1.2 million discs sold by the end of 2014. However, many of the new converts to the delights of the LP have been unable to find an easy and stylish way to play them!
Now leading UK specialist hi-fi manufacturer Musical Fidelity has used over 35 years of audio experience to make playing vinyl just as easy and enjoyable as any other format by creating the Merlin 1 system – the first digital streaming system that has been designed from the ground up with the LP very much in mind.
Merlin 1 features the Merlin digital amplifier and Bluetooth apt-X streamer, the Round Table turntable and the unique Merlin 1 speakers for an all-in price of £1300.
The system's design is both beautiful and contemporary. The loudspeakers have a subtle elliptical shape with very fine finish in a choice of red, black or silver. The amplifier has a custom made extrusion, beautifully machined top form and elegant front panel while the turntable offers a simple, minimalist style in a high-gloss red or black finish.
All of the system has been designed to Musical Fidelity's bespoke specifications and features the highest-grade components, many found in the company's more expensive audiophile products.
The Merlin 1 system will also debut some unique Musical Fidelity technologies and features.
So not only does the Merlin look great it also sounds simply stunning.
Merlin digital amplifier/streamer
Although, sleek and compact, the Merlin system still carries a very high specification featuring two 24bit, 192Khz DACS and twin high grade amplifier modules – running as completely separate monoblocs to minimise unwanted noise and distortion.
Peak power into the Merlin loudspeakers is a comfortable 50 watts per channel, allowing the system to replay music with high resolution, fast dynamics and accurate transients.
The integrated headphone amp is also of a very high quality – being based on Musical Fidelity's dedicated audiophile V90 HPA model. So whether listening through the Merlin 1 speakers or your favourite headphones, your music sounds superb.
System inputs include: phono, USB (isochronous for updating the system or connecting to a PC), Bluetooth aptX and a line input (digital or analog).
The Merlin system also includes an inbuilt analog to digital converter (ADC) and a specially configurable output – analog or digital, fixed or variable – which allows direct connection to a computer so that any of the Merlin's inputs can be ripped to the hard disk – including LP. Alternatively, it allows for the addition of a subwoofer or the connection to active loudspeakers – either digital or analog.
The Round Table
Musical Fidelity has a long heritage of designing exceptional turntables and the Round Table is no exception: Produced to Musical Fidelity's bespoke specification, the new turntable also includes a unique feature.
Much effort has be made to ensure that, for the first time, all of the decks components have been designed and placed to guarantee that the product is perfectly, statically balanced and that its centre of gravity is at the pivot point of the main bearing.
Other top spec components include: a polished high carbon tool steel bearing – for an exceptional long life and friction free performance – an extremely inert chassis and suspension system and a very high quality pick up arm, usually used on products several price categories higher than Round Table.
Merlin 1 Loudspeakers
The Merlin Loudspeakers also include a new Musical Fidelity innovation via the company's exclusive diffraction multiplier system that allows the relatively compact speakers to offer a huge but accurate stereo soundstage.
Rather than the normal flat front baffle, the Merlin 1, calls on Musical Fidelity's years of experience of designing high-quality dipole speakers, and features a multi-stepped baffle which combines with a single wide-dispersion BMR driver in each speaker to offer near-field flat frequency response, low distortion and a real hi-fi sound quality.
The impression is of a far larger system, with the sound seeming to be omnidirectional, giving a feeling of space and air whilst still giving a very wide but very focused image.
Put together, the combination of the Merlin, turntable, amplifier and loudspeakers is quite incredible.
The Merlin 1 system will be available in December in Richer Sounds, Superfi and other leading specialist hi-fi stores. Consumers can choose to mix and match their system with the Merlin 1 Speaker being available in red, silver or black; the Round Table has a choice of red or black finish while the Merlin amplifier is available in black.