MUSICAL FIDELITY NUVISTA 800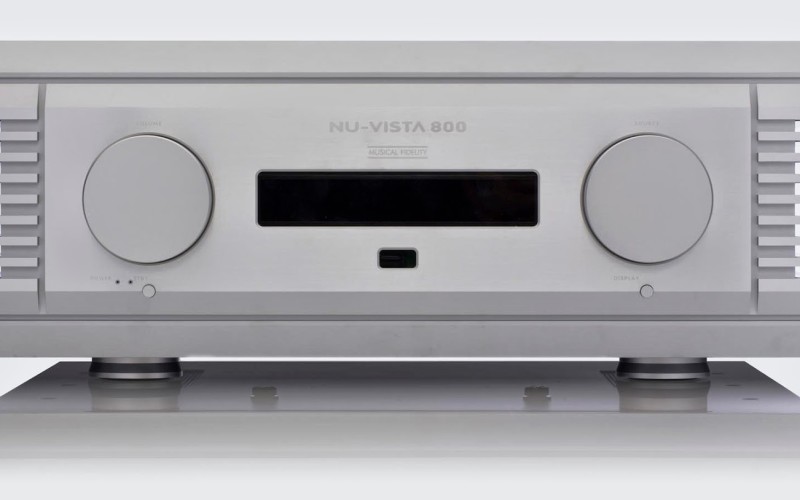 Detalicznie o nowym 300-watowym wzmacniaczu ze stajni Antony'ego Michaelsona. Producent wycenił go na 8000 funtów
The new NuVista 800 integrated amplfier combines technology from several different eras of electronics design.
a) Nuvistor technology
b) Semi conductor technology
c) Surface Mount Design technology
d) CAD/CAM PCB design
e) Software control
Historical first
For the first time in the history of hi-fi, Musical Fidelity have combined nuvistor technology with Surface Mount Design and CAD/CAM PCB concepts. The aim of this large undertaking was to create an ultimate super integrated amplifier. The result is extraordinary technical and sonic performance.
For Musical Fidelity, the NuVista 800 integrated was a labour of passion and love. We have tried to achieve the absolute maximum performance from every part of the circuit.
The NuVista 800 integrated offers full-on, high-end performance, in a beautiful, relatively compact package, and gives a comfortable 300 watts per channel.
NuVista series a sensation
Fifteen years ago, Musical Fidelity were the first company in the world to use nuvistor tubes for their high-end NuVista series. The original NuVista series (NuVista pre amp, NuVista M3 integrated, NuVista 300 power amp and NuVista 3D CD player) created a sensation when they were launched in 1999. They gave an almost perfect balance between state of the art transistor and tube design.
Because there were only limited tube bases available in 1999, the NuVista series were all made in limited editions.Their reputation is legendary and, to this day, used NuVista series products for very high prices.
Background on nuvistors
Nuvistor tubes were designed in the late 1950s. Their design process took into account all the criticisms and weaknesses of the standard glass tubes that had gone before. As a result, nuvistor tubes offered:
• Unprecedented reliability
• Compact size
• Very low microphony
• State of the art technical performance
• Total consistency between manufacturing batches.
Indeed, nuvistors were the ultimate, high performance, triode tube. Unfortunately for them, transistors were just coming of age as nuvistors became available.
A bright new dawn
For at least three years after the launch of the original NuVista series, Antony Michaelson tried to get more tube bases. Nuvistor tubes were plentiful but bases were impossible to obtain. After a time, he stopped searching.
As many of you know, Antony Michaelson is persistent. About eighteen months ago, he started thinking about NuVistas again. This time, things were different. Via the internet, he was able to locate what are probably the last nuvistor bases on this planet Earth. Antony was thrilled. He purchased all that could be found.
This made it possible for Musical Fidelity to realise their dream of manufacturing more nuvistor-based products, including the new mega super integrated, the NuVista 800.
This time, they would be able to combine their state of the art NuVista technology with their state of the art Surface Mount Design PCB techniques, and the new designs would benefit from the freedom of layout that they offer.
General description
The NuVista 800's front end is positioned on the same PCB as the input circuitry. This keeps all PCB tracks as short as possible, and ensures that this highly sensitive function is at right angles to any stray hyseresis field from the transformers, ensuring superlative sonic performance.
The nuvistor stage itself combines nuvistor tubes with our exclusive Surface Mount Design and technology systems. This allows them to perform at a level never seen before.
The power amp stage is derived from our monster Titan amp, regarded by many as one of the best amplifiers ever made. However, they have made subtle improvements to the circuit, squeezing even more performance from what was already a legendary circuit design.
The overall configuration is dual mono, with a separate 1.5 kV, super silent drive mains transformer per channel.
The result -maximum performance from every part of the circuit- clearly shows just how much of a labour of love and passion for the NuVista 800 was for us.
Technical performance
The NuVista 800 delivers a comfortable 300 wpc. It is capable of truly massive current swings: about 200 Amps peak to peak. In a word, vast. Distortion at 1kHz is vanishingly low at 0.002%. At 10 kHz, it is about 0.003% and at 20 kHZ 0.004%. These are extraordinary figures. More astonishingly is the distortion in 4 Ohms (1kHz) is its exactly the same is into 8 Ohms.
NuVista 800 has very low noise and excellent stereo separation.
Because of its huge peak current capability, it can drive any speaker with any cable, without breaking a sweat.
NuVista 800 combines the beauty, delicacy and poise of state of the art tube and semiconductor design blended with massive power and current.
Sound quality
The NuVista 800 delivers everything that its concepts promise. On the one hand, you have the beauty and warmth of nuvistor tubes. However, because of their superlative technical performance, there is no colouration or excessive warmth.
On the other hand, there is a huge power amp with massive reserves of power and current that has the delicacy and speed of attack (and decay) of a small triode power amp but, just you wait for that transient: it is delivered effortlessly with no colouration or limits. The NuVista 800 sound quality is, to us at least, totally satisfying.
Beautiful, deep and wide sound staging, effortless transients, incredible bottom end extension, speed, rhythm and then the exquisite mid range. We believe that this is what hi-fi is about.
Metalwork and finish
The NuVista 800 is finished to a very high standard. The front panel is machined from solid, mil-spec aluminium and surfaced to an exacting standard. The custom made heatsink extrusions are purely functional and well finished. Most other parts are milled from solid aluminium billet.
We have tried to make the NuVista 800 a beautiful product, manufactured to a very high standard. However, they have not gone to the excesses of other brands; they still have their feet on the ground.
Pricing
NuVista 800 performs at the very highest level available, yet its UK retail price is only £8000. In high end terms, this isn't much, but we feel it's a great deal of money (and represents a lot of disposable income and hard work) and have endeavoured to offer the maximum in performance and finish for this price.
UK Retail will be £7999.