NAD C510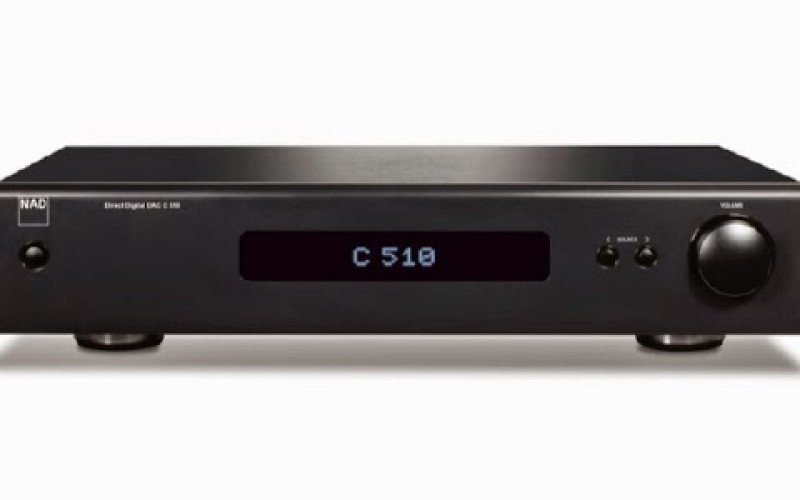 Niedrogi konwerter 24/192 pełniący także funkcje przedwzmacniacza. Detalicznie - w komunikacie producenta
NAD Electronics, the highly regarded manufacturer of high-performance audio/video components, announced the newest member of their illustrious digital family, the C 510 Direct Digital™Preamp/DAC. Known for reference quality digital audio, the company's latest addition combines a superb digital preamplifier with reference quality DAC to create a unique blend of audiophile separates. The NAD C 510 will be shipping in August at $1299 MSRP.
In today's high performance system, the traditional arrangement of a source component connected to a preamplifier and amplifier driving set of loudspeakers is often replaced by computer audio. This typically consists of a computer or dedicated music streamer connected to the internet or local network attached storage. The best of this source material rivals the finest studio recordings offering stunning sonic results and amazing convenience. For this new type of audiophile and music lover, the C510 Direct Digital Preamp/DAC is an ideal solution.
The C 510 Direct Digital DAC uses the same high precision digital processing as NAD's groundbreaking M2 Direct Digital Amplifier and award-winning Masters M51 but in an updated format that easily interfaces with high performance analog components. As well, the affordable new DAC features extremely low noise, low distortion, wide dynamic range, superb linearity and extremely low digital jitter. The C 510 accepts PCM data rates up to 24 bit 192 kHz making it perfect for listening to increasingly popular high resolution downloads.
NAD's Direct Digital technology was first introduced in the company's $6,000 award-winning Masters Series M2 amplifier. Direct Digital technology of the C 510 performs all preamplifier functions in the digital domain using sophisticated software to control all aspects of performance. Unlike a traditional analog preamplifier, the C 510 Direct Digital Preamp/DAC does not produce any noise or distortion that can obscure detail and limit the performance of many systems. By performing preamp functions like volume and source selection in the digital domain, the C 510 shortens the signal path and opens up new system possibilities. Whether driving your favorite power amplifier or feeding active loudspeakers, the C 510 has the necessary drive and finesse to deliver the best possible performance.
Since the C 510 is a pure digital device, it contains no analog inputs and includes a wide array of connectivity such as USB Type B port for direct connection to a PC or Mac, two HDMI inputs, three SPDIF inputs that are all 24/192 capable in optical, coaxial and AES/EBU formats.
The analog output operates in true balanced mode driven by a Class A biased operational amplifier. Both balanced XLR and single-ended outputs are utilized to obtain the best possible performance with virtually any amplifier. For further flexibility, a12v trigger and RS-232 port allow for system automation interface.
The enjoyment of the C 510's advanced technology and outstanding performance is further enhanced by its user-friendly layout with selected input and incoming sample rate clearly visible on the front panel display. The control interface is simple and intuitive with Power, Input Selection and Volume Control on both the front panel and supplied remote control.
"Like our legacy NAD digital products, we wanted to create a bridge product between the new world of high definition 24/96 digital and the existing world of analog amplifiers," said Greg Stidsen, NAD's Director of Technology and Product Planning. "The C 510 allows audiophiles to conveniently add digital audio to their high-end system while enjoying the superb performance of NAD Direct Digital technology. It is truly the best of both worlds."
Key Features of NAD C 510 Direct Digital Preamp/DAC:
Direct Digital Architecture produces no noise or distortion resulting in best possible sound and reduced listener fatigue
Direct Digital innovation offers state-of-the-art performance at an affordable price
Analog stage operates in true balanced mode driven by Class A biased operational amplifier. Delivers best possible performance with virtually any amplifier
High Connectivity- includes connectivity for wide variety of digital sources
Easy to use intuitive interface is simple with easy access on the front panel and supplied remote control