NAD D3020
Kończąc czterdzieści lat, NAD chce powtórzyć sukces słynnego modelu 3020
Legendarny wzmacniacz 3020 o mocy zaledwie 28-watów powstał w końcu lat 70. ubiegłego wieku i do tej pory jest wspominany z rozrzewnieniem przez miłośników hi-fi jako przykład solidnej inżynierskiej roboty, które nie kosztowała wiele, a dawała wiele audiofilskiej rozkoszy. Nawet dzisiaj ten porządnie zasłużony w historii audio sprzęt potrafi zaskoczyć przyjemnym brzmieniem oraz pogrążyć w hańbie niejedną współczesną produkcję.
Nic dziwnego, że producent w 40-lecie swojego istnienia wypuszcza cyfrowy wzmacniacz klasy D (projekt pochodzi od Holendrów z Hypex) bezpośrednio nawiązujący do słynnego bestselleru. D3020 ma moc 30 W, która dubluje się przy obciążeniu 4-omowym, komplet wejść cyfrowych i analogowych, terminal USB, konwerter 24/96 pracujący w trybie asynchronicznym, ciekawą stylistykę i cenę, która została ustalona na poziomie 1500 zł.
Sprzęt ma się pojawić w sprzedaży latem, a wraz z nim trafią do salonów utrzymane w tej samej stylistyce dwa inne komponenty – DAC 24/192 D1050 (ok. 1500 zł) oraz streamer D7050 (ok. 3000 zł) z zaimplementowaną technologią Air Play.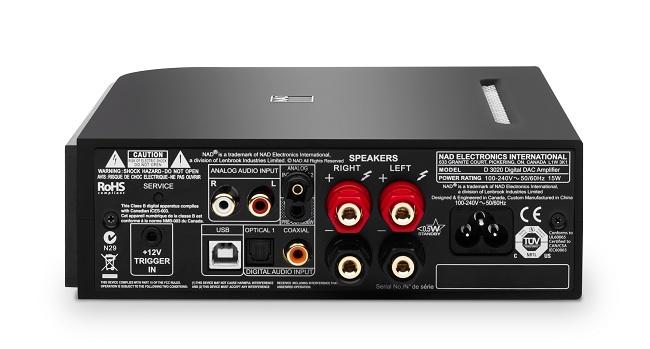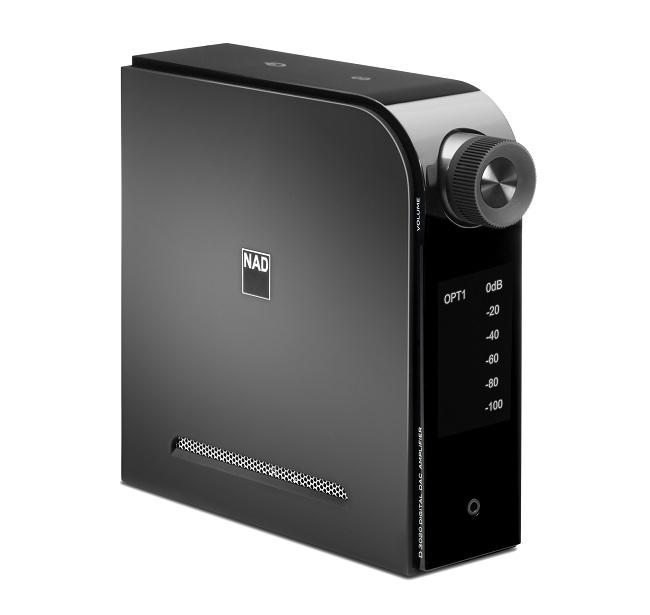 NAD Electronics, the highly regarded manufacturer of high-performance audio/video components, unveiled three affordable new products that represent a bold step forward in digital music reproduction. The D 7050 Direct Digital Network Receiver ($999 MSRP), D 3020 Digital DAC/Amplifier ($499) and D 1050 USB 24/192 DAC ($499) all represent demonstrable breakthroughs for their respective price points and applications. All are available to pre-order now and market availability on all three models will be July 2013.
In the late 70's NAD changed the hi-fi industry in a remarkable way with the introduction of a modest looking, budget hi-fi component called the 3020. The NAD 3020, recognized as one of the best-selling audio products of all time, redefined high-end audio performance–and its cost. Millions of high fidelity seekers have since built their first high performance stereo systems with NAD. Now, as NAD celebrates its 40th Anniversary, the new D 3020, D 1050 and D 7050 promise to introduce the NAD brand to a new generation of hi-fi seeking digital natives, just as the NAD 3020 did in the 70s and beyond.
Beyond impressive performance, a major focus for NAD has been finding new technology that can improve musical performance while consuming less power to operate and using fewer non-renewable resources to manufacture. All three new models are environmentally sensitive, compact and cool. NAD believes their combination of technical prowess and eco-friendliness is the best of both worlds.
D 3020: Reinventing an Icon
The original NAD 3020 introduced a generation of music lovers to true high fidelity sound. In the 1970's and beyond, countless people rediscovered their music when they placed a NAD 3020 between their turntable and loudspeakers. This iconic gem could embarrass amplifiers costing 10 times more with its big, warm and detailed sound and best of all, its affordable price made it available to a wider audience. Once these music lovers realized what they had been missing, it led them to a lifetime of enhanced musical enjoyment.
NAD rewrote the rules for amplifiers simply by designing the 3020 for the real world. Instead of allowing laboratory test equipment to have the last word, the company made sure that their amps could properly drive real loudspeakers with real music. The result of this real world approach was an amplifier that had less cost and more sound.
Fast forward to today and a similar story is being written. Only now, the source is more likely to be a computer or a smart phone than a turntable but the ability to choose speakers that perfectly suit your taste is still a compelling argument for upgrading to a NAD amplifier. The D 3020 starts with the original NAD concept and takes it straight to the 21st century using the latest high speed digital technology and offering affordable prices so that music lovers of all ages can rediscover their music.
The D 3020 accommodates inputs for your computer along with other digital and analog sources. The USB input uses 'asynchronous' mode to insure the lowest possible jitter (timing errors) from notoriously unstable computer audio outputs and supports 24/96 HD studio master music files. Coaxial and optical inputs allow many different digital sources to be connected, from CD and DVD disc players, to set top boxes like AppleTV or satellite and cable receivers. There are also analog inputs for iPods and older non-digital audio components such as FM tuners. We also include a premium quality headphone amplifier output that includes a high quality volume control.
The D 3020, with its wireless Bluetooth capability, can stream music from smartphones, tablets and laptops and even supports the highest audio quality Bluetooth aptX that is becoming more and more popular for its excellent sound quality and low power consumption compared to Wi-Fi.
Power output may sound small at 30 watts per channel yet like all NAD amplifiers this can be very misleading as a properly designed 30W amplifier can often sound superior to a so-called 100W amplifier from a promotional brand. More importantly, the D 3020 can drive real loudspeakers to satisfying levels without adding noise or distortion. Its highly efficient design wastes less energy, resulting in extended component life an increased reliability. Standby power consumption is
Supplied with an IR Remote Control for convenience, the D 3020 is equally at home on a desktop, a bookshelf or cabinet to complement any lifestyle.
D 7050: the Ultimate Plug 'n Play Digital Wireless Music System
The D 7050 Digital Network Receiver can be combined with a computer or smart phone running iTunes and a home WiFi network to create a stylish and simple package. A music lover can add their favorite speakers and have a compact, state-of-the-art audio system that will fit most anywhere in a home or apartment.
The D 7050 combines NAD's most advanced digital platform, the Direct Digital technology first introduced in the company's $6,000 award-winning Masters Series M2 amplifier with Apple's AirPlay Wi-Fi streaming technology to create the ultimate plug 'n play solution for wireless music in the home. In addition to Apple's AirPlay, the D 7050 can also stream any UPnP audio content on a home network. If no network is available, it can also stream directly from a smartphone or laptop using the latest Bluetooth High Fidelity Codec; aptX. The user can also play from a wired connection from their computer or from a USB Drive. We also include a premium quality headphone amplifier output that includes a high quality volume control. The only thing missing is an analog input as there are no analog circuits in the D 7050. The uncompromising performance of the D 7050 is made possible, in large part, by the elimination of noisy and resonant analog circuits that can obscure musical detail and soften musical transients.
Direct Digital means there are no noise and distortion producing analog circuits in the D 7050; music remains digital right up to the speaker outputs. NAD's Direct Digital technology of the D 7050 performs all preamplifier functions in the digital domain using sophisticated software to control all aspects of performance. Digital is converted to Analog by a simple passive two-pole reconstruction filter located right at the speaker outputs. This radical design is the worlds' first successful closed loop digital amplifier. Closed loop means that we compare the output to the input, and then compensate for any differences to achieve a 'perfect' result.
The D 7050 packs four times the amount of circuitry into 1Ž4 the space of traditional analog Receivers. One reason is that high speed digital circuits perform better with very short signal paths. For this reason, NAD uses large scale integrated circuits (LSI's) and multi-layer printed circuit boards to optimize speed and performance. The high efficiency of the Direct Digital amplifier technology significantly reduces the size of the heat sinks and power supply, which are physically large in high performance analog amplifiers, while offering improved sound quality. The result is a cool running, compact powerhouse with remarkable performance.
D 1050
The NAD D 1050 USB DAC is the best way to add Computer Audio and HD Digital to a component hi-fi system. Both the digital and the analog circuits are highly optimized and based on techniques developed over 40 years of NAD audio engineering excellence. The digital inputs cater to many different digital sources. S/PDIF inputs support balanced AES/EBU, coaxial and optical connectors. For example, the USB input is very special; its asynchronous operation mode uses the D 1050's high precision clock to control the output of the connected USB device for lowest possible jitter. It also supports USB Audio Codec 2.0 allowing 192 kHz signal transmission.
The digital processing of the D 1050 features Delta/Sigma architecture with active oversampling filters. This technique effectively reduces out of band noise while maintaining linear phase response and virtual elimination of filter ringing in the pass band. This assures detailed and extended high frequency response while taking full advantage of the extended response of recordings sampled at 88.2 kHz and above.
NAD packs a lot of premium high spec parts inside the D 1050 but premium parts need optimal implementation to get the actual performance they promise. This is where NAD expertise with both digital and analog circuits shows its true value. Ultra short, impedance-controlled signal paths are made possible by multi-layer circuit boards and micro-miniaturized surface mount components soldered with lead-free, high silver content solder. These details all contribute to the remarkable performance of this advanced DAC.
Analog outputs are fixed and include both balanced and single-ended connections. We also include a premium quality headphone amplifier output that includes a high quality volume control. Output impedance is extremely low, minimizing the effect of connecting cables and keeping noise extremely low.
The Future of Audio Starts Now "Beginning with the legendary 3020 amplifier nearly forty years ago, NAD has created many of the most memorable and highly reviewed audio products of all time." commented Greg Stidsen, NAD's Director of Technology and Product Planning."Refusing to rest on our laurels, we set forth with a whole new generation of products geared to the way people consume music today. Downloads, streaming, instant access to all the music in the world, has been combined with audio excellence as never before."
Stidsen went on to explain, "There is no reason to sacrifice audio quality for convenience as these new NAD models so vividly demonstrate. We have finally achieved the seemingly impossible combination of unlimited music access, unmatched audio performance and dramatically reduced power consumption all wrapped up in a beautiful package that any music lover would be proud to own."
Stylish yet Timeless Industrial Design
Consistent with NAD's new products of recent years, the company commissioned renowned designer David Farrage of DF-ID to create a contemporary look that reflects the brand's classic roots. All three compact components can be used either vertically or horizontally to suit décor, available space or simply personal preference.
Like all successful marriages of engineering and product design, NAD engineers worked in concert with DF-ID from start to finish, resulting in components that that look every bit as good as they sound and integrate beautifully in any living environment.
Key Features of NAD's D Series Digital Audio Products:
•Higher performance, Lower Lows – NAD's advanced digital engineering delivers lower distortion, lower noise and lower power consumption.
•Energy-Saving– new design technology consumes less power to operate
•Eco-Friendly – new models contain fewer non-renewable resources to manufacture.
•Stylish Simplicity Through Advanced Design – stylish yet timelessindustrial design by David Farrage of DF-ID
•D 3020 an audiophile icon reinvented with high speed digital technology
•D 7050 combines Direct Digital technologywith ultimate plug 'n play wireless music system streaming convenience from Apple's AirPlay Wi-Fi, UPnP or Bluetooth aptX
•D 1050 affordable, high-performance way to add HD Digital to your hi-fi system