NAIM UNITI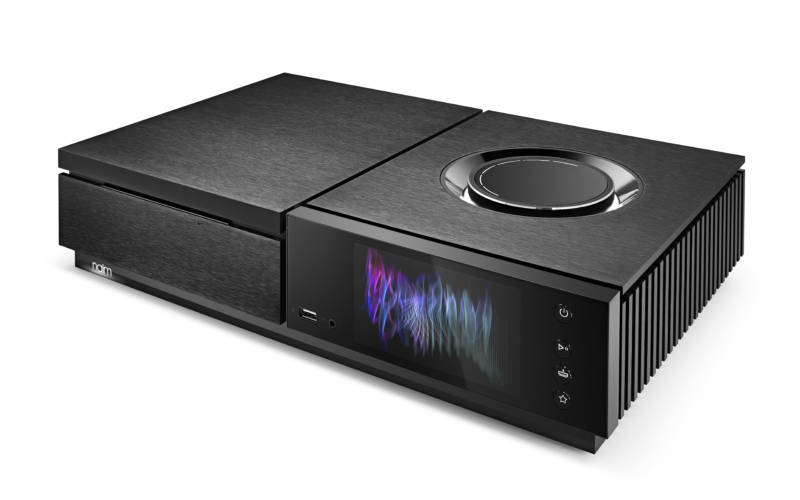 Naim redefines the all-in-one audio system with the new high performance Uniti range
Naim Audio, a world renowned premium British hi-fi manufacturer introduces the new Uniti range – a series of high performance wireless all-in-one audio systems that offers the audio fan more music around the home than ever before.
Comprising of the Uniti Core central audio server and Uniti Atom, Uniti Star and Uniti Nova music players, this new range draws on 43 years of Naim Audio heritage and expertise in audio engineering, industrial design and streaming technology to deliver audio systems that set the benchmark for high fidelity all-in-one and multi-room listening.
Steve Sells, Naim Audio Electronic Design Director says "The new Uniti range is the result of years of development, designing and building these systems from the ground up. From the user-interface and apps, to the interior electronics through to the premium materials used, we have meticulously designed the Uniti range to deliver the ultimate audio performance for a one-stop wireless solution.'
Taking design and technology elements from Naim's award-winning Mu-so wireless speaker system range and flagship Statement amplifier – their iconic rotary control interface is at the centre of the Uniti range – these new players are simple, plug and play hi-fi systems that allow everyone to enjoy true high-fidelity sound. Easy to set-up (just add your choice of speakers) with a intuitive user-interface and convenient, automatic online updates, the range takes up minimal space in the home.
Designed to easily connect to a home Wi-Fi network, the listener can enjoy a world of music from any source. Wirelessly stream your downloaded music in high-resolution from a PC, Mac, NAS drive or a Uniti Core via UPnP (Universal Plug 'n' Play) or browse and play millions of songs through popular streaming services Spotify Connect and TIDAL.
Support for Apple AirPlay allows streaming of music from Apple devices such as iPhone, iPad, iPod Touch and Mac via iTunes, similarly Google Cast for Audio plays music directly from compatible devices and control app. Internet Radio provides access to thousands of radio stations while the Uniti Nova and Uniti Star have the added option of DAB radio.
The players also support Bluetooth aptX for high-quality and stable wireless streaming from compatible devices such as a smartphone or tablet. The Uniti Star features a CD player (for playback and ripping to a connected storage device) with the all players featuring USB slots for playback of music from MP3 players and USB sticks.
Whether playing the same song in beat-perfect sync or different music in different rooms, the new Uniti range delivers the ultimate multi-room experience. Users can play music between any combination of Uniti players and Mu-so systems with seamless, intuitive control of all systems coming via one new look dedicated Naim app for iOS and Android.
At the heart of this range is the Uniti Core – the ultimate library for the music fan. This network-storage device allows the fast, bit perfect ripping of CDs, track-level cataloguing for detailed search, storage and wireless distribution of their music collection. Users can easily slot in a hard drive or solid-state hard drive too. Maximum capacity is 8TB – enough to hold up to 16,000 CD quality albums.
Combining digital versatility with an analogue heart, the Uniti range features Class A/B amplification. Superior to its digital counterpart, analogue Class A/B can drive a wider range of speakers while being more efficient, creating less electrical noise, resulting in a cleaner audio signal and pure fidelity. The Uniti Atom's integrated amp drives 40 watts per channel while the Uniti Star commands 70 watts and the Uniti Nova 80 watts per channel.
Both the Uniti Atom and Uniti Star models boast a powerful 40-bit SHARC digital signal processor that removes 'jitter' timing errors while all Uniti players harbour premium Burr Brown DACs (Digital Audio Converters) and digital filter technology based on components from the company's Statement amplifier. The result is a smoother and more precise sonic performance.
For the A/B class amplifiers and interior electronics to perform at optimal levels, all Uniti enclosures are designed using the specialist grade materials and precision engineering. Constructed from thermal conductive aluminium that, coupled with the Statement and Mu-so-referenced heat sinks, removes heat for the circuitry to work fast and efficiently. The 5mm thick, brushed aluminium top plate is scratch and dent resistant while also protecting the interior electronics from magnetic influences and unwanted internal and external vibrations that can effect the sound.
The Uniti range can also be a home entertainment hub, boasting digital HDMI inputs for connecting digital sources such as TVs, set-top boxes and games consoles.
The Naim Uniti Core is available in December 2016, priced £1,650 (inc. VAT)
The Naim Uniti Atom is available in November 2016, priced £1,600 (inc. VAT)
The Naim Uniti Star is available in February 2017, priced £2,999 (inc. VAT) / £3,150 (inc. VAT) with DAB
The Naim Uniti Nova is available in February 2017, priced £3,800 (inc. VAT) / £3,995 (inc. VAT) with DAB