NOWOŚCI ECM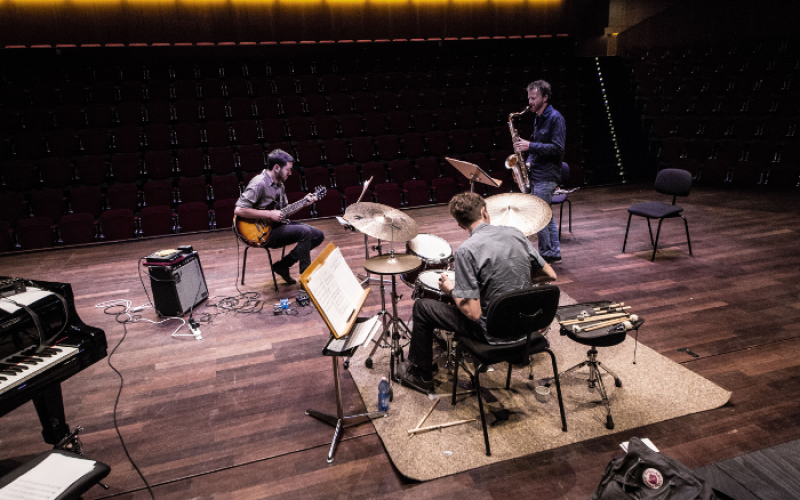 Trio Third Reel Gdyby monachijska wytwórnia produkowała patelnie, też by nam się podobały. Informacje o premierowych wydaniach ECM - poniżej

Dino Saluzzi can still surprise us. Who knew that the master of the bandoneon had, for decades, been stockpiling compositions for other instruments? This album of pieces for piano features music written between 1960 and 2002, variously conceived in Salta, Buenos Aires, Stuttgart and on the road. It is music of great diversity, both distinct from and connected to Dino's work as storytelling, improvising bandoneonist. In this more formal context, liner note writer Hans-Klaus Jungheinrich suggests, Saluzzi's musical pictures take on an almost cubist quality, like a sequence of images viewed from multiple perspectives. Horacio Lavandera, a young Argentine pianist specialized in both classical music and contemporary composition (he has worked with both Boulez and Stockhausen), is an ideal Saluzzi interpreter, attuned both to his love of his homeland and his artistic need to travel widely. Imágenes was recorded with the participation of the composer in October 2013 in Oslo, and produced by Manfred Eicher.

The second ECM album from Swiss/Italian trio Third Reel takes its open-plan music to the next level. Emanuele Maniscalco, Nicolas Masson and Roberto Pianca all bring music into Third Reel, and each of them has his own distinct compositional signature, but from the outset their pieces are "always conceived as material for multiple, unpredictable developments." Compositional guidelines are like gateways into fields to explore. Masson's elegant clarinet and lean-toned tenor are emphasized, Maniscalco floats between drums and piano, quietly lyrical on both instruments, and Pianca is most often a kind of real-time orchestrator, subtly enfolding the interaction with swelling sustained chords. Like the eponymous 2013 debut album, Many More Days was recorded at RSI in Lugano.

David Torn – ever-intrepid guitarist, producer, improviser, film composer and soundscape artist – returns with only sky, an album that explores the far sonic edges of what one man and a guitar can create, a solo recording of almost orchestral atmosphere. It is Torn's first ECM release since 2007's acclaimed prezens, a full-band project, with Tim Berne, et al., that Jazzwise described as "a vibrating collage full of shimmering sonic shapes, a dark, urban electronic soundscape – a potent mix of jazz, free-form rock and technology that is both demanding and rewarding. "Many of those same descriptors apply to only sky, with its hovering ambient shadows and vaulting flashes of light, its channeling of deep country/blues memories and Burroughsian dreams of North Africa. Recorded in the acoustically apt hall of the Experimental Media and Performing Arts Center in upstate New York (and then sorted and mixed in Torn's own mad-scientist lair), only sky is an album to get lost in, over and again.