NUFORCE HP-800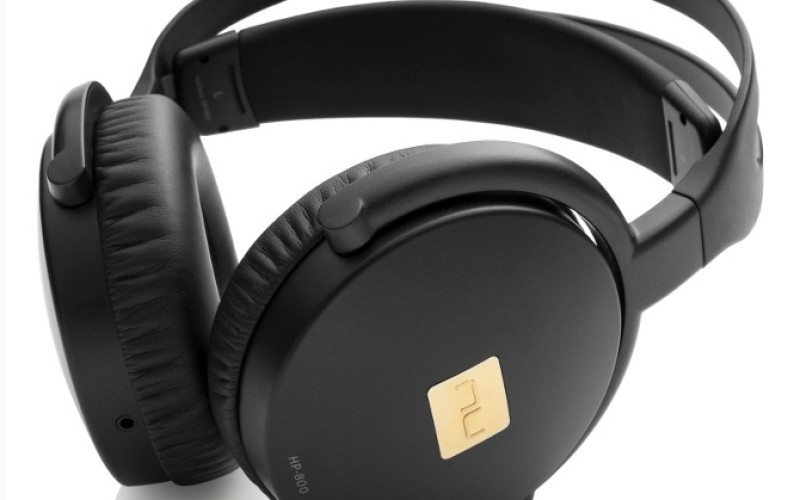 Kalifornijczycy wchodzą na rynek słuchawek z modelem za 149 dolarów
NuForce, Inc., a leader in professional and consumer audio solutions, announces today the availability of the HP-800, its first over-the-ear headphones. The HP-800 delivers the kind of performance sound professionals require at a price audio enthusiasts can easily afford.
The HP-800s a natural warmth, realistic highs and visceral bass that only true accuracy is capable of attaining, thanks in good measure to their die-cast aluminum frame, which minimizes resonance and improves articulation. The phone's 40 mm neodymium drivers are specifically tuned for accurate performance and low distortion. Together, precise engineering and meticulous construction deliver an extreme dynamic, strikingly fast transients and a flat frequency response.
Long hours of playback will be even more pleasurable owing to the comfort measures NuForce has designed into the HP-800 headphones. The breathable memory-foam ear cups are covered in super soft leatherette and are extremely comfortable. Similarly, the concave body design has been optimized for comfort and a lifelike soundstage and imaging.
"These headphones are our first venture into the over-the-ear market," said Jason Lim, CEO of NuForce. "We've implemented the latest technology and our understanding of what demanding listeners require in bringing about a fantastic product that will further enhance our company's reputation for value and performance."
Features: – Clear, rich and precise sound signature for natural warmth and visceral low end – Aluminum die-cast housing for minimized resonance and improved articulation – Concave body design for lifelike sound staging and focused imaging – Precisely tuned, low-distortion 40 mm neodymium drivers – Wide-range dynamic and flat frequency response – Breathable, skin-like ear-cups with memory foam inserts for comfortable extended use – Two removable cables for portable and studio use
Specifications: – Driver Size: 40 mm – Impedance: 32 +/- 15% Ohm – Frequency Response: 20 Hz – 20 kHz – Dimensions: 7″ H x 4.57″ W x 7.48″ D – Rated Power: 20 mW – Max Input Power: 30 mW – Sensitivity: 91 +/- 4 dB – Included Accessories: one carrying bag, one 3.5 mm plug cable, one 6.3 mm plug cable
The NuForce HP-800 headphones are available now for $149 from nuforce.com, several online stores and various NuForce dealers.