PARASOUND HALO P5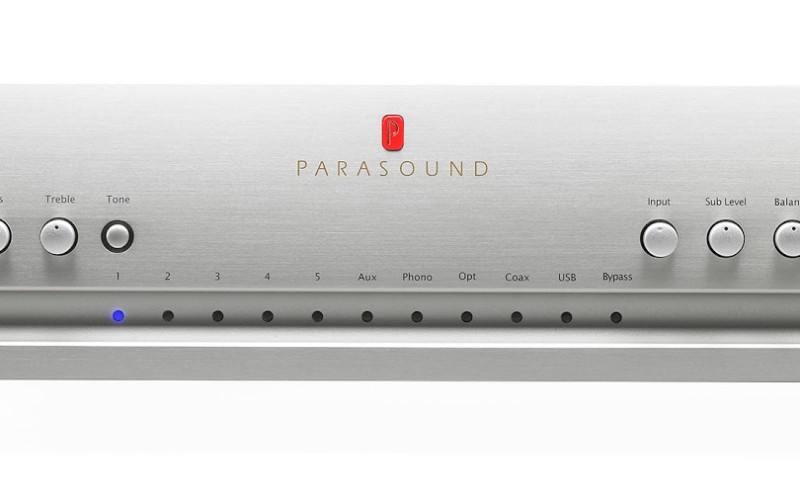 Nowoczesny, uniwersalny przedwzmacniacz, który odnajdzie się zarówno w analogowych systemach z gramofonami, jak też w konfiguracjach z komputerami w roli źródeł dźwięku. Cena - 950 dolarów
SAN FRANCISCO (8/28/13) — Parasound has added a new 2.1-channel audio preamplifier to its high-end 'Halo' product family. The new Parasound Halo P 5, which replaces the popular and long-lived Halo P 3 stereo preamplifier, adds a high-quality DAC (digital-to-analog converter) with coaxial, optical, and USB inputs, subwoofer outputs with analog bass management, home theater bypass, moving-coil capabilities to the phono stage, and a precision, motorized volume control.
"For 10 years, the Halo P 3 has been a mainstay of our line for value-conscious audiophiles," said Richard Schram, the founder and president of Parasound. "However, new technologies have changed the ways audiophiles connect to and enjoy their music. So, the addition of a high quality DAC was an obvious choice for the P 5. There has also been a resurgence in turntables, so we upgraded the MM-only phono stage to also handle moving coil cartridges with a choice of load impedances. While the P 3 has outstanding two-channel sound, many audiophiles today have 2.1-channel stereo speaker systems with robust subwoofers. The P 5 actually creates a sub channel output for the 2.1 listening. The P 5 also makes it easy to integrate audiophile stereo speakers with a home theater surround system. The addition of a balanced XLR subwoofer output and variable low frequency and high frequency crossovers makes the Halo P 5 uniquely capable in these configurations."
The Parasound Halo P 5's state-of-the-art DAC can process a wide range of digital sources with its coaxial and optical inputs accepting up to 192 kHz rates, and the USB input accepting up to 96 kHz.
The Halo P 5 inputs include one pair of balanced XLR, phono, five RCA line-level stereo inputs and a front panel 3.5mm mini jack for portable MP3 players or smartphones. Its line outputs are balanced XLR and unbalanced RCA, plus a choice of balanced or unbalanced subwoofer outputs. The main and subwoofer outputs can be run full range or placed under the careful regulation of variable frequency analog high-pass and low pass crossovers.
The phono input is compatible with all moving magnet cartridges, and virtually all moving coil cartridges, with a 100 ohm/47k ohm switch to select the appropriate load impedance matching.
The front panel has a headphone jack, controls for source selection, level, bass, treble, tone defeat, balance, and subwoofer level. There is an auxiliary input with an additional 12-dB gain stage to compensate for typically low output of portable devices. An included remote control duplicates these functions. The IC volume control of the P 3 has been replaced with a premium Alps motorized potentiometer.
In addition to upgrades to the analog audio circuitry, the P 5 features a 0.5 watt standby power consumption to meet the new Energy Star requirements. A 12-VDC trigger circuit and a IR connection and loop-out make it easy to interface with sophisticated AV systems.
The Parasound Halo P 5 audio preamplifier will be offered in both black and the traditional Halo silver finish. It will be available in September with a suggested retail price of $950.