PENTATONE – APRIL RELEASES
In April, PENTATONE releases three enthralling additions to the catalogue: Bach Nostalghia with Francesco Piemontesi; Bach Unbuttoned with Ana de la Vega, Ramón Ortega Quero , Alexander Sitkovetsky, Cyrus Allyar, Johannes Berger, Württembergisches Kammerorchester Heilbronn; Brahms: Symphony No. 2 & Academic Festival Overture with Herbert Blomstedt and Gewandhausorchester Leipzig
Bach Nostalghia – Francesco Piemontesi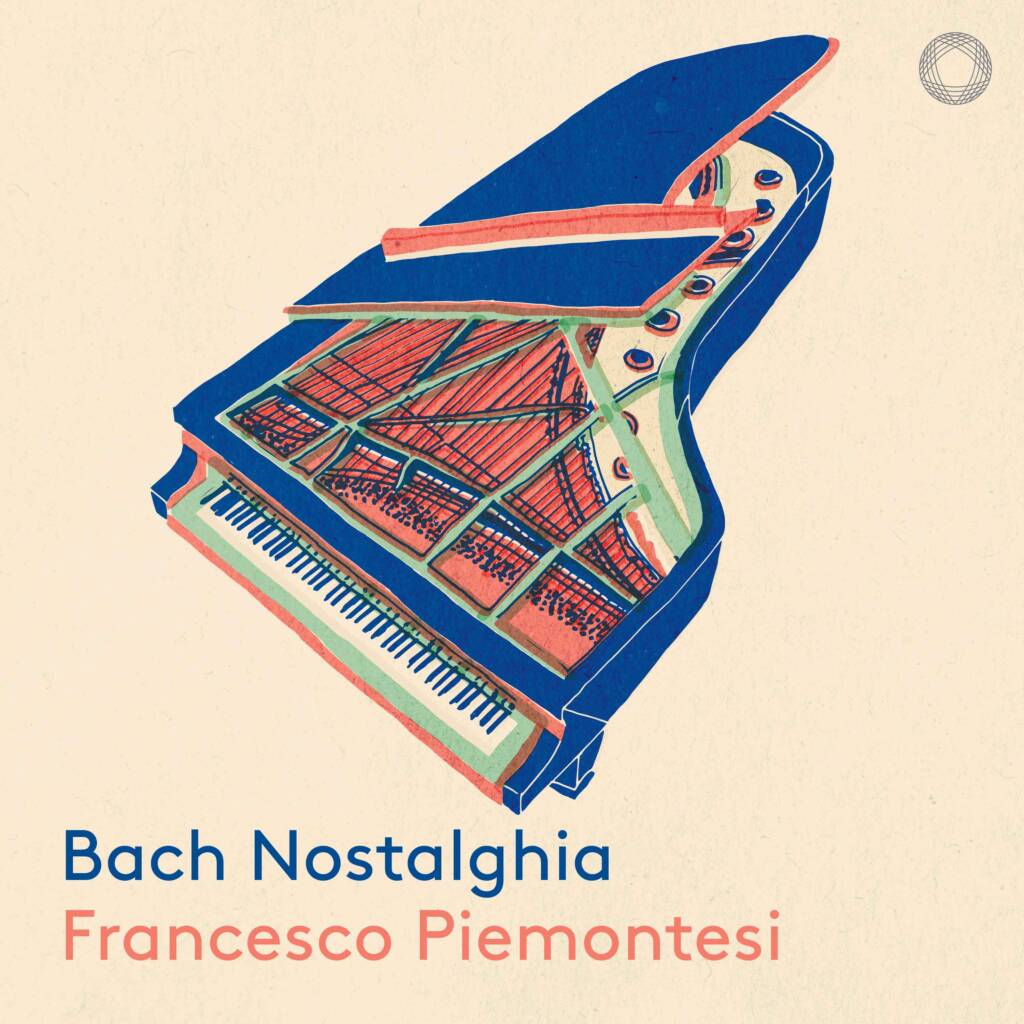 On Bach Nostalghia, his second PENTATONE album, pianist Francesco Piemontesi presents original works of Bach, alongside Bach transcriptions and works inspired by Bach from Ferruccio Busoni, Wilhelm Kempff and Maximilian Schnaus. Whereas many modern-day musicians aim to revive the instruments used in Bach's own time, Piemontesi explores the tradition of Bach transcriptions for piano. This tradition started in the nineteenth century, found its most prominent exponent in Busoni, and is still alive today, as Schnaus's transcription of Kommst du nun, Jesu, vom Himmel herunter demonstrates. Despite using an instrument not yet existing in the composer's time, Busoni and others sought to interpret Bach's music with utmost reverence and study, expanding our notions of authenticity and Werktreue. For Piemontesi, playing Bach through the eyes of Busoni and Kempff incites a sense of nostalgia, re-establishing the ties to a rich pianistic tradition. The album title alludes to Andrei Tarkovsky's Nostalghia, a 1983 film about the untranslatability of art and culture.
Francesco Piemontesi is among the most-cherished pianists of our age and presents the second fruit of his exclusive collaboration with PENTATONE, having released the acclaimed Schubert – Last Piano Sonatas in 2019, which was crowned as Classica's Choc de l'Année 2020.
"With his transcriptions for the piano, Busoni aimed to make the works of Bach accessible to the modern musical world. Today, the situation has been reversed: Bach probably sounds much more old-fashioned and melancholic to our ears on a modern grand piano than on a historical harpsichord. Nevertheless, we have known this way of interpreting Bach since our childhood, a tradition that is already perceived as an anachronism in some cases, and which future generations may find completely incomprehensible.
But the versatility of the piano should not be underestimated. It can sound like an organ or like a full orchestra, but also as transparent as a harpsichord. Between the romantically-filtered chorales and the monumental impetus of the E-flat major Prelude, the Italian Concerto is at the centre of the album, putting the moment of nostalgia into perspective. "Sono capace di sentirmi un infinità di cose contemporaneamente", Domenico, the tragic protagonist in Andrei Tarkovski's film Nostalghia, exclaims to those who have entered: I can feel an infinite number of things at once."
-Francesco Piemontesi
Bach Unbuttoned – Ana de la Vega, Ramón Ortega Quero, Alexander Sitkovetsky, Cyrus Allyar, Johannes Berger, Württembergisches Kammerorchester Heilbronn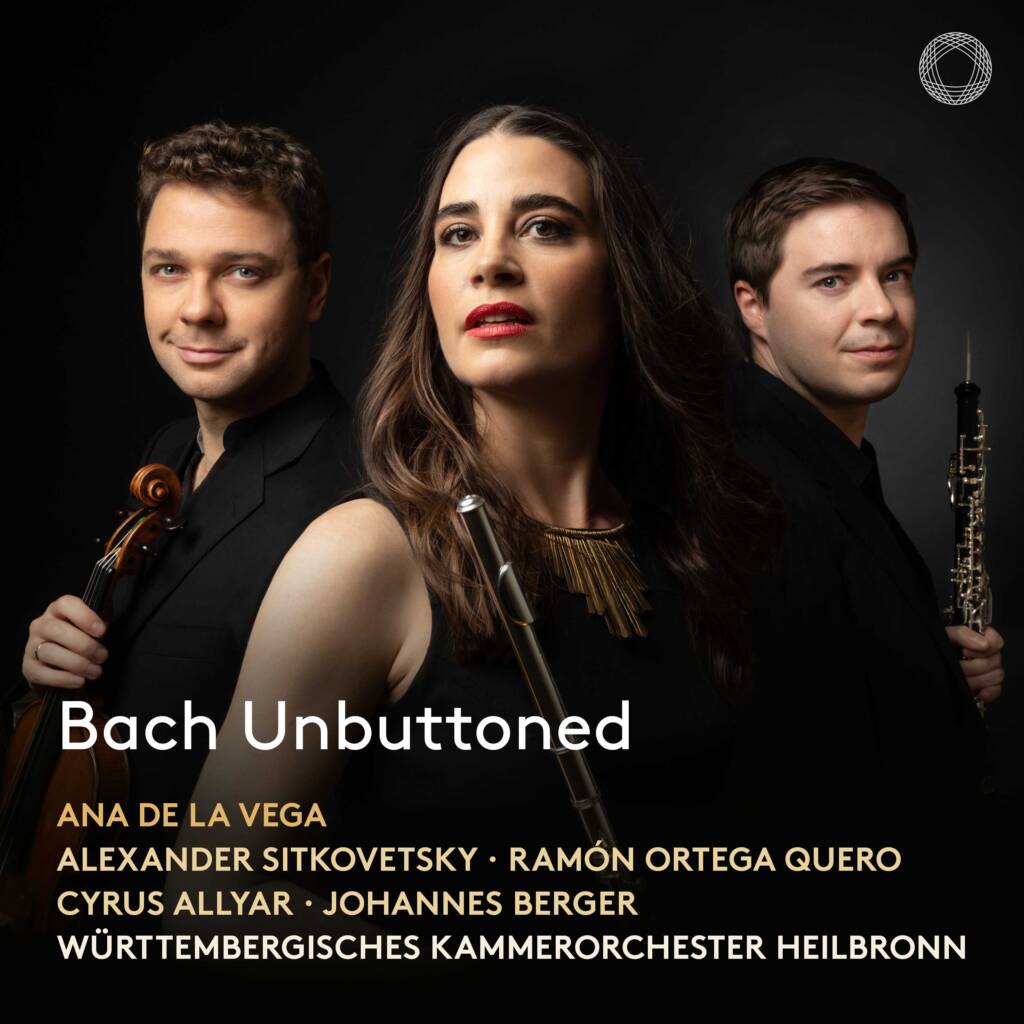 On her third PENTATONE album Bach Unbuttoned, Ana de la Vega brings together a group of exciting young soloists and the Württembergisches Kammerorchester Heilbronn to present a lively and fresh perspective on Bach as man and composer. The programme contains Brandenburg concertos Nos. 2, 4 & 5, a unique rendition on flute and oboe of the double violin concerto, as well as the breath-takingly virtuosic Badinerie for flute.
Flautist Ana de la Vega's presents her third PENTATONE album, after having released Mozart Mysliveček (2018) and Haydn Stamitz (2020). Oboist Ramón Ortega Quero also starred on the latter album and is featured prominently on Bach Unbuttoned as well. Violinist Alexander Sitkovetsky, trumpet player Cyrus Allyar, harpsichordist Johannes Berger and the Württembergisches Kammerorchester Heilbronn all make their PENTATONE debut.
"For me, Bach's music is indeed pure perfection, balance and genius. But it is also an expression of the crying soul of a father who buried half his children, of the enthusiasm of a man who experimented with the newest instruments of his day; of a cantor who wrote masses so enormous in their conception they weren't even possible to play within Lutheran church possibilities at that time… and finally, of an artist who didn't have time, or care, for doing up his buttons."
-Ana de la Vega
Brahms: Symphony No. 2 & Academic Festival Overture – Herbert Blomstedt and Gewandhausorchester Leipzig
Maestro Herbert Blomstedt and the Gewandhausorchester Leipzig continue their integral Brahms symphonies project with a recording of the composer's Second Symphony in D Major, alongside his Academic Festival Overture. Although idyllic and pastoral at first sight, Brahms himself remarked that he had "never written anything so sad". Blomstedt and the orchestra bring out all the different moods and colours of this exceptional work, while the Academic Festival Overture provides a jubilant, glorious conclusion.
Blomstedt's work as a conductor is inseparably linked to his religious and human ethos, and his interpretations combine great faithfulness to the score and analytical precision with a soulfulness that awakens the music to pulsating life. In the more than sixty years of his career, he has acquired the unrestricted respect of the musical world. The Gewandhausorchester Leipzig is the oldest civic orchestra in the world with a glorious history and is still counted among the world's leading ensembles. Their PENTATONE debut with Brahms' First Symphony and Tragic Overture (2020) received rave reviews.
foto: Ana de la Vega/Pentatone