PENTATONE NEW RELEASES
FRANZ JOSEPH HAYDN : Symphonies Nos. 53, 64, & 96
Oregon Symphony Orchestra
Carlos Kalmar (Conductor)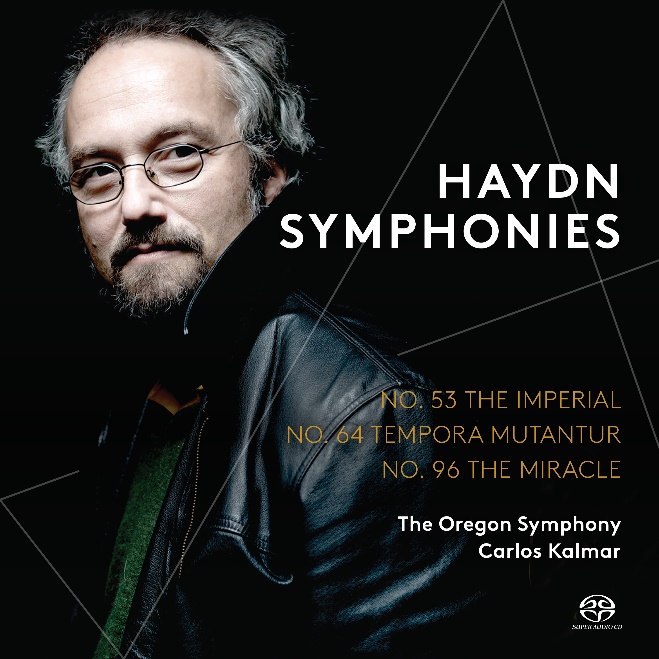 Whether it's a confident swagger or a balletic grace, a beguiling folk-melody or a quicksilver rondo, there is always something new to discover in the endlessly inventive symphonies of Haydn, especially in these firm favourites played by the Oregon Symphony under Carlos Kalmar in this new release from PENTATONE.
While Haydn wrote only one "Surprise" symphony, there are surprises to be enjoyed aplenty here. From the bewildering Largo in Symphony No. 64 with its unexpected turns and derailments, to the ceremonial elegance and ear-tickling melodies of Symphony No. 53 or the mock-heroics and propulsive rhythms of Symphony No. 96, Haydn's irrepressible and dazzling ingenuity constantly delights and astonishes. "There is no one who can do it all," wrote Mozart, "to joke and to terrify, to evoke laughter and profound sentiment – and all equally well, except Joseph Haydn."
This is Carlos Kalmar's fourth album for PENTATONE with the Oregon Symphony. Their album Music for a Time of War, earned two Grammy nominations (Best Orchestral Performance and Best Engineered Album, Classical) and was widely praised by music critics.
Gramophone said of their album This England "Kalmar's Oregon performance certainly pulls no punches … a total success, gripping in mood and hot on specific instrumental detail," adding, "sound-wise, you couldn't ask for more; nor could anyone expect finer recording from PENTATONE." And in 2016, their critically acclaimed album of 20th century American orchestral works The Spirit of the American Range earned a Grammy nomination for Best Orchestral Performance. Carlos Kalmar, a Uruguayan national, is in his fourteenth season as Music Director of the Oregon Symphony. He is also the artistic director and principal conductor of the Grant Park Music Festival in Chicago. His Carnegie Hall debut in May 2011 with the Oregon Symphony, was noted by New York critic Alex Ross as "one of the most gripping events of the current season".
OLIVIER MESSIAEN & KRAKAUER
Matt Haimovitz (Cello) & friends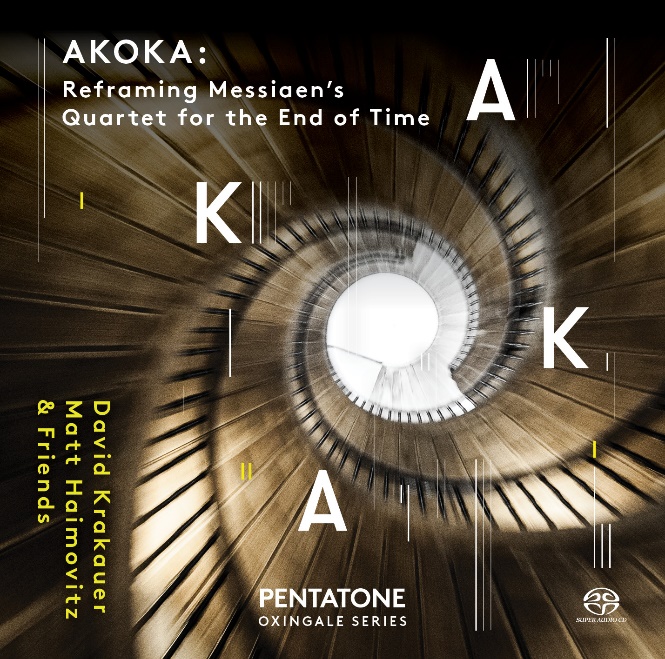 In their "brilliantly inventive" (The New York Times) live recording, clarinetist David Krakauer and cellist Matt Haimovitz's AKOKA lift Messiaen's transcendent 1940-41 work Quartet for the End of Time out of the polite context of a chamber music performance, placing it in a dramatic 21st century setting that drives home its gravity and impact. AKOKA was inspired by the wartime experience of Jewish clarinetist Henri Akoka, who premiered the Quartet for the End of Time with Messiaen himself at the German prisoner-of-war camp in which they were both interred. Henri Akoka's vibrant personality and the story of his survival, with all its twists and turns, is the inspiration for this recording, which brings out the human aspect of this composition, seen through the eyes of one individual caught up in terrifying events beyond his control. Messiaen's Quartet for the End of Time is bookended by Akoka, Krakauer's highly improvisational, Sephardic-tinged piece, and Meanwhile… a re-mix by hip-hop/klezmer artist Socalled, who joins the ensemble on electronics. As the forces of fundamentalism, intolerance and violence intensify in today's world, this mounting of Messiaen's great work is all the more timely.
JOHANNES BRAHMS: String Quintets
WDR Symphony Orchestra Cologne Chamber Players (Ensemble)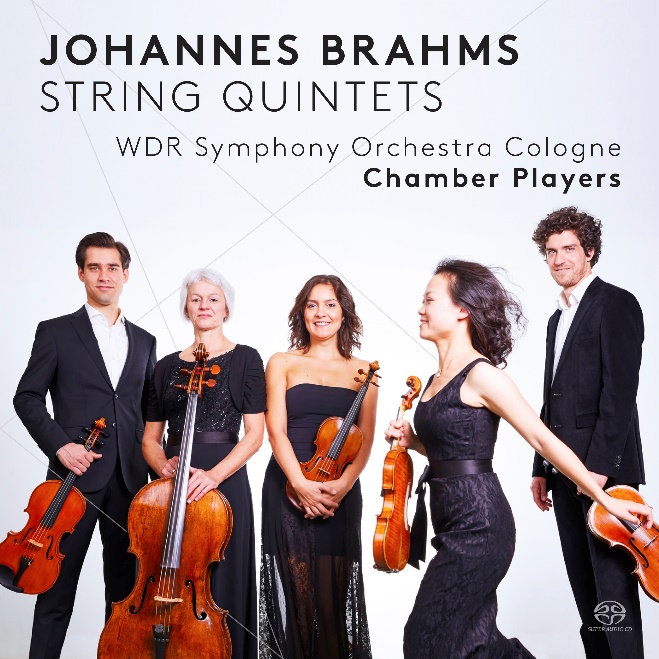 Radiant, expansive, lyrical and utterly compelling, Brahms's richly rewarding string quintets are exuberantly unleashed by the WDR Symphony Orchestra Cologne Chamber Players in this new recording for PENTATONE. These technically demanding works contain everything one could wish for from the mature Brahms: searching melodies woven into glowing, luxuriant textures, lyrical introspection with subdued sonorities, to youthful abandon in breathless, rhythmic passages.
"You have never before had such a beautiful work from me", Brahms told his publisher about his Quintet No.1 in F major, Op. 88. This was no idle boast. The amiable and leisurely first movement with its warmly inviting opening melody is followed by a haunting second movement based on a sarabande with exquisite interplay between the instruments. In a nod to Beethoven, the energetic final movement is a masterly combination of fugue and sonata form but the result is pure Brahms.
Brahms originally intended his Quintet No.2 in G major, Op. 111 to be his final work but it is anything but a swansong. From the shimmering grandeur of the opening with an ardent, soaring theme from the cello, this work is a tour de force, full of buoyant high spirits quite unlike any of his other chamber works.
The WDR Symphony Orchestra Cologne was formed in 1947. It has recorded extensively and is renowned for its interpretation of 20th century and contemporary music in addition to the standard classical repertoire. Its chief conductor is Jukka-Pekka Saraste. The WDR Symphony Orchestra Cologne Chamber Players are all members of the orchestra as well as pursuing their own international careers: Ye Wu (violin, Leader), Andreea Florescu (violin), Tomek Neugebauer (viola), Mischa Pfeiffer (viola) and Susanne Eychmüller (cello).