PIONEER N-50AE & N-70AE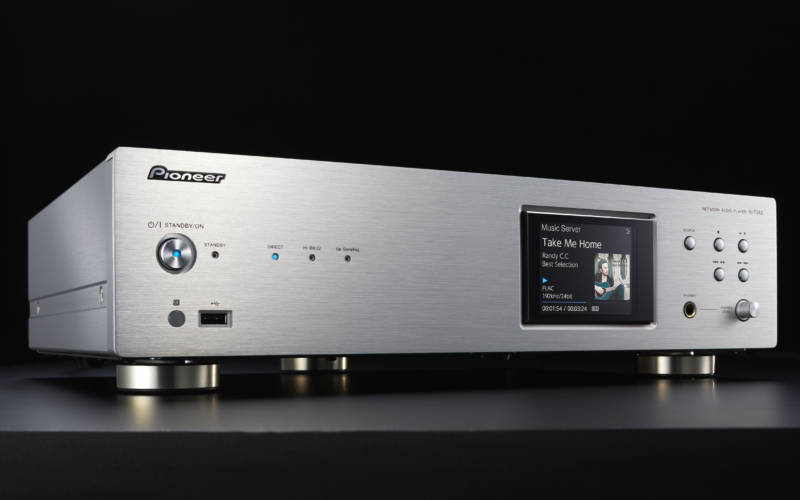 New N-70AE and N-50AE Network Audio Players Fulfill the Audiophile's Desire to Enjoy the Full Spectrum of Network and Hi-Res Sources
Pioneer & Onkyo Europe GmbH announce two audiophile-level network audio players, the N-70AE and N-50AE. Both feature the high-performance SABRE32 Ultra32 DAC, twin transformers, USB-DAC supporting 2.8/5.6/11.2 MHz DSD, and plug-and-play external HDD/USB-memory playback via USB input.
The class-topping N-70AE features dual SABRE Ultra32 DACs and a three-chamber shielded chassis that isolates the power supply for digital block and digital circuitry from the analog power supply and analog circuitry, eliminating electrical and magnetic interference. The design also improves structural rigidity with beams that separate blocks and side panels. A rigid under-base suppresses vibration.
The products feature twin transformers in separate shield cases that work to eliminate flux-influence for both analog and digital blocks, assuring a clean supply of power. High-grade parts are used throughout, such as custom capacitors for the power supplies, while the N-70AE adds machined RCA terminals.
Both N-70AE and N-50AE offer Chromecast built-in and Spotify Connect, allowing music from supported smartphone apps to be streamed to the player with album covers displayed on its 3.5-inch LCD. Music via
Chromecast built-in, TIDAL, and Deezer is easily accessed using system remote or Pioneer Remote App. Both models equip Wi-Fi® supporting 5 GHz and 2.4 GHz frequency bandwidths to assure a stable wireless connection while expediting setup compared to legacy models.
In addition, users can play music stored on portable hard disks. Simply connect a compatible plug-and-play HDD to the USB input located on the rear of both players. The network audio players also offer music server functionalities. Connected HDDs can be read from and written to with a PC connected to the same local network, making it easy to copy new music from computer to hi-fi system.
Key Features:
Equipped with Advanced Audio Technology to Achieve Supreme Sound Quality
Low-noise signal processing employing 8-ch parallel drive with twin SABRE32 Ultra DACs (N-70AE)
Equipped with asynchronous transfer-type USB DAC (up to 384 kHz/32-bit LPCM, 5.6 MHz DSD)
Texas Instruments TPA6120 headphone amplifier (N-70AE)
DIRECT Mode for faithful reproduction of original sound
Jitter-free signal processing (PQFA)
Hi-bit 32 audio processing
Stream a Wealth of Music via Spotify Connect, Chromecast built-in, Wi-Fi®, and Bluetooth®
Enjoy a virtually endless supply of music in moments. Both network audio players support Spotify Connect, Chromecast built-in, Wi-Fi, and Bluetooth, allowing users to stream songs from Android™ smartphones and tablets; iPad, iPhone, iPod touch, Windows® devices and PCs, Mac PCs*1, and Chromebook.
Displays Song Information and Album Cover Artwork
The products display album cover artwork in high resolution together with album, song, or streaming program information on a 3.5-inch LCD screen. The listening experience is enhanced with relevant information and with artwork intended to compliment the music in a curated atmosphere.
Equipped with Dual-band Wi-Fi® Supporting 5 GHz (11 a/n) and 2.4 GHz (11 b/g/n)
Products feature Wi-Fi with 5 GHz (11a/n) and 2.4 GHz (11b/g/n) bands that make wireless communications more resistant to interruption. Further, dual-band Wi-Fi makes initial setup much simpler than in the past.
Supports "Plug-and-Play" USB Hard Drives
Connect a plug-and-play HDD to the USB terminal and enjoy music libraries in high definition*2.
Decodes Popular High-Resolution Audio Sources
The N-70AE and N-50AE support Hi-Res Audio in a variety of file formats and containers. DSD playback up to 11.2 MHz and PCM encoded in FLAC/WAV/AIFF/Apple Lossless are all supported (N-70AE: 384 kHz/24-bit, N-50AE:192 kHz/24-bit).
Intuitive Control and Streaming with Pioneer Remote App
Intuitively choose songs from desired streaming services, browse libraries on the device, connected PC, or USB HDD, and smoothly operate the N-70AE/N-50AE using a smartphone or tablet with the free Pioneer Remote App installed.
Planned Enhancements to HDD Music Server Functionality
Both components incorporate a function to write data to USB HDD and support music downloads in collaboration with the e-onkyo music service. Listen to high-resolution audio purchased from a variety of places – including on the go – without the use of a PC. Simply download them directly to a USB hard disk connected to the N-70AE or N-50AE.