PIONEER SE-MHR5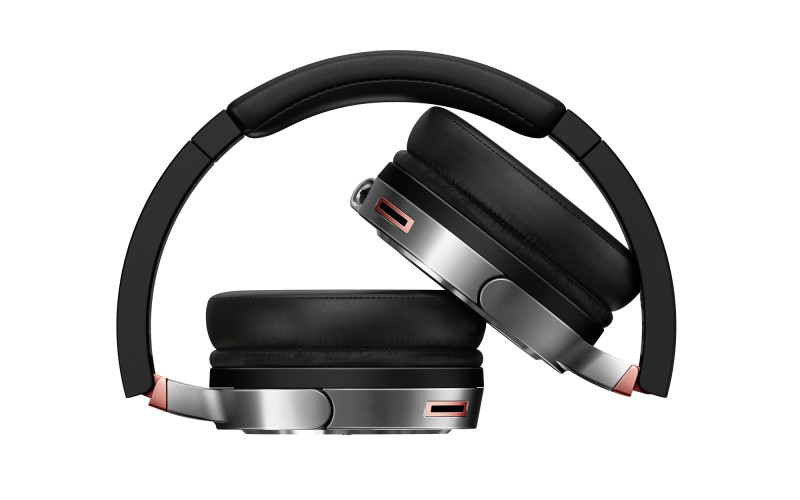 Pioneer has announced the launch of its SE-MHR5 headphone – a revolutionary addition to its Pure Audio headphone range that also features its range-topping renowned SE-Master 1 model. Featuring a closed back design with a folding mechanism for easy portability, the SE-MHR5 is the perfect headphone for those that demand high-quality audio performance and comfort on the go.
Key Features of the SE-MHR5 Include:
• Closed back dynamic design for noise isolation
• Dedicated 40mm drivers producing 7Hz to 50kHz wide frequency range and high power with excellent linearity and clarity
• Ported driver housing for increased bass quality
• Foldable design allows for simple storage within the supplied carry case
• 2 x cables supplied – standard and balanced – both fitted with 3.5mm stereo plug
• Stylish yet understated craftsmanship
The SE-MHR5 is a true work of audiophile excellence. The latest member of Pioneer's Pure Audio range, the dedicated 40mm drivers with CCAW (Copper Clad Aluminium Wire) high-power voice coils deliver a wide response from 7kH up to 50kHz, delivering an accurate performance across the entire frequency range. Each driver sits within its own-ported driver housing, allowing bass to naturally breath and utilise external air to increase performance whilst the dual chamber construction helps increase isolation – both for the user and the outside world.
Long-term comfort for any pair of headphones is crucial. The SE-MHR5's are fitted with faux leather covered low-repulsion cushion foam for both its ear pads and head band, which gives the user both a soft fit yet enough pressure for good isolation.
Special attention has been paid to the SE-MHR5's input terminal, which is isolated from the right driver housing for improved consistency between both drivers. Two cables are supplied: a balanced cable for improved separation when using a compatible headphone amplifier and a standard cable for conventional use. Both cables have 3.5mm right-angled plugs with rugged surrounds. A sleek carry case is also included, for added protection and portability.
With its dynamic closed-back design and folding mechanism, the SE-MHR5 is ideal for users on the go and the everyday commute. Whilst retaining its precision, the headphones leak minimal sound – making it perfect for use in public.
SE-MHR5 Specifications:
• Type: Closed dynamic type
• Driver Unit: 40mm
• Frequency Response: 7 Hz to 50 kHz
• Input: 1,000 mW
• Sound Pressure: 102 dB / 0.2V (in input) at 1kHz
• Impendence: 45Ω
• Cable: Detachable and one-sided,1.2m (Connector: 3.5mm/I-shape/Rocked type)
• Plug: Stereo mini/ L-shape
• Weight (g): 240
• Accessories: Balanced cord/ Carry pouch