PMC QB1-A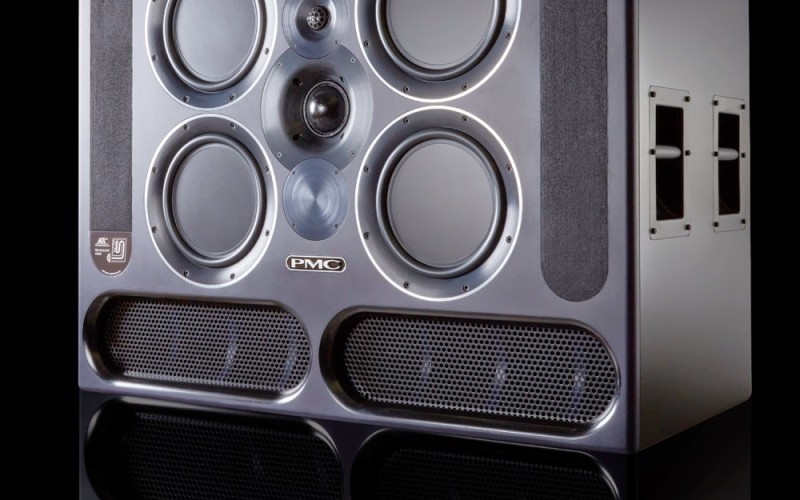 Aktywny potwór PMC. Słuchaj jak profesjonaliści, ale ostrożnie! Studyjne odsłuchy Brytyjczyków mają taką moc, że wrzucone do morza wywołałyby katastrofalne tsunami
British reference loudspeaker manufacturer PMC has announced the launch of the QB1 Active, a large-scale, ultra-high-resolution main studio monitor with analogue and digital (up to 192kHz) inputs. Ideal for either soffit-mounted or free-standing use, each QB1-A incorporates the latest generation of PMC's driver designs, Class-D amplification, Advanced Transmission Line (ATL™) bass-loading technology, DSP control, and a quartet of 10-inch carbon fibre/Nomex® piston bass drivers to create a single reference monitor that has the transparency, resolution, dynamic range, frequency response, forensic sense of detail, and wide, consistent imaging demanded by the international audio elite.
With a maximum SPL of 132dB at one metre, the QB1-A can certainly produce level — but not at the expense of accuracy or increased distortion. Each channel has an expansive 4825W of Class-D amplification at its disposal (275W on the HF driver, 550W on the mid-range, and a generous 4000W on the four bass drivers), and the latest iteration of PMC's ATL technology ensures a faithful low-frequency response down to 20Hz. The cutting-edge onboard DSP provides driver unit optimisation, EQ and sophisticated crossover networks, while the wired RJ45 desktop control provides user-friendly access to user EQ settings via its backlit display and jog wheel, with the ability to store up to four user setup presets. Even the physical dimensions have been carefully considered: at 1092 x 820 x 520 millimetres (WHD), the QB1-A will retrofit into almost all existing studio soffits. Alternatively, its ATL™ design means that free-standing use has no impact on its effortlessly smooth bass response.
The QB1-A has its roots in the observation by PMC's design team that there were no large-scale active studio monitors on the market taking advantage of the latest developments in loudspeaker driver analysis and design and DSP-aided control. This starting point, coupled with PMC's own extensive research into driver performance, using opto-acoustic laser inferometry at the UK's National Physical Laboratory (NPL), aided and honed the design of the QB1-A. "We saw that there was a gap at the high end of the market," explains Oliver Thomas, R&D Project Manager at PMC. "In the main, the current products on the market don't offer the flexibility of analogue and digital inputs, and suffer from giving listeners an insufficient sense of resolution, compared to what can now be attained with good Class-D amp design and DSP-aided crossover management."
The QB1-A makes up this ground, additionally employing recent advances in PMC's transmission line design concept, as used in the company's IB2 midfields and twotwo nearfields, and the aforementioned NPL analyses, to achieve even more efficient, high-performance designs. Extra bracing and damping inside the speaker cabinet prevents noise and reduces resonance to insignificant levels beyond the limits of human audibility, while the newly introduced vertical strakes in the transmission line add further bracing and simultaneously reduce turbulence in the throughput airflow, making it laminar and contributing to the QB1-A's faster, more dynamic sound.
Each speaker employs three carefully integrated proprietary driver types. PMC's renowned soft-dome 34mm and 75mm drivers deal with the high frequencies and mid-range respectively, producing a natural, transparent sound with super-low distortion — and depending on client requirements regarding the height placement of the QB1-A, the HF driver may be placed above or below the MF driver as needed. No fewer than four handmade, individually matched low-frequency drivers handle the bass, employing PMC's proprietary 'honeycomb' carbon-fibre/Nomex® design in an extensively vented, cast-aluminium chassis. The flat-faced 10-inch piston driver in each bass unit ensures a near-instantaneous, yet highly accurate transient response, while providing the sheer power required to drive the QB1-A's heavily damped, high-compression transmission line; these power requirements exceed what an off-the-shelf cone driver can deploy without deformation. The result of this carefully judged design is reduced distortion and increased power handling and headroom, with continuous reliability.
The QB1-A's final form, how it works, and its feature-set, are the result of over a year of practical testing by and feedback from eminent producers and engineers on both sides of the Atlantic. Nor, in the drive to create a high-performance monitor for the digital age, has the sound of this loudspeaker been neglected. Pure reference tools can be fatiguing to listen to, and the working practices of audio pros often reflect this. "Many engineers record with one set of monitors to create a sense of excitement while tracking, but then use another set for the low-level, intensely detailed business of mixing and mastering," continues Oliver Thomas. "The QB1-A is designed for both kinds of work, offering faithful, non-fatiguing reproduction for a beautiful general listening experience or for recording, but with microscopic detail when you need it."
The QB1 Active is being officially launched during the 137th AES Convention in Los Angeles, USA, October 6th-10th 2014. For more information about the product and its launch, see www.pmc-speakers.com/products/professional/active/qb1a, or come to PMC's stand at the show (#1628).
"In this day and age, we felt the market could benefit from a modern, large-scale, high-resolution monitor with digital and analogue inputs," concludes Oliver Thomas. "We couldn't find one. That's why we designed and built the QB1-A."