POLK AUDIO HAMPDEN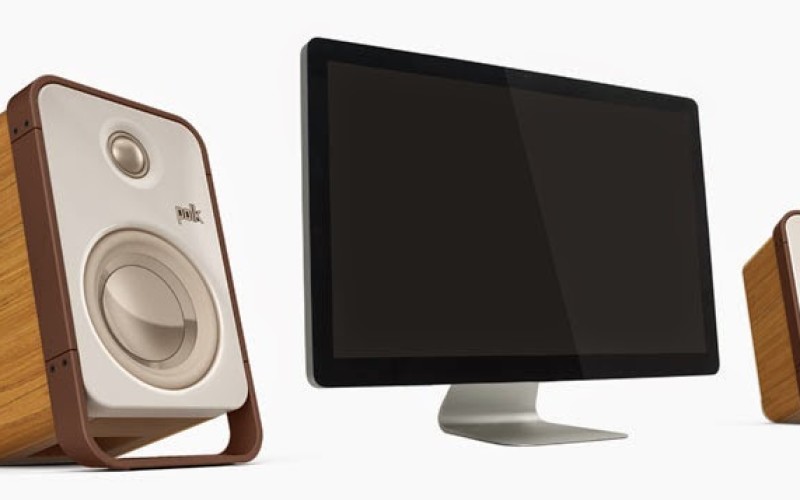 Bardzo stylowy i całkiem mocny, bo w sumie 80-watowy aktywny desktopowy system kolumnowy m.in. z terminalem USB i Bluetoothem. Cena - 400 dolarów
Hampden blends high quality audio with an elegant home décor aesthetic due to its stylish, retro-meets-contemporary design. Hampden is constructed in an all-wood cabinet with a curved teak wood veneer that is offset by an all-white front with glass-filled, nylon bezels. To control volume, the loudspeaker features an intuitive rotary wheel, both simplistic and iconic in its application, which allows users to effortlessly alternate sound levels.
"With Hampden, we wanted to create a home audio solution that brings great sound and increased functionality to the desktop while reflecting the retro design aesthetic seen in our recently launched Heritage Collection of personal audio accessories," said Michael DiTullo, Chief Design Officer of Sound United. "Hampden captures the essence of a classic pair of Polk speakers, featuring a timeless yet minimalist design that fits well in the home office or living room. By adding USB connectivity, Bluetooth wireless technology and compatibility with our DJ Stream App, users now have more listening options and access to an interactive element that creates a more social and sharable music playing experience."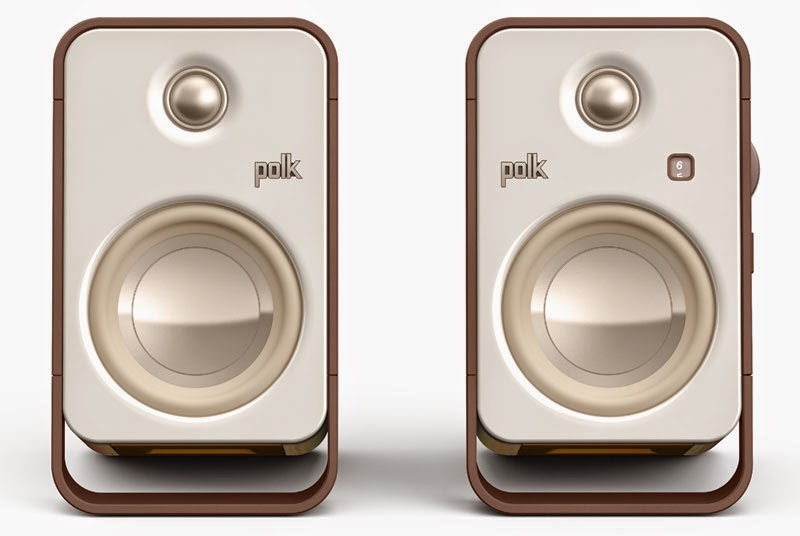 With most desktop speakers designed to aim sound at the listener's chest, Polk takes a "laid back" approach with Hampden, angling the sound stage upward to ensure a more optimal and immersive listening experience. The system is powered by two 1-inch, soft-dome silk/polymer tweeters and two 4.5-inch polypropylene woofers with rubber surrounds. Each driver and tweeter also comes with a dedicated amplifier, creating an exceptionally natural sound and clarity throughout the frequency range. Additionally, Polk added in a fully digital amp, which bypasses a computer's digital to analog converter and handles all of the Digital Signal Processing when connected via USB.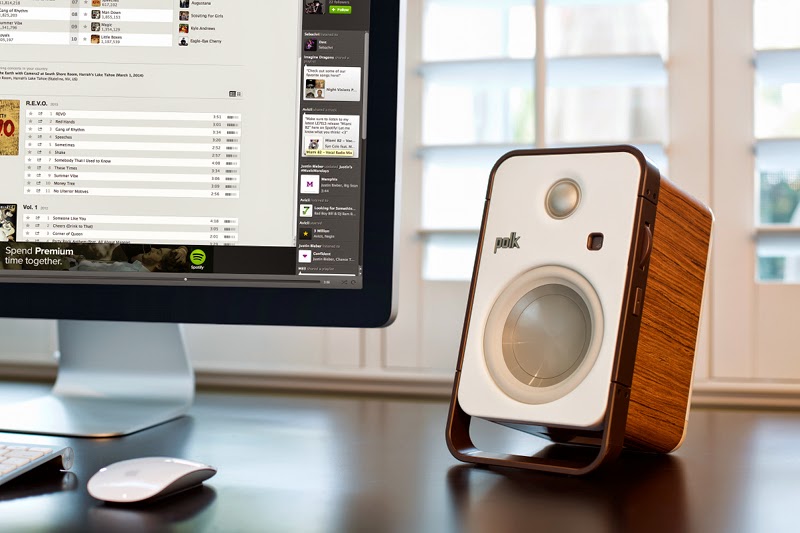 As an additional feature, Hampden allows music streaming through multiple sources thanks to Polk's DJ Stream App. The app allows up to four people to connect to the Hampden as DJs and create a playlist from music libraries on their device. One user will serve as the DJ Host, controlling music play, while the other three function as Active DJs. While taking turns adding music to the playlist, up to 128 additional Guest DJs can view the playlist, vote on music and become an Active DJ when one of the four phones drops off or disconnects.
Hampden retails for $399.95 and is available for purchase at www.polkaudio.com and select retailers, including Crutchfield, Stereo Advantage and Worldwide Stereo. The DJ Stream app is also available for free download from the Apple Store and Google Play .
Więcej – tutaj.