WESELE WE VSI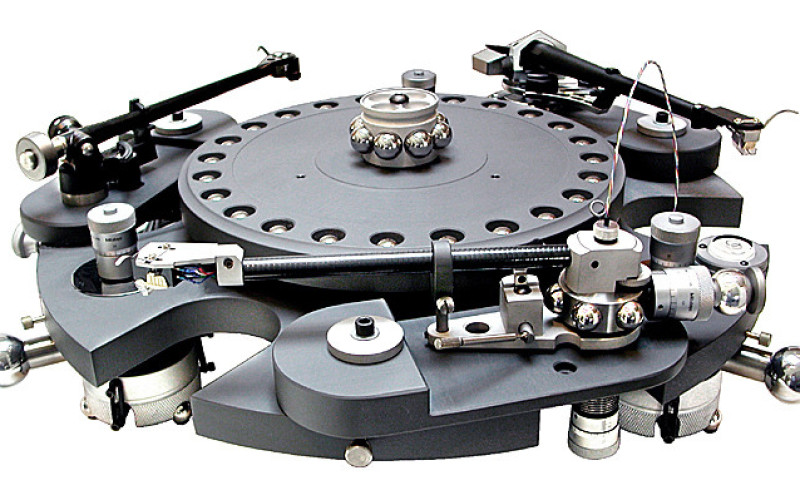 Gramofon, który wygląda jak kiepski żart z filmów Michaela Baya, ale może być wzorem na doskonałość
Ten niezwykły aparat to prototyp powstały w fabryce mieszczącej się w Colorodo Springs firmy Van Slyke Instruments, która specjalizuje się w budowie teleskopów i produkcji optyki. Gramofon przypomina zagubioną część statku kosmicznego z "Bitwy o Los Angeles", ale w rzeczywistości jest spełnionym poematem audiofila, sonetem materiałoznawcy, balladą melomana i pieśnią zegarmistrza. Konstruktorzy wykorzystali w nim to, czym mają do czynienia codziennie, czyli wysokiej jakości części, z których tworzą lunety do podglądania Wszechświata. Szczegóły – w informacji poniżej. Aktualna cena – to ok. 20 tys. dolarów.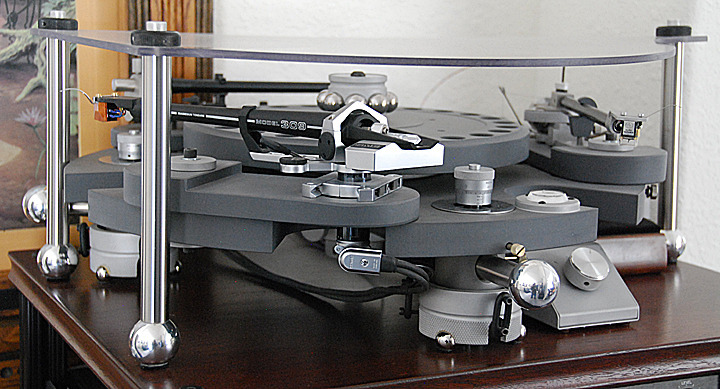 VSI's (not VPI) modular turntable system allows you to select your components to build the LP player you want. You can easily install your own existing tonearm(s), install any other tonearm on the market, or use our Ruby Rod tonearm times one, two or three. Plinths, platters and armboards are not cast. They are precision cut and machined from solid blocks of pure virgin vinyl polymer. Platters are precision milled (not turned) to provide zero tolerance. 10 lb. metal sub-platters are diamond ground, then cooled. This process is repeated until the tolerances are not measurable on our instruments, accurate to 50/millionths of an inch.
The Midnight Express 2 SAturn table offers a unique, super-solid sub-chassis (pictured). Using solid 3/4″ diameter stainless steel rods, locked directly to the spindle housing and extending through the three solid gray iron vertical cylinders (2″ diameter), the Midnight Express 2 (ME2) is structurally rock-solid without all the heavy mass that can over-damp and kill the music. The ME2 then incorporates the revolutionary Tri-Orb tuned suspension system, with lateral/horizontal stabilizers, offering a taught yet fluid suspension platform in both axis. You receive the full advantages of the renowned Tri-Orb's balanced suspension system that is so famous throughout the civilized world.
The ME2's Unique Tuned Suspension System designed with Patented TRI-ORB Technology
As many of you may already know, the revolutionary Tri-Orb balanced isolation and damping platforms are beyond any other platform on Planet Earth, by a factor of at least 10. This isn't VSI "tooting their own horn." These testimonials come directly from our loyal customers (deleted but available on request).
The ME2 tuned suspension is identical in function and application to the lower flotation mechanism on the Tri-Orb Lite standard-grade isolation and damping platforms. The ME2's 2″ diameter gray iron column is slung vertically, via 3 Neoprene O-rings, providing total flotation and isolation in the vertical axis. Lateral, or horizontal [swing] motion is contained with a second, larger horizontal O-ring that captures the gray iron column uniformly at three contact points around its circumference.
The 1/4″ diameter, cone tipped [ground and hardened] rod, protruding from the gray iron column's center, is our exclusive [gravity activated] vertical Coulomb rod. This rod moves axially and literally floats under the ME2, making minimal point contact with the ground, creating a one-way vibration release path to ground.
GENERAL FEATURES: Midnight Express LP Player
A plinth and platter made from pure vinyl polymer. What's more INERT than vinyl against vinyl? Nothing!
24 hardened chrome-steel balls (3/4″ dia.) imbedded in perimeter of platter extending the moment of inertia. Exclusive tuned [Tri-Orb] suspension system with "ground path" vibration releases.
A unique sub-chassis assembly incorporating 3/4″ solid stainless steel rods.
Ultra-damped 10 lb. metal sub-platter with double bronze bearings.
Diamond ground stainless steel spindle shaft (Rockwell C 65) supported by a ceramic ball.
Quick and easy 3-point micrometer head table leveling with locks and built-in bubble level.
Your choice of Variable Frequency Drive (AC) or Variable Voltage Drive (DC).
Outboard motor selection, either AC synchronous or DC servo.
GENERAL SPECIFICATIONS: Midnight Express LP Player
Pure vinyl polymer plinth, platter and armboards 1-inch thick!
Solid-rod stainless steel and gray iron sub-chassis
Outboard motor-pods available in AC synchro or DC servo
2-speed controller offers 33, 45, 78rpm or any speed (VFD/VVD) from 10 to 100rpm
Precision [ground] belt drive
Plinth diameter = 19″ x 1″ thick
Platter diameter = 12″ x 1″ thick
Platter weight = 6 lbs.
Sub-platter (metal) diameter = 6″ x 1″ thick
Sub-platter weight = 10 lbs.
Height to top of plinth = 4.5″
Height to top of platter = 6″
Tonearm slot in plinth: 1″ x 2″
Height from top of plinth to top of platter: 1.675″
Overall weight: approx. 37 lbs. w/o tonearm(s)