REFERENCE RECORDINGS LP's: THE REFERENCE MASTERCUTS SERIES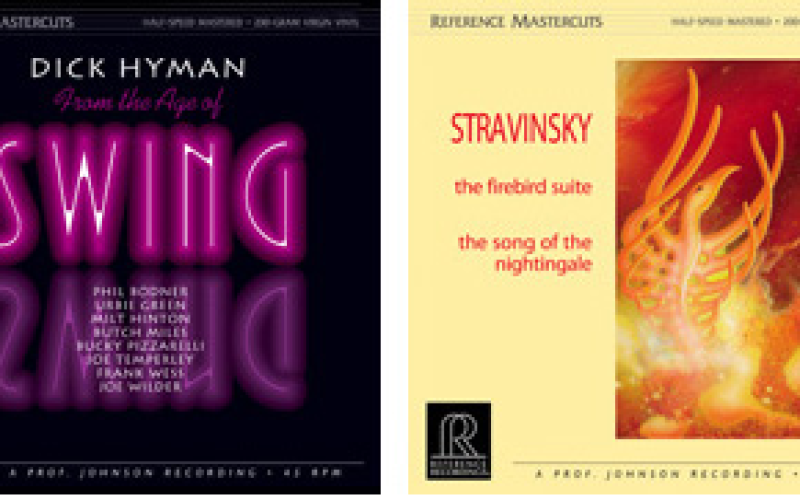 Boże Narodzenie w środku lata - Amerykanie rozpoczynają tłoczenie superaudiofilskich winyli Dwa pierwsze tytuły to: "From The Age of Swing" Dicka Hymana oraz "The Firebird Suite,The Song of the Nightingale" Strawińskiego w wykonaniu Minnesota Orchestra pod dyrekcją Eiji Oue. Są one tłoczone na 200-gramowych krążkach, a w procesie przygotowania płyt jest stosowany tzw. half-speed mastering, gwarantujący najwyższe parametry reprodukcji. RR będzie wydawać w swojej serii albumy zarówno 33 1/3 rpm, jak i 45 rpm. Będą one produkowane przez firmę Quality Record Pressing. Ceny premierowych wydawnictw: wydany na 2 LP 45 rpm "From The Age of Swing" kosztuje 49,98 $, zaś Strawiński (1 LP, 33 1/3) - 34,98 $. Pełna informacja prasowa Reference Recordings dotycząca katalogu Mastercuts - poniżej
For many years, RR has been searching the world over for the best possible vinyl mastering, plating and pressing facilities so we could re-enter the LP market. We now have a production chain that will allow us to produce LPs to meet our high standards and satisfy our demanding customers, who have been waiting for these LPs for a long time!
Assembling the Team
Disc mastering is done at half-speed (see note further in this press release) to insure maximum accuracy. The lathe system has custom electronics by Nelson Pass. The simple signal path contains no compression, equalization or unnecessary circuitry. RR Chief Engineer and Technical Director, "Prof." Keith Johnson consulted on the design of the system and helped with the rebuilding of the lathe and electronics, which is owned and operated by long-time mastering expert Paul Stubblebine. "Prof." Johnson has pronounced it equal to the challenge of our master tapes!
Once we achieved successful results in disc mastering, we faced the difficult task of choosing the best plating and pressing facility to manufacture our discs. Fortunately, the new Quality Record Pressings plant in Salina, Kansas was coming on line, and we feel that waiting for this plant to open was well worth it. Chad Kassem assembled a crack team of experts to design and run his new plant, employing many unique techniques and features that clearly set QRP apart from all other pressing plants. We believe the 200-gram deluxe vinyl pressings from QRP are truly exceptional.
Multiple Configurations for New Reference Mastercuts
Depending on program lengths, some new releases will be cut at 45 rpm, some at 33-1/3 rpm. Some will be single discs, some double. All will feature deluxe gate-fold jackets crafted by Stoughton Printing.
An unusual feature of new RR masterings is what we call the "FDS finish": the end of each side will have a 30-second band of silent grooves before the "pull-away." No one today uses a record changer, and the silent grooves allow time to lift the arm before the always-somewhat-noisy tie-off. (Some 1950s vintage Capitol Full Dimensional Sound pressings sported this feature.) RR founder, J. Tamblyn (Tam) Henderson deserves special recognition for identifying the value of this unique production feature and reintroducing it with the new Mastercuts.
The first two LPs in our new Reference Mastercuts Series:
RM-2501 Dick Hyman From The Age of Swing
2 LP set, 45 rpm, 200-gram discs from Quality Record Pressings, in gatefold jacket
UPC code 0 30911 25011 9 –US List Price $49.98
"Jazz piano master Dick Hyman, with some of the greatest jazzmen who lived and played through The Age of Swing: Phil Bodner, Urbie Green, Milt Hinton, Butch Miles, Bucky Pizzarelli, Joe Temperly, Frank Wess and Joe Wilder." ****1/2 -Downbeat
TRACK LISTING Side One:
1 From the Age of Swing 5:01
2 You're Driving Me Crazy/Moten Swing 4:23
3 Topsy 6:06
TRACK LISTING Side Two:
1 Dooji Wooji 6:02
2 Them There Eyes 4:49
3 Moonglow 3:22
TRACK LISTING Side Four:
1 I Know What You Do 3:22
2 Rose Room 4:28
3 Mean To Me 5:31
4 I'm Getting Sentimental Over You 3:10
RM-1502 Stravinsky: The Firebird Suite/The Song of the Nightingale
Single 331/3 rpm LP, 200-gram disc from Quality Record Pressings, in gatefold jacket
UPC code 0 30911 15021 1 — US List Price $34.98
"There is no finer orchestral playing among American orchestras… Bravissimos are due to all concerned… a triumph of artistry, both musical and technical." -Heuwell Tircuit, InTune magazine
TRACK LISTING Side One:
1 The Firebird Suite 20:45
TRACK LISTING Side Two:
2 The Song of the Nightingale 20:06
NOTE: Half-speed Mastering: Half-speed mastering involves a capturing process in which the original recording master is played back at exactly half of the recorded speed. A sequenced cutting lathe is then timed at exactly half of the playback speed. This process allows twice as much time to carve a groove that accurately represents the sound on the master tape. Half-speed mastering allows for cleaner reproduction and also permits extended high frequency response, extending into the ultrasonic region.
Future releases in the Reference Mastercuts Series will include recordings by The Hot Club of San Francisco, Minoru Nojima, the Dallas Wind Symphony, the Kansas City Symphony and more.