ROTEL RB1590 & RC1590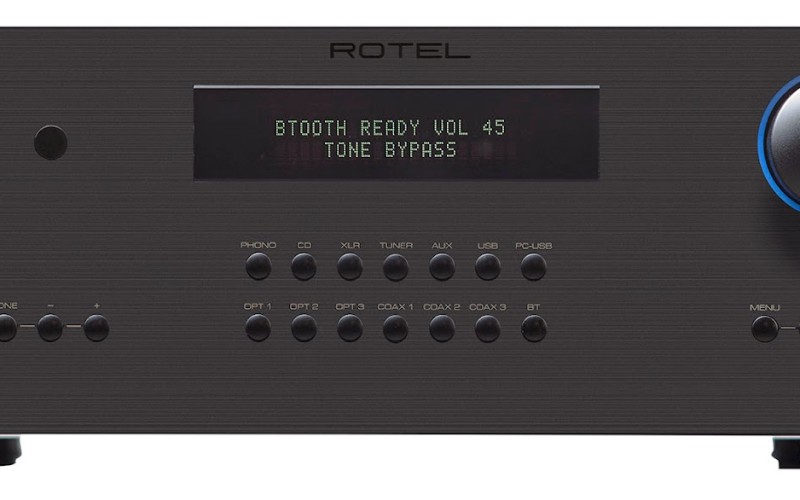 Nowy referencyjny zestaw Rotela - przedwzmacniacz z deszyfracją DSD oraz 350-watowa końcówka mocy. Ceny umiarkowane, czyli poniżej 10 tys. złotych
Rotel has been widely acknowledged for 50 years as a leader in affordable high-end electronics designed for serious audiophiles and home-theater fans. "Our new reference RC-1590 stereo preamplifier and RB-1590 power amplifier advance Rotel to the forefront of high performance audio available today, yet are priced thousands of dollars lower than 'cost-no-object' components," says Doug Henderson, President of B&W Group North America.
The RC-1590 Stereo Preamplifier has been engineered to the highest audio standards while providing the user with an incredible level of control flexibility. It includes extensive arrays of both analog and digital inputs, to accommodate the needs of a modern music system.
The heart of any audio component is its power supply, and the RC-1590's is extraordinary. It is anchored by separate Rotel custom-built toroidal transformers for its analog and digital circuits, and maintains individual, reference-grade analog and digital regulator circuits with custom-made slit-foil capacitors. Slit-foil capacitors have very quick charge/discharge times and low signal loss, to ensure tight bass performance. The result is rock solid and exceptionally quiet power delivery to all audio stages and for all sources.
Beyond the power supply, every aspect of the RC-1590's component selection and circuit topography was designed, and carefully evaluated in extensive listening sessions, to ensure the highest fidelity. Analog and digital circuits were designed separately by specialized Rotel teams, but evaluated together before finalization of the design. The analog inputs boast very-low-noise circuitry, and include a high performance phono stage that supports both moving magnet and photo stage. Digital inputs are fully isolated, and feature a precision AKM, 34-bit/768kHz digital to analog converter (DAC) that supports PCM and DSD decoding.
The RC-1590 offers extensive connectivity. The analog connections include a pair of balanced XLR inputs and two sets of XLR outputs (for bi-amping, if desired) along with single-ended RCA outputs and three sets of single-ended RCA inputs, a phono input, and a pair of buffered subwoofer outputs. Digital inputs are also numerous, for full flexibility with digital sources: three coax and three optical PCM, plus a front USB for iOS devices and a rear PC-USB that supports up to 24 bit/192kHz and DSD signals, along with an internal aptX Bluetooth receiver. There are even digital outputs on coax and optical connectors. Volume is controlled by a Texas Instruments precision volume control IC.
Other essential features include RS-232 and IP control options for automated system integration, Internet-based software updates, two 12-volt trigger outputs, a dimmable display, an automatic power-off function (configurable for 1, 2, 5, 12 hours, or disabled), a detachable IEC power cord, an external IR remote input, and a 3.5mm headphone jack on the front panel. A full function remote control is included.
For music enthusiasts who won't accept compromise, the RC-1590 preamplifier is in a class by itself, at a price that belies its incredible performance.
Available Finishes: Black and Silver. Availability: April 2015
Suggested retail price: $1749.
RB-1590 Stereo Power Amplifier
Rotel's new Class AB stereo power amplifier is a powerhouse rated at 350 watts per channel into 8 ohms, both channels driven. That is indeed a lot of power, but larger listening rooms or less-sensitive loudspeakers require it to bring out the best possible performance and attain realistic audio dynamics without compression. The impressive capabilities of this amplifier begin with a solid foundation consisting of massive, twin, toroidal transformers custom made by Rotel. These transformers are just part of a rock-solid power supply that includes eight special British made BHC capacitors, known for their low loss and quick response times, thereby improving high energy signal transients and dynamic bass performance. These components will continue to supply all voltage and current requirements even under the most difficult load conditions.
But Rotel's philosophy of Balanced Design has never been about raw power alone. Extensive listening sessions have been used to carefully consider every aspect of circuit design and to rigorously select each component, to ensure that power is combined with nuance, detail, and overall musical performance. The circuit topography has been laid out in true monoblock design, ensuring maximum signal separation and improved stereo imaging.
Features include XLR balanced and RCA input connections, two pairs of 5-way speaker binding posts, a 12-volt trigger control, thermal protection circuitry, over-current, and, overvoltage protection circuitry, a dual stage power-on relay to reduce surge current and extend longevity, and a detachable IEC power cord—all in a 5 U chassis with rack ears included.
The RB-1590 has been designed for the most discerning audio enthusiast and will provide the highest levels of audio performance.
Available Finishes: Black and Silver. Availability: April 2015
Suggested retail: $2,999