SONUS FABER ELECTA AMATOR III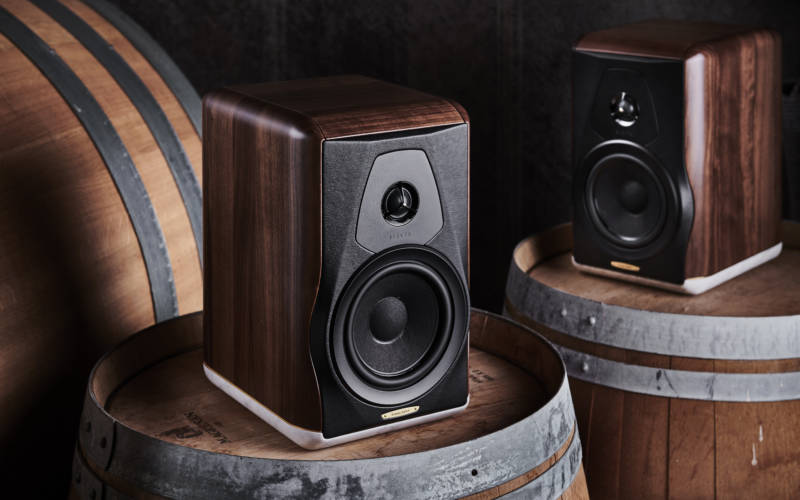 The new 2-way loudspeaker is a gem of Italian expertise and craftsmanship: a small but precious speaker that inherits the characteristics of Electa Amator (1987) and Electa Amator II (1997), two of models that contributed most to the international success of our heritage brand.
Electa Amator III is the achievement of a 30-year journey. The third generation of an iconic product generated by an expression of natural evolution, withholding the elements that make us unique: precious materials, high craftsmanship and natural sound.
The cabinet harmoniously combines; solid walnut wood that becomes an integral body with the Carrara marble base, through a brass insert that illuminates the lines and enhances each material. The combination is a recurring characteristic of Sonus faber creations derived from designers' will to allow the most heterogeneous mechanical behavior possible from each product, for the benefit of the naturalness of the sound.
Hand-applied leather envelopes the rear panel and front baffle which houses the Voice of Sonus faber while dedicated black anodized aluminum columns, filled with damping material and mounted on a Carrara marble base, provide loudspeaker support. Aluminum and marble are separated by a thin brass sheet, consistent with the speaker cabinet.
ELECTRO-ACOUSTIC SOLUTIONS
Electa Amator III is a 2-way bookshelf loudspeaker system; a simple project that features main technologies and design solutions, already used for the last Sonus faber creations:
• A 28mm tweeter featuring the DAD TM – Damped Apex Dome TM technology (the tripod recalls the peculiarity of its predecessor);
• "Paracross topologyTM" crossover design with Clarify Cap ESA capacitors, for a sweeter sound that remember the voice the 90ies models;
• A 6.5 inches mid-woofer specifically developed for this special project.
RETAIL PRICE
The MSRP for the pair of loudspeakers with their stands is 10.000 € (VAT included).
AVAILABILITY ON MARKET
Electa Amator III is realized in one finish and will be available on market starting from November 2018 in Europe and December 2018 in Asia and North America.
DATA SHEET
SYSTEM
2-way bookshelf/standmount vented loudspeaker system.
CABINET
High rigidity spread resonance spectrum system obtained through a 3 layers constrained sandwich construction: Solid walnut main cabinet (made of 25mm thick sheets)/Carrara marble base (30mm thick)/Brass sheet in between. Leather covered baffle and back panel.
TWEETER
H28 XTR-04 DAD Sonus faber design silk dome 28 mm "Arrow Point" DAD tweeter
MIDWOOFER
MW18XTR-04 Sonus faber design 180 mm cone with real time air dried non pressed blend of traditional cellulose pulp, kapok, kenaf and other natural fibers
CROSSOVER
Anti-resonant design, optimized amplitude and phase responses for optimal space/time performance. "Paracross topology". Highest precision components with Clarity Cap PP non-polarized capacitors and low resistance Jantzen inductors. Crossover frequency: 2.500 Hz @-6dB
FREQUENCY RESPONSE
40 Hz – 35.000 Hz
SENSITIVITY
8 dB SPL (2,83V/1 m)
NOMINAL IMPEDANCE
4 ohm
SUGGESTED POWER OUTPUT
AMPLIFIER
35-200W, without clipping
LONG-TERM VOLTAGE (IEC 268-5)
MAX INPUT 20 Vrms
DIMENSIONS (HxWxD)
375 x 235 x 360 mm / 148 x 93 x 142 in
DEDICATED STAND DIMENSION (HxWxD)
720 x 300 x 350 mm / 284 x 118 x 138 in
WEIGHT
14,6 Kg / 32,2 lb each
DEDICATED STAND WEIGHT
9,5 Kg / 21 lb each