ŚWIAT BEZ DRUTÓW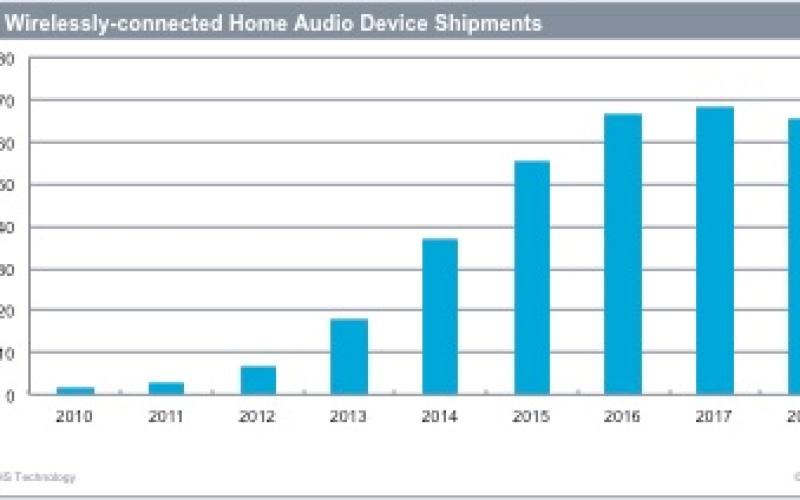 Co napędza rozwinięte rynki audio? Systemy bezprzewodowe. Pokazują to wyraźnie badania firmy IHS
Wireless is Redefining the Home Audio Market, IHS Says
Consumers are flocking to connected wireless speakers
"Growing penetration of tablets and smartphones — combined with an ongoing shift in consumer media consumption preferences toward those devices and streaming services such as Spotify, Pandora, and Deezer — are collectively driving a behavioral shift in how people listen to music inside and outside their homes"
The popularity of mobile devices and changing consumer habits in media consumption are not only increasing demand for wirelessly connected audio devices, but also rapidly altering the home audio landscape, according to new research from IHS Technology (NYSE: IHS), the leading global source of critical information and insight.
Annual shipments of connected audio products, including wireless speakers, wireless soundbars, and connected AV receivers, are expected to grow at a compound annual growth rate (CAGR) of 88 percent, from 1.5 million units in 2010 to nearly 66 million units in 2018, as shown in the figure below.
Within this composite group of products, connected soundbars and wireless speakers are expected to provide noteworthy growth, not just within home audio, but also within the overall consumer electronics market. Combined shipments are forecast to grow at a CAGR of 94 percent over the same period.
"Growing penetration of tablets and smartphones — combined with an ongoing shift in consumer media consumption preferences toward those devices and streaming services such as Spotify, Pandora, and Deezer — are collectively driving a behavioral shift in how people listen to music inside and outside their homes," said Paul Erickson, senior analyst for IHS Technology. "Consumers are seeking ways to wirelessly play audio from their mobile devices on speakers in the room they're in, in multiple rooms in a household, and on speakers carried with them while on the go. This geographically diverse need will drive strong global growth in Wi-Fi and Bluetooth connected speakers over the next few years."
"While the whole wireless speakers category is forecast to grow rapidly, network-connected multi-room speaker systems is the small-but-growing subcategory to watch," Erickson continued. "Heavyweights Samsung, LG, Sony, Bose, Denon, DTS and Qualcomm are all entering the market, with products or platforms designed to take on a rapidly growing segment initially popularized by Sonos."
Although prices for connected multi-room speakers remain high for the average consumer, over the next few years this segment will qualitatively redefine the home-audio-system concept in the consumer psyche. The market for these types of speakers is expected to grow at an already-high CAGR of 112 percent, between 2010 and 2018; however, it is possible that the market could grow even faster, depending on the success of marketing campaigns from major consumer electronics companies Sony, Samsung, and LG, which would drive large-scale mainstream exposure and traction for this previously niche segment of the audio market.
"The decades-old traditional monolithic audio system concept is simply becoming an increasingly niche proposition, primarily for serious enthusiasts," Erickson said. "Over the next few years, wirelessly connected audio, and in particular network-connected speakers, will render the traditional wired audio system an obsolete concept for consumers. Wireless multi-room audio systems will soon be what comes to consumers' minds when they think about home audio."
###
About IHS (www.ihs.com)
IHS (NYSE: IHS) is the leading source of insight, analytics and expertise in critical areas that shape today's business landscape. Businesses and governments in more than 150 countries around the globe rely on the comprehensive content, expert independent analysis and flexible delivery methods of IHS to make high-impact decisions and develop strategies with speed and confidence. IHS has been in business since 1959 and became a publicly traded company on the New York Stock Exchange in 2005. Headquartered in Englewood, Colorado, USA, IHS is committed to sustainable, profitable growth and employs about 8,800 people in 32 countries around the world.