TANNOY KINGDOM ROYAL CARBON BLACK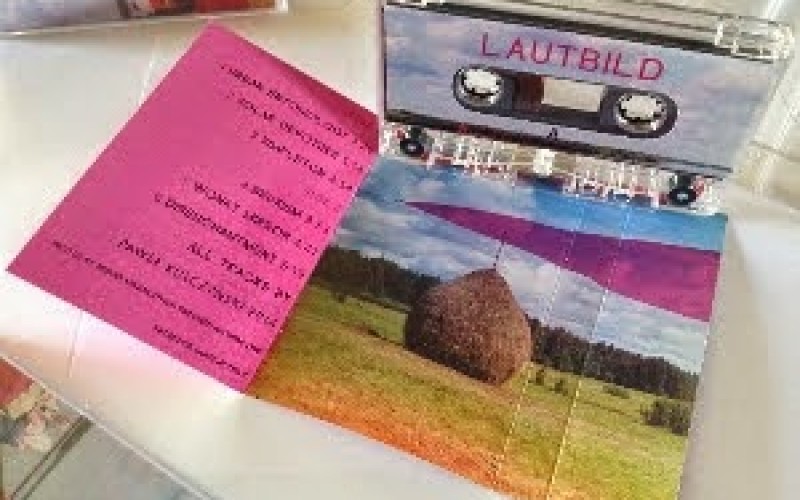 Najpotężniejsze kolumny w 87-letniej historii Tannoya. Jeśli będziecie w przyszłym tygodniu w Las Vegas, wpadnijcie na wystawę CES 2014, gdzie te kosztujące 75 tys. dolarów galeony zostaną po raz pierwszy publicznie zaprezentowane w towarzystwie zaawansowanego streameta Cary Audio. Szczegóły w firmowym zaproszeniu
Cary Audio and Tannoy invite you to join them at the 2014 International Consumer Electronics Show in Las Vegas on January 7-10 in the Venetian Towers Suite 35-209. Both Cary and Tannoy will be unveiling exciting new products for the discerning consumers of premium residential HIFI equipment.
The 2014 CES marks a milestone for Cary Audio as it celebrates its 25th year providing some of the world's finest audio products. For this occasion, Cary Audio will unveil new products that continue to address the importance of digitally-oriented products. At CES 2013, Cary Audio successfully launched its USB 24-bit/192 kHz high-resolution XMOS asynchronous DAC's with the vacuum tube based DAC-100t and solid state DAC-100 to overwhelming critical acclaim providing a top-notch solution for both computer based USB audio and standard S/PDIF inputs.
For CES 2014, Cary Audio will further its reach outside of local computer/USB audio into the world of IP network based computer audio streaming with the new DMS-500. The DMS-500 is a DLNA/UPnP Network Audio Streamer capable of not only 32 Bit / 384kHz high-resolution files, but also native DSD file playback. The DMS-500 will also offer a host of additional features on top of high resolution DLNA/UPnP streaming. Features such as AptX Bluetooth Audio, coaxial and Toslink DAC inputs, Internet radio, Three (3, 2-rear, 1-front) USB type A inputs for connecting external USB hard drives or flash thumb drives, eSata HDD port for super fast data transfer, as well as NAS storage playback. All in a sleek 2U chassis with graphic display and cosmetics reminiscent of their past reference CD-306 SACD Professional Version player.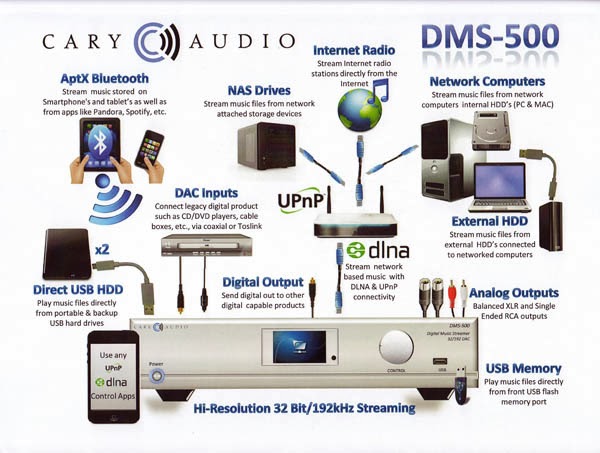 Of course, Cary Audio's rich 25-year history started with vacuum tubes, and the company's commitment to the world's best tube audio products remains fully intact. Combining this history with the "new" is what the HI-200.2 is all about. The HI-200.2 is a hybrid integrated amplifier utilizing a vacuum tube front end section, fully visible via the front panel display, with dual-mono high power UDC Hypex 200 watt Class D amplifier modules. The HI-200.2 also includes a headphone amplifier. The HI-200.2 sits in the same new sleek 2U chassis as the DMS-500, making it a perfect pairing for a state-of-the-art music system addressing all the needs of today's vast array of digital sources with the warmth and richness of vacuum tubes combined with the power and efficiency of Class D in a space saving chassis. Both the DMS-500 and HI-200.2 include balanced XLR and RCA outputs/inputs.
Tannoy invites you to the world's first public audition of the new $75,000, high efficiency, 135 dB-capable Kingdom Royal Carbon Black, the most powerful speaker ever created in the company's 87 year history.
Also enjoying its first showing in North America is the new Prestige Gold Reference (GR) Kensington. The new GR Series is the latest iteration of classic Tannoy Dual Concentric technology that harks back to the ground-breaking Tannoy Gold Reference studio monitors on which so many of the greatest recordings of the 20th Century were mixed.
In our shared suite, we will be displaying two systems as follows. The main room will consist of the Cary Audio flagship CAD-211FE 150 watt tube mono-block power amplifiers in an eye catching red driving Tannoy's stunning new flagship Kingdom Royal Carbon Black speakers with a driver compliment consisting of a 15-inch multi-fibre bass driver, an all-new reference 12-inch Dual Concentric driver that combines an outer bass / midrange section with an ultra-rigid multi-fiber cone and precision edge-wound voice coil with Tannoy's most radical 3-inch heat-tempered aluminum alloy dome HF device. The HF crosses over at 16 kHz to a 1" ceramic-coated magnesium alloy dome SuperTweeter.
The CAD-211FE utilizes the infamous 845 output tubes and 300B driver tubes for a gloriously robust, rich, detailed sound of which only this product is capable. The front end will be the two-stage reference SLP-05 tube preamplifier. Stage one is a separate tube rectification power supply and stage two is an all tube Class A zero feedback audio section. The source will, of course, be the new DMS-500 playing digital files over DLNA and direct from HDD. All components will be wired with WireWorld Platinum or Gold Eclipse 7 Series balanced interconnects and bi-wire speaker cables and Silver Electra 7 power cords with Torus Power conditioning.
In the second room in our suite, we will be demonstrating the Cary Audio DMS-500 music streamer playing various digital files from a direct HDD connection with the HI-200.2 tube hybrid class D integrated amplifier driving the Tannoy Kensington Gold Reference (GR) speakers. Gold Reference further refines the Dual Concentric driver concept, brings cutting edge materials technology to the Prestige range and leverages the sonic benefits of Deep Cryogenic Treatment. Each handcrafted Prestige GR cabinet will be finished with revised real wood veneering and luxury gold finish trim. Tannoy's flagship Gold Reference Dual Concentric 10-inch low frequency driver combines a high-efficiency compression driver with 2-inch heat-treated dome and Alnico motor system, with new, stiffer cone materials to create outstanding dynamics, spacious sound staging and exceptional musical articulation. Like the main system, this one will use all WireWorld cabling. Interconnects will be Eclipse 7 single-ended and Mini Eclipse 7 speaker cables with Electra 7 power cords to Torus Power conditioning.
On display will be the classic Cary Audio SLI-80 all tube integrated amplifier and the USB DAC-100t and DAC-100. Also present in the suite will be Tannoy's Mercury V4i, Revolution DC6t in walnut, Precision 6.2 HG, Definition DC8t HG in cherry wood, and Definition DC10A.
Cary Audio and Tannoy make the perfect partnership. Cary Audio's unswerving insistence on quality and performance in creating some of the finest high-end audio equipment made, combines perfectly with Tannoy's rich heritage, cutting-edge technical innovation and world renowned acoustic engineering. You'll want to hear this inspired collaboration, so make sure you schedule sufficient time in suite 35-209.