TASCAM VL-S3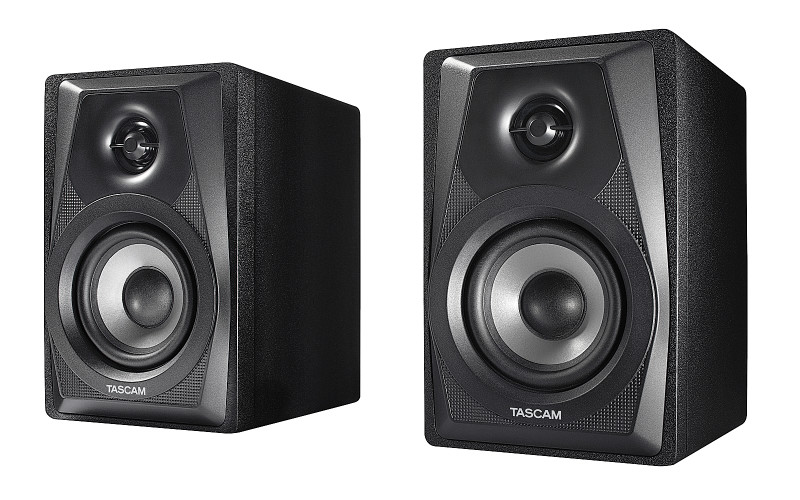 TASCAM releases compact VL-S3 Monitors
TASCAM, the brand synonymous with professional recording products, has released the VL-S3 Powered Desktop Monitor. Hot on the heels of the successful VL-S5 active studio monitors, the VL-S3s combine great sound quality with compact design and affordability. Ideal for use in home studios, where space is limited, the VL-S3 monitors are designed to work seamlessly with audio interfaces such as TASCAM's own US-2×2 and US-4×4. The VL-S3s are also perfect for playback from computers, smartphones or portable music players.
Despite being priced similarly to standard desktop speakers, the VL-S3 monitors provide professional monitoring quality thanks to a 0.5 inch tweeter, a 3 inch woofer and a bass reflex port located in the rear of the cabinet. With a frequency response of 80 Hz to 22 kHz, every sound is reproduced perfectly. The VL-S3s feature an integrated 14W + 14W power amplifier for effective monitoring at any volume level.
With a footprint of just 110mm x 138mm per unit, the VL-S3 monitors are the perfect solution for smaller environments such as bedrooms, dorm rooms or video editing suites. With an ability to fit virtually anywhere, these monitors will not clutter a desktop and can be fitted discreetly below or beside video monitors. A pair of RCA inputs accept any line-level input signal, with a stereo 6.3mm to RCA cable included to connect to a Portastudio, mixer or interface. The VL-S3s also feature a 3.5mm stereo line in for playback from smartphones, tablets or other devices.
Main Features
Power amplifier output: 14 W + 14 W (left speaker cabinet contains the power amplifier)
3-inch woofer, 0.5-inch tweeter
Bass reflex port on rear side
Crossover circuit specially tuned at 8 kHz – well outside the vocal range
RCA terminals (stereo) and 3.5-mm stereo mini unbalanced input (the stereo 3.5-mm mini jack is preferred)
Volume control
Power switch/Power LED
Dedicated AC adapter included (TASCAM PS-P1524E)
Stereo 6.3-mm to RCA adapter cable included
Price £89 per pair