THE MACROPHONE & SIREN MONITOR SPEAKERS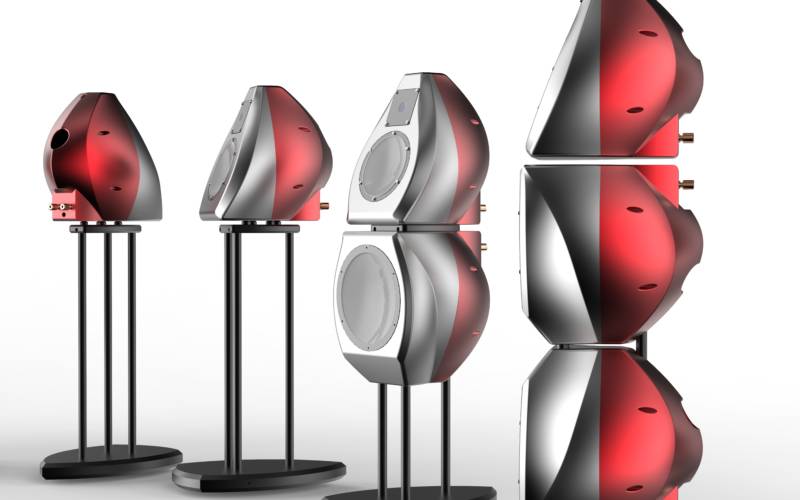 With over 40 years of playback and 25 years of concert recording experience, Kostas Metaxas has once again subverted what is or isn't possible in the aesthetic and state of the art in loudspeaker design.
Once Metaxas perfected the art of CNC machining organic shapes with amplifiers, it opened up similar possibilities with speakers.
CNC allows the sculpting of a shape with incredible rigidity, in a much smaller form factor than is possible with other materials. At the same time it minimizes front baffle diffraction whilst maximizing internal volume for an ideal and extended bass response.
The Macrophones
Mimicking the inverse of the microphones used in purist recordings, the "Macrophones" are mini-monitors designed to be used to seriously monitor recording/playback, which can be scaled with the addition of "modules" to become as miniature for location work to as grand as is necessary for studio or home playback.
They were specifically developed to monitor location recording work for the perfect positioning of microphones in 3D space and to help the recording engineer stereo mix the 4-5 microphone channels in real time to a stereo analogue tape.
Each macrophone is machined in two halves forming an ideal shape to mount the Accuton ceramic drivers and reduce cabinet colourations. The solid CNC-machined solid aluminium essentially extends the ceramic cone supports from the rigid speaker baskets to the entire cabinet.
A pair of Macrophones can fit into a Pelican 1600 series case to be bumped in and out of the most important acoustic venues in the world – Abbey Rd, Musikverein, Concertgebouw , Carnegie Hall or your home.
The Sirens
With more than a passing reference to Homer's Odyssey, the apt metaphor is testimony to the sheer musicality and realism that allows this potent 3-way system, CNC carved from a block of solid aluminium [or titanium] to engage and captivate it's audience with its sound and to invigorate the mind with it's extreme sculptural aesthetic.
Using ideas borrowed from Neumann TLM 50 and M150 microphones, the SIREN embeds the Accuton drivers into spheres mounted onto an organic "time-aligned" sculpture. Despite the unique and unusual shape, the design is a seriously engineered, no-compromise loudspeaker with emphasis on absolute sound quality.
Accuton ultra-low colouration ceramic drivers are used in some of the most expensive systems currently available, but it's only when you marry them to a curvacious, stiff, inert massive machined "body" that you can really hear – and probably for the first time appreciate, their sheer neutrality.
FUTURE PROOF. In a true "bespoke" manner, the actual configuration of drivers can be chosen, Since there are different "levels" of Accuton ceramic drivers , up to and including their ultra-expensive "diamond" tweeter, the customer has a choice of which tweeter, midrange and 8″ woofer they would prefer to use now, or in the future.