THE STATE OF PLAY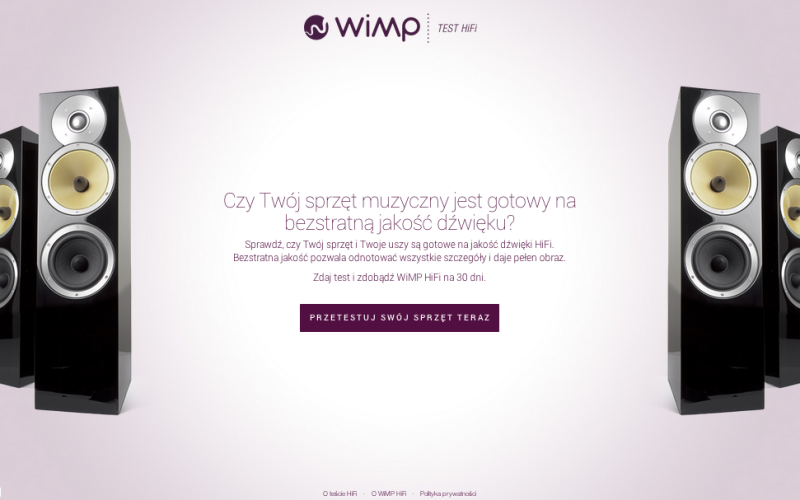 Z badań wynika, że 70 procent konsumentów gotowych jest płacić więcej za dobry dźwięk. Jednocześnie co piąty z nich nie wierzy, że sprzęt audio zaspokoi ich oczekiwania Światowe badania The State of Play przeprowadzone przez firmę CSR, zaangażowaną m.in. w rozwój technologii Bluetooth, pokazują, że użytkownicy cenią sobie w swoich domowych systemach jakość dźwięku i są gotowi wydać w związku z tym więcej pieniędzy. Jednocześnie większość spodziewa się łatwości obsługi, możliwości upgrade'u oraz długotrwałego użytkowania swoich urządzeń. Co ciekawe, 65 procent badanych wierzy w to, że odróżni brzmienie słuchawek za 30 funtów od brzmienia słuchawek za 300 funtów. Prawie tyle samo ankietowanych wyraża przekonanie, że w ciągu następnych 5 lat streaming zdominujde winyle i MP3. Więcej o badaniach CSR - poniżej.
Substance over style for audio consumers – it's the sound that counts
Music lovers ready to invest as only 23% believe the sound quality of their existing audio devices meet their expectations
17 Dec 2014, Cambridge, UK and San Jose, California, USA
Global listeners have become more sophisticated with their audio preferences and have higher expectations regarding sound quality, however, just one in four believe that their current systems are delivering the premium sound they desire. According to research commissioned by CSR plc (LSE:CSR; NASDAQ: CSRE), 82% of those surveyed rate excellent sound quality as one of the most important features in home audio systems with 79% agreeing that the quality of sound is becoming more important than the appearance of devices.
Along with the desire for CD-quality sound everywhere, the research highlights a growing shift to streaming music from the internet, and a preference for easy to install systems that can be networked in the home and accessed through multiple devices, including smartphones and tablets.
The quest for quality
The State of Play global snapshot of listener habits, commissioned by CSR plc, surveyed 2,000 music lovers across China, Germany, USA, Japan and the UK, to find out what drives the audio equipment choices of today and what will drive them in the future. Over three quarters of respondents are prepared to research devices before making a purchase, with 70% willing to pay more to get excellent sound quality from their audio equipment, particularly in the home.
In the UK, consumers are beginning to spend as much on home audio equipment (average of £172) per year as they do on everyday household essentials (average of £201) demonstrating how quality audio equipment has become a necessity in music lovers' lives. Consumers also have less patience for issues like latency, with 81% saying they would be frustrated if the visuals and audio were not synchronized when watching a video.
"Music is hugely important to consumers and a way many of us make a personal statement, manage our emotions and deal with the daily grind. The desire for quality sound, particularly in the home is not surprising, but the fact that consumers are seeking more from their existing home audio equipment is," comments Anthony Murray, Senior Vice President, Business Group at CSR. "While people historically liked to show off the look of their speakers, today they value sound. The fast pace of technology innovation is a key driver for this, because as technology has matured, consumer tolerance for anything less than superior clarity has diminished."
Greater control, simplicity and interoperability
As well as a shift towards digital, more control over music is a priority with 69% of consumers stating that they would listen to more music if they could control music as they move into different rooms. When asked what they would expect from their audio equipment in 10 years' time, 72% of listeners want control over the music playing throughout their home using a mobile device, allowing them to effortlessly change the music they listen to as they move from room to room.
With great confidence in the future of audio, consumers still crave simplicity in setting up and using technology due to varying levels of technical confidence. While four in ten listeners think they are technically adept and up to date with the latest developments, 66% feel that technology changes so fast that it is often hard to find an audio product that is built to last. The top five things respondents look for when it comes to buying a home audio system are that it's easy to use, easy to set up, upgrade and built for the future as well as interoperable between brands and devices.
"Consumers have demonstrated that they view their sound systems and equipment as something worth investing in but they increasingly have less patience for poor sound quality, difficult set up procedures, multiple remotes and devices that aren't interoperable with the equipment they already have. When it comes to the home audio experience, music lovers have high expectations and the opportunity for manufacturers to deliver on this demand is evident," concludes Murray.
Key Stats
The quest for audio quality:
– 77% state that they would like to get better audio sound quality at home, with over half (54%) of listeners saying it would improve their home audio experience
– 65% think they could tell the difference between a £300 and a £30 set of headphones purely by the sound quality
Confidence in technology:
– It is important for home audio technology to be easy to use (76%), set up (69%) and upgrade (57%), to be future-proof (69%) and device/brand agnostic (59%)
– 81% say that they would be frustrated if the visuals and audio were not synchronized when watching a video
– 76% think that controlling devices at home directly from their smartphone or tablet would make their life easier
Listening Preferences across the regions:
– Three quarters (76%) of listeners have streamed music at home in past month
– Similar to those who have played MP3s and music downloads (75%)
– 62% think that in 5 years' time everyone will be streaming their music from the internet / CDs, vinyl and MP3 files will be obsolete
– CDs still mostly popular in Germany (80%), UK (76%) USA/Japan (66%), China (49%)
– Radio is most popular in Germany (84%), UK (80%) and USA (72%)
– China streams the most music from the internet (88%)
– Germany is the most likely to wait for others to try tech devices before buying (63%)
Methodology
The State of Play report incorporates the views of 2,000 interviewees conducted among adults aged 18-65 who own a smartphone, have Wi-Fi® at home, and typically put on and listen to music at home once a week or more often. Fieldwork was conducted online in October and November 2014. The State of Play audio research was conducted and analysed by Loudhouse Research.
Więcej – tutaj.