WALKER AUDIO PROCESSION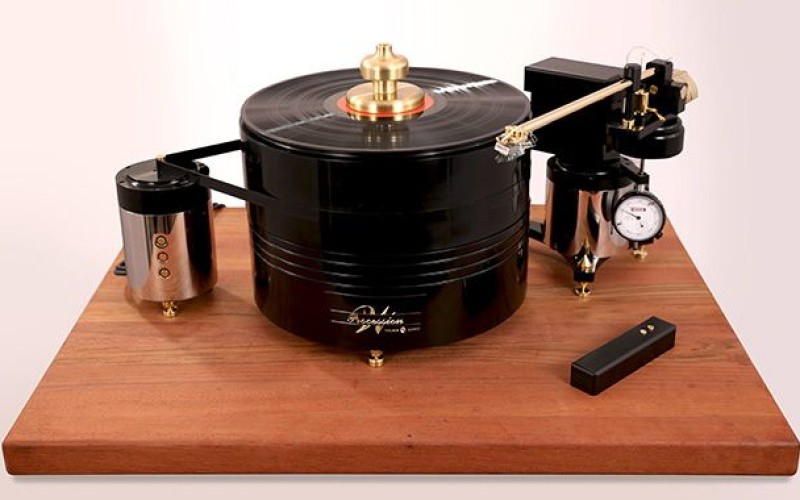 Amerykanie mają w swojej ofercie gramofon Proscenium za 110 tys. dolarów, ale nawet w USA taka cena wydaje się nieco przesadzona. Wyprodukowali więc tani rotator za jedyne 45 tys. zielonych, za to ze zdalnym sterowaniem wysokości ramienia i kąta ustawienia igły. Bez pilota sprzęt jest już prawie za darmo, bo za jedyne 38 tys. łoszyngtonów
Plinth – The four-inch plinth is made from aircraft aluminum and weighs 45 pounds.
Platter – The 30-pound platter is made of one piece of four-inch Delrin® – an engineered thermoplastic known for its strength and stiffness, rigidity, dimensional stability, ability to be machined to close tolerances and low coeffiecient of friction. Each high-mass platter is balanced checked and is relieved for lead-in groove and record label.
Spindle/Spindle Housing– A specially-designed long spindle housing made of a single piece of 3-inch solid brass to provide superior precision and stability. A single, ceramic ball, located at the bottom of the spindle, spins on a proprietary device for precise and trouble-free operation. Zirconia Ceramic bearings are honed to each spindle shaft side to make it self-lubricating and maintenance-free
Record Clamp – The Walker Crystal Reference Clamp with the White Diamond crystal on top and three Black Diamond crystals on the bottom that intercepts and cancels harmful RF interference.
DC Motor – Select your speed with the lightest of touches. Precision Swiss-made motor components using cutting-edge technology featuring true-zero cogging. Speeds are factory set and rock solid. A free app can be downloaded to your computer so you can vary the speeds and set to 78 rpms if desired.
Belt – Comes with two belts.
Arm Pod Assembly – The arm is a 12-inch tri-bearing pivoted arm. The arm pod base is a three-legged, boomerang design of ½-inch thick black Delrin. Each cone-shaped, brass foot has a fine thread for indicating the arm pod into the platter surface. (Allen-type screws and hide-away caps that hide the threads are used. A special tool removes the hide-away cap without scratching.) Each foot also sits on a brass cup in a very small hole, and equipped with a rubber bottom to stick to most surfaces. The boomerang assembly is screwed to a 4-inch round stainless steel housing, which is attached to the top piece of Delrin. The arm box is made of Delrin that is 2-inch squared by 2.750-inches tall.
Mechanisms are brass and ultra-fine stainless steel. The VTA/SRA motor is ultra-quiet, through the use of proprietary gears and threads. Comes with Walker Audio Head Shell Crystals with Black Diamond crystal technology.
Vertical Tracking Angle Arm Pod Motor – The VTA arm pod motor moves up and down 0.001-thousanths at a time to find the perfect sound. (Or hold the button and obtain continuous movement.) Total arm movement is .600-thousanths. (It can be set all the way down, then adjusted to 90-degrees. For a 12-inch arm, movement can be adjusted to up to 92-degrees.) The VTA is easily set to 90-degrees using the included specially-designed tools. Precision dial indicator is used for minute arm adjustments without using a microscope.
Tonearm – The Procession tone arm assembly is made from Delrin, brass, stainless steel and aircraft aluminum, as well as specially designed bearings. Through the use of a proprietary amount of gold plating to the arm tube, users get quality sound with perfect spatial cues. Each arm tube is hand tuned at the factory. The yoke is 2.000-inch wide from bearing to bearing, and is open in the rear allowing sound to travel out the back. Precision geometry enables Zero Tracking forces while moving the VTA.
Precision geometry also facilitates a Zero Vector force, due to the placement of the main bearing location. The Half Moon weight's mass is below the record, to provide a linear, more stable design for incredible Mid-bass and clean bass sound. The cartridge wire is 99.99% silver wire with silver cartridge clips.
Arm Adjustments – Fully adjustable for VTA, overhang, azimuth and anti-skate.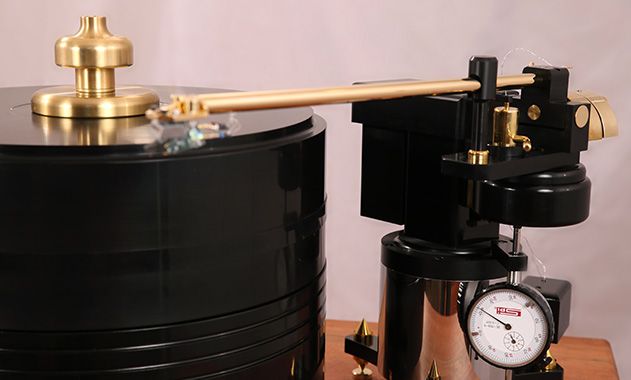 Więcej – tutaj