WESTON UM PRO 20 & UM PRO 30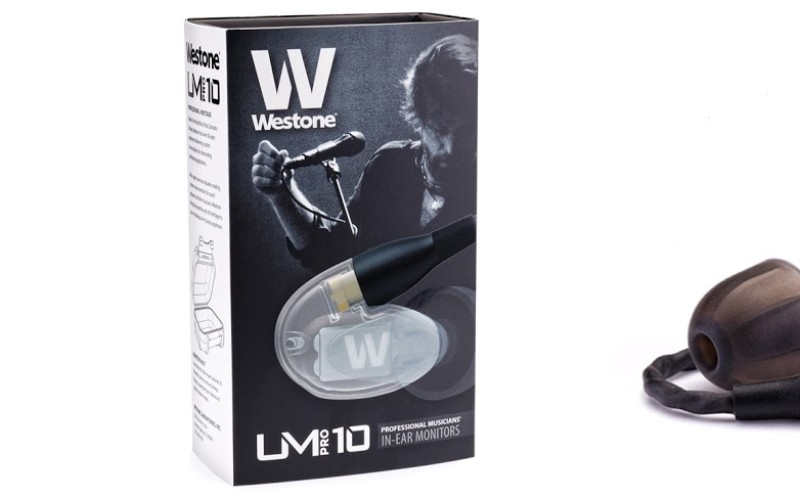 Słuchawki przeznaczone do pracy na scenie i w studio, na pewno sprawdzą się też w normalnym ruchu miejskim
Colorado Springs, CO, – Aug 20, 2013 – Westone, the leader in high performance audio and in-ear monitoring technology, announces the availability of the UM Pro Series headphones. The UM Pro Series 10, 20 and 30 are the next generation of the acclaimed Westone UM Series and bring superior sound for the stage or studio. Each unit is individually hand-crafted in Colorado Springs, USA. The UM Pro 10 is ideal for on-stage monitoring for any level of musician, the UM Pro 20 is ideal for on-stage monitoring for drummers, vocalist and bass players, and the UM Pro 30 is the reference product for on-stage monitoring and home or studio recording.
With Westone True-Fit™ technology, Westone combines 50+ years experience with in-ear applications that has yielded a low-profile, lightweight, universal earpiece which delivers maximum comfort and in-ear coupling for dynamic music monitoring. UM Pros are meticulously built by a staff of dedicated artisans and lab technicians. Westone's USA products exhibit a level of craftsmanship that truly embodies America's rich history of handmade artistry. The UM Pro exemplifies the best in sound and fit available on the market today.
By combining multiple balanced armature drivers with sophisticated crossover networks, UM Pro 20 and 30 monitors provide enhanced sonic detail and frequency range that extend well beyond typical in-ear solutions. All UM Pro Series models feature Westone's robust EPIC replaceable cable, constructed of high-flex, ultra-low resistance tensile wire, reinforced with a special aramid fiber, and braided for ultimate durability, acoustic transparency, and isolation from mechanical cable noise. The new audiophile connector makes this cable solution conveniently user-removable, upgradeable and replaceable.
Westone UM Pro Series features:
EPIC replaceable cable with Up & Over™ cable routing helps prevent microphonics and keeps the earphone securely in place. The patented STAR™ and True-Fit™ Tips come in multiple sizes and give a personalized fit ensuring the best comfort.
UM Pro 10: single balanced armature delivers extraordinary detail and clarity in a compact ergonomic package. UM Pro 20: a professional tool with a dual driver balanced armature design with passive crossover that has the range and raw output for any stage condition.
UM Pro 30: unmatched sound signature tuned for performing artists by artists, the three-way crossover is matched to individual low, mid, and high frequency drivers to make the sound mix smooth and balanced across all frequencies.
"It's a great time to be a Westone enthusiast, especially with all the new products we will be introducing throughout the year. The UM Pro Series is the latest in high performance earphones, designed & engineered for live music and proudly built in the USA," said John F. Lowrey, Vice President, Audio Group at Westone. "The UM Pro Series represents superior sound performance and fit that showcase the detail and clarity of the music."
Included with Universal UM Pro Series are Westone's patented STAR™ silicone tips, True-Fit™ foam tips, wax removal tool and mini-monitor vault. The UM Pro Series are all available in clear and the UM Pro 10 is also available in red, and blue colors.
UM Pro 10 is available with a MSRP of $179.99, UM Pro 20 for $299.99 and UM Pro 30 for $399.99 through authorized dealers and e-retailers including www.earphonesolutions.com