WESTONE 55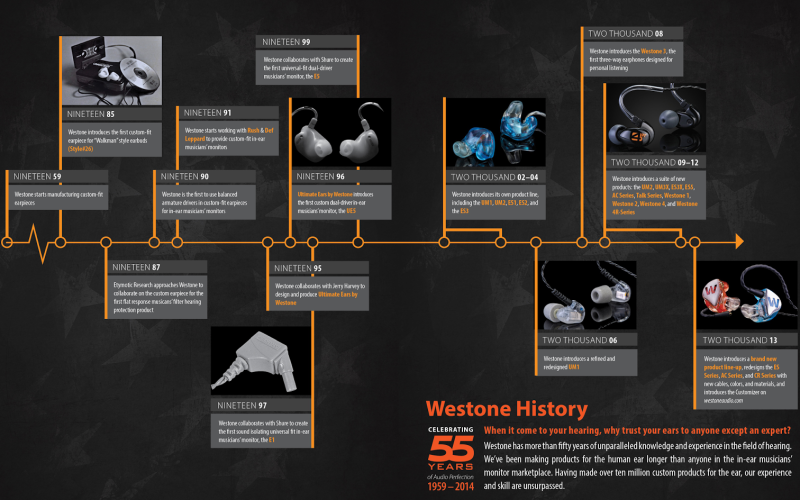 Jedna z najbardziej szanowanych marek audio świętuje w tym roku swoje 55. urodziny
Westone, the leader in high performance audio and in-ear monitoring technology, announces their 55 year anniversary that will be celebrated throughout 2014. The Colorado Springs-based company is recognized around the world for its hearing healthcare product, in-ear monitors worn by musicians, performers, broadcasters and sound technicians, professional-grade hearing protection for military, sports enthusiasts and law enforcement and concert-goers, and in-ear headphones for audiophiles and music lovers.
Westone, founded in the Rocky Mountains in 1959, grew from a family business to become a leading manufacturer of custom-fit earpieces for the hearing healthcare industry. In 1985, the company introduced the first custom-fit earpiece for Sony Walkman-style ear buds, and in 1987 was approached by Etymotic Research to collaborate on the custom earpiece for the first flat response musicians' filter hearing protection product. 1991 was a pivotal year for the company as Rush and Def Leppard among other musicians signed on to wear Westone's first custom-fit in-ear monitors, changing the way monitoring is used in live performances today, though superior sound isolation and clarity rather than stage wedges.
Many major in-ear headphone brands worn today have origins with Westone. The first custom dual-driver in-ear musicians' monitor, the UE5, was introduced in 1996 as Ultimate Ears by Westone, and in 1997 Westone collaborated with Shure to create the first sound isolating universal fit in-ear musicians' monitor, the E1. In recent years, Westone has fitted hundreds of endorsed musicians with their iconic universal and custom-fit earphones, including their most-popular UM1, UM2, UM3X, ES3X, ES5, Westone 4 and Westone 4R models.
Entering their 55th year, the company's latest achievement came at CES 2014 in Las Vegas with the announcement that the new Westone W60 earned the prestigious DigitalTrends "Best of CES 2014" in the headphones category. The DigitalTrends editor said this about the W60s: "Westone's W60 in-ear headphones won this category by packing a monumental six armature drivers into their tiny frame for jaw-dropping sound. Employing two drivers each for the bass, midrange, and treble, the buds offer brilliant clarity, excellent detail, and the kind of smooth, rich warmth at the bottom end that you just don't find in the vast majority of armature-based headphones."
"Westone is one of America's best-kept secrets," said John F. Lowrey, Vice President, Audio Group, Westone. "If you're a fan of music, you've benefited from Westone products either at a concert where your favorite band performed wearing our in-ear monitors, or listening to your iPod or home stereo wearing a pair of high-end in-ear headphones. Our technology has continually elevated the way music is delivered to new highs, while our roots in hearing health care has allowed us to create products that also protect the ears. The reason why Peter Frampton, Third Day, Julio Iglesias, Robin Thicke, The Band Perry and Christina Aguilera come to us for the their in-ear monitors is because they know Westone is the expert in superior music and hearing products."
Each ES and AC Series custom earphones is meticulously built by a staff of dedicated artisans and lab technicians in Colorado Springs, Colorado and truly embodies America's rich history of handmade artistry. Westone is a proud supporter of Hearing Health Foundation and has committed to donate a portion of every earphone sold through 2014 to this organization dedicated to the prevention and cure of hearing loss.
"As an audiologist and the Director of the Hearing Healthcare Division at Westone, I am proud that we have continued to support the hearing healthcare community and industry for 55 years," said Christy Mares, Hearing Healthcare Division Director. "It has always been our mission to provide products and services that protect and enhance hearing for every individual, and we are known worldwide for our custom earpieces for hearing aids, custom hearing protection, music products, specialty communication products for military and law enforcement, as well as professional clinical supplies. We look forward to offering new and innovative products to improve the quality of the hearing experience for the next 55 years."