WESTONE ES60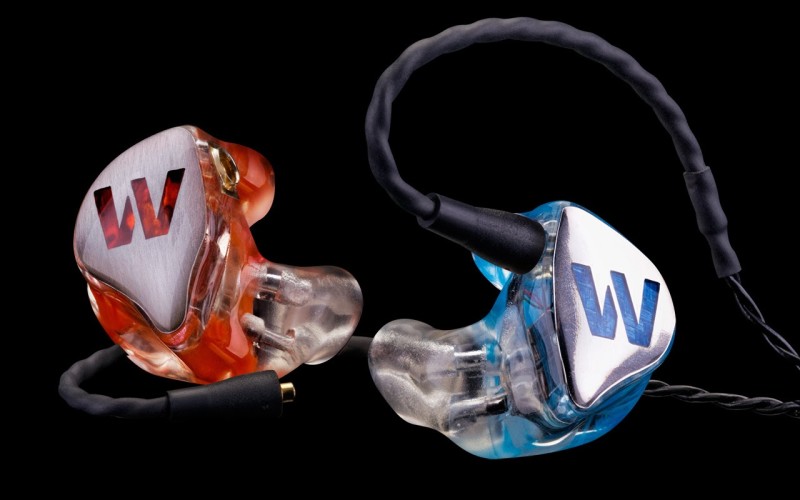 Po sześć przetworników w każdej słuchawce, trwałość, wygoda, możliwość dopasowania dizajnu do własnego gustu. Słuchawki, o których na pewno trzeba pamiętać kupując przenośny odtwarzacz plików hi-res. Cena - 1300 dolarów
Colorado Springs, CO and Anaheim, CA (NAMM) – January 22, 2014 – Westone, the leader in high performance audio and in-ear monitoring technology, will unveil the much-anticipated Elite Series ES60 for the first time at NAMM (National Association of Music Merchants trade show.) The ES60 is the newest in-ear monitor in the Elite Series of high performance earphones designed by musicians specifically for music professionals and audiophiles. The ES60 features Westone's legendary custom True-Fit technology, providing the musician with earpieces that are cast, sculpted and polished by hand from actual impressions of the individual's ears. This precise customization provides the world's most accurate and comfortable fit and acoustic seal possible for the musician, resulting in the best audio performance of any in-ear monitor on the market.
The ES60 is handcrafted with six balanced armature drivers in each earphone and a multistage crossover design that yields unrivaled sonic purity. Westone's Dual Bore technology allows for the IEM's high and low frequency sound components to be channeled through separate passages in the sound port and sum within the user's ear canal instead of the earpiece. This approach results in a more convincing and transparent transition between frequency ranges.
Other notable features of the ES60 custom in-ear monitor include a two material approach to the monitor design consisting of a flex canal, a body temperature-reactive, semisoft earpiece canal additive that offers the user increased comfort and acoustic seal for incredible noise isolation. The cold-pour acrylic earpiece housing provides increased durability and enclosure stability. The ES60 is the ultimate custom in-ear monitor, exceeding even W60, the Westone audiophile earphone that shares many of the same internal components and was named Digital Trends' CES 2014 "Best in Show headphone winner.
Unique custom ES60 options range from real abalone shell to sleek carbon fiber faceplates. Additional materials for the ES60 in-ear monitor faceplates include exotic woods, laser engraving and additional carbon fiber selections. The Elite Series faceplates can be customized with thousands of new colors, materials and design combinations through Westone's online Customizer.
Each Elite Series in-ear monitor is supplied with Westone's robust EPIC cable constructed of bifurcated, high-flex, ultra-low resistance tinsel wire, reinforced with a special aramid fiber. The new EPIC cable is removable and attached to the IEM by a single connector allowing for use with other premium cables from Westone. Additional cables include Apple MFI control and Android control cables.
Westone combines 55 years of experience with in-ear applications that yield a low-profile, lightweight, universal earpiece which delivers maximum comfort and in-ear coupling for dynamic music monitoring. Each ES60 is meticulously custom-built by a staff of dedicated artisans and lab technicians who ensure that every set of custom in-ear monitors exemplify the best in sound and fit available on the market today.
Westone ES60 In-Ear Monitor Features:
Designed with six individual balanced armature drivers and multistage crossover designs
Dual driver for the tweeters, mid-ranges and bass for a powerful yet balanced sound that offers great detail and high energy output
Flex canal and cold-pour acrylic earpiece for durability and enclosure stability
EPIC replaceable cable with Up & Over™ cable routing helps prevent microphonics and keeps the earphone securely in place.
Executive monitor vault – weather resistant travel case
The ES60 is the ultimate in-ear monitor for the serious musician, said John F. Lowrey, Vice President, Audio Group at Westone. Westone Audio created the first in-ear monitors for Rush and Def Leppard, and we're honored and humbled to work with the talented artists who today use our products and trust us for providing top-rated monitors. The ES60 was created and designed by musicians for musicians, and we are elated to be part of the on-stage presentation of music, the one art form that's universally appreciated.
The ES60 is available with a base MSRP of $1299.99 (price varies based on custom materials and configurations selected) through authorized dealers and e-retailers.