WESTONE UM PRO 50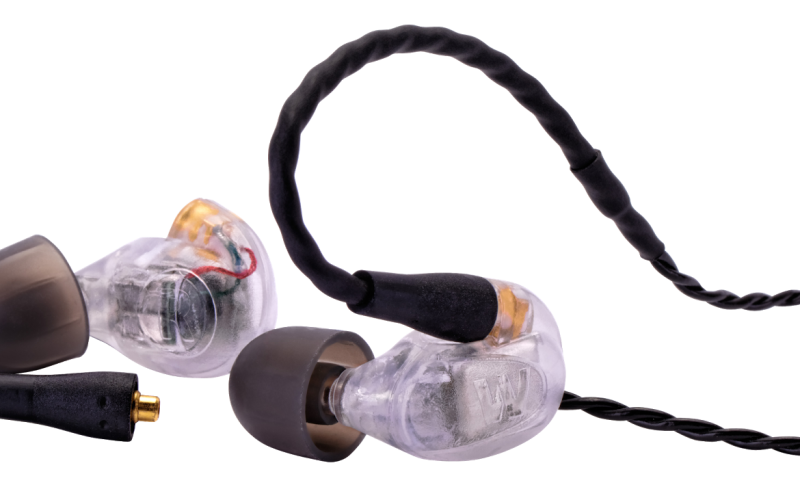 Słuchawki do pracy w studio i na scenie. W ruchu ulicznym też się sprawdzą doskonale
The UM Pro Series 50 is the first signature model of the acclaimed Westone UM Series. The Signature Series brings superior sound for the stage or studio. Each unit is individually handcrafted in Colorado Springs, USA. The UM Pro 50 is the first professional universal-fit headphone from Westone with five balanced armature drivers per unit, delivering reference level sound and isolation for the stage or studio.
The UM Pro 50 combines five balanced armature drivers with a sophisticated three-way passive crossover network, providing enhanced sonic detail and a frequency range that extend well beyond typical in-ear solutions. Like every UM Pro Series model, the UM Pro 50 features Westone's robust EPIC replaceable cable, constructed of high-flex, ultra-low resistance tensile wire reinforced with a special aramid fiber, and braided for ultimate durability, acoustic transparency, and isolation from mechanical cable noise. The new audiophile connector makes this cable solution conveniently user-removable, upgradeable and replaceable with a number of new and current Westone cable solutions.
With Westone True-Fit™ technology, Westone combines 55 years of experience with in-ear applications that yield a low-profile, lightweight, universal earpiece which delivers maximum comfort and in-ear coupling for dynamic music monitoring. Each UM Pro 50 is meticulously built by a staff of dedicated artisans and lab technicians who ensure that every set of in-ear monitors exemplify the best in sound and fit available on the market today.
Westone UM Pro Series 50 features:
Designed with five balanced armature drivers and a three-way crossover, the UM Pro 50 is the pinnacle of design, comfort and fidelity.
Sensitivity: 115dB @ 1mW
Frequency Response: 20 Hz – 20kHz
Impedance: 45 ohms @ 1KHz
EPIC replaceable cable with Up & Over™ cable routing helps prevent microphonics and keeps the earphone securely in place.
Patented STAR™ and True-Fit™ Tips come in multiple sizes and give a personalized fit ensuring the best comfort.
New audiophile connector guarantees interoperability with Westone's reflective Adventure Series Alpha (ADV) MFI cable, Android cable, and W-Series MFi cable.
Compatible with Westone's UM56 Custom Adapters, the perfect fit for a universal earphone. (Ear impressions are required. Additional charge: $149.00 silicone.)
"UM Pro 50 is the first product in our Signature Series that comprises the best of all the Westone products that we build. The UM Pro 50 features the most advanced drivers that we craft right now and are designed to be a great alternative to our ES5 customs," said John F. Lowrey, Vice President, Audio Group at Westone. "These are by far the best UM Series we have built with unmatched sound performance and great detail that musicians will love. Pure music defined."
UM Pro 50 is available with a MSRP of $699.99 through authorized dealers and e-retailers.