YAMAHA GT-5000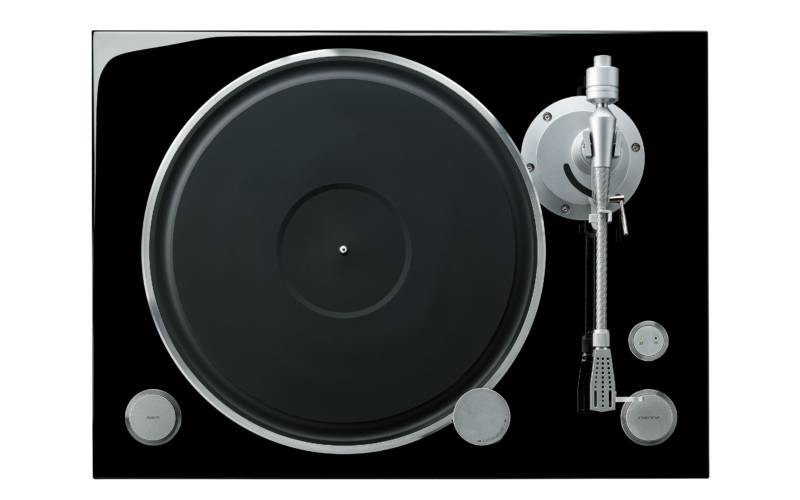 Referencing the esteemed turntables of the golden age of Hi-Fi, the GT-5000 expands on this heritage in the pursuit of pure musicality.
Including a pure straight and short arm for absolute transparency and openness in sound, balanced signal path delivering absolute purity in signal transmission and design reflective of the GT heritage and absolute quality in craftsmanship and construction, the GT-5000 presents a new era on Hi-Fi from Yamaha. A sound both for the ears and the soul.
Balanced output achieves full balanced signal process from cartridge to speaker
GT Series design
Straight, short arm for transparency and openness in sound
Custom belt-drive mechanism (AC synchronous motor)
5 kg aluminium platter
Turntable
Drive Method
Belt drive
Motor
AC synhronous motor
Motor Drive
Crystal sine wave
Rotation Speed
33-1/3 rpm, 45 rpm
Rotation Speed Variation
±0.1%
Rotation Speed Adjustment
Built-in crystal osc. Adjustment Step: 0.1%, Adjustment Range: ±1.5%
Wow And Flutter
less than 0.04%
Platter
[Outer] Machined aluminium (Diameter 35 cm), [Inner] Brass (Diameter 14.3 cm),
Tonearm
Tonearm
Static balance straight tonearm
Effective Arm Length
223 mm
Underhang
17 mm
Acceptable Cartridge Weight
13.5-36 g (including headshell) / (25-36 g need sub weight)
Attached Cartridge
Head-shell Weight
10 g (including screws, nuts and wires)
Audio Specifications
Output Terminal
Analogue Audio: 2 (XLR balance x 1, RCA unbalance x 1), Strobe: 1 (3.5 mm mini jack)
General
Power Consumption
15 W
Dimension (W×H×D)
544 x 256 x 410 mm; 21-3/8" x 10-1/8" x 16-1/8"
Weight
26.5 kg; 58.4 lbs.