Z APTECZKI AUDIOFILA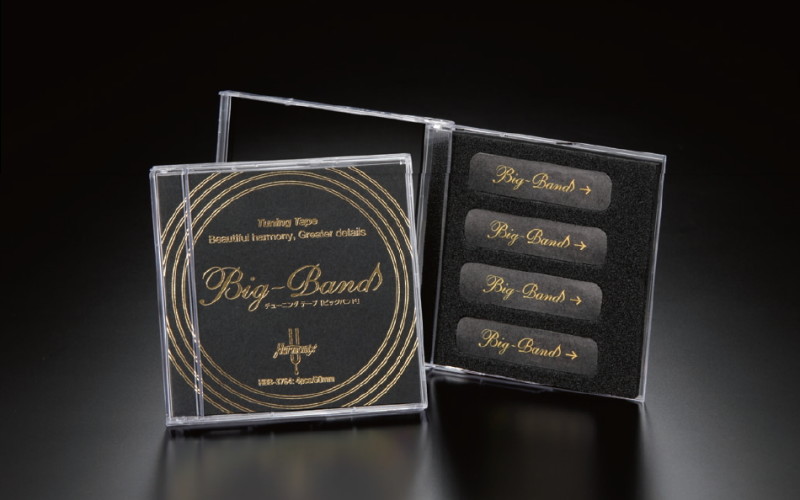 Panie i Panowie! Mamy! Pierwsze audiofilskie plastry na świecie!
Plastry wyprodukowała znana japońska firma Harmonix. Nazywają się Big-Band i są opatrunkiem na wszelkiego rodzaju przewody – zarówno cyfrowe, jak i analogowe. Nadają się zatem do tuningowania kabli głośnikowych, sygnałowych, zasilających i słuchawkowych. Można nimi także leczyć ramiona gramofonowe. Zostały wykonane z tradycyjnego japońskiego papieru washi oraz cienkiej warstwy miedzi. Naklejamy je symetrycznie, nie tkniemy i nie nakładamy na gorące elementy. Dostępne są w dwóch rozmiarach. Nie znamy, niestety, ich ceny, ale wszyscy zdają sobie chyba sprawę, że warte są każdych pieniędzy. Szczegóły – poniżej.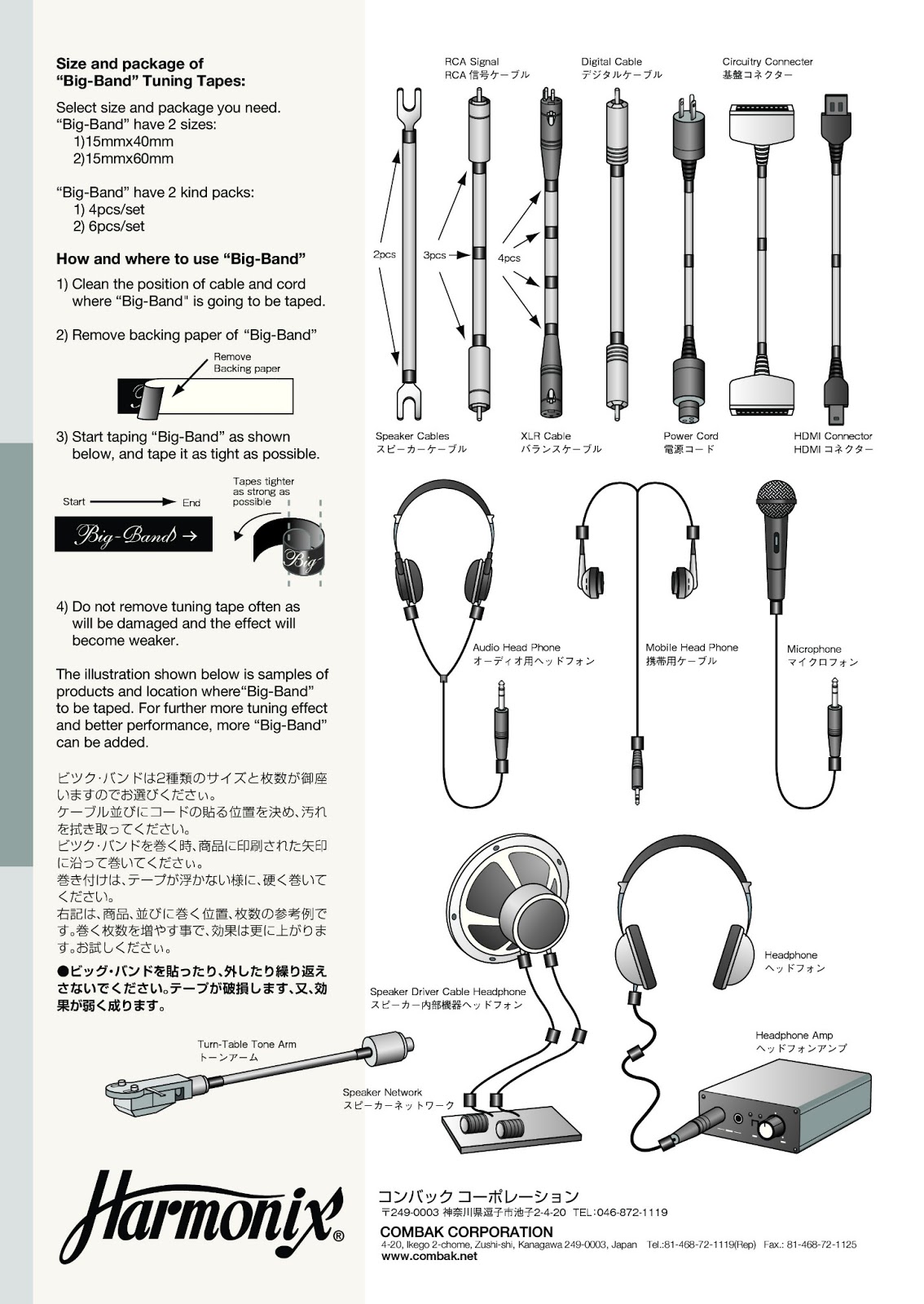 "Big-Band" Ultimate Tuning Tapes
For exquisite music reproduction
Over years of research and studies, unprecedented and unique tuning tapes "Big-Band" has been developed that can ultimate signal flow of signal cables to include analog and digital. it also significantly improve the current conductance of AC power cords.
Due to the increasing popularity of easy and handy IT music entertainment tools such as mobile and smart phones, the opportunity in use of headsets and headphones have been sharply in growth. Even sophisticated headsets and headphones designs, the problems for the resonance phenomena and their effect, however, have been remained unchanged.
Harmonix "Big-Band" tuning tapes, likewise, other Harmonix tuning devices such as RF-5700, improve the signal transmission when applied to analog and digital signal cables, headphone cables and speaker cables, and better conductance when applied to power cords.
In case, the sound quality of Car audio systems matter seriously, "Big-Band" tuning tapes will do the same improvement of car audio systems as well.
The improvement is no least and let car drivers comfortably relax and increasing more pleasant in listening car audio systems.
Moreover, "Big-Band" can also tune the tone-arm of analog LP players.
Tuned with "Big-Band", the sound quality will become much more natural with rich details and harmony. "Big-Band", in many respects, acquire better appreciate the ambient information of a live musical performance and promises serious music listeners to satisfy and increasing the joy of music listening entertainment in any cases.
Packages Set of 4 pcs or set of 6 pcs
Size 15mm x 40mm or 15mm x 60mm
Thickness 0.5mm flexible
Materials Special made Japanese "Washi" and copper sheet.
Availability July 10, 2013
Caution
1) Do not cut the Tuning tape. (if did, no longer effect.)
2) Do not use on heating elements.
3) Dry cloth only to clean the surface of the tuning tape.