KEITH MONKS DISCOVERY MINI ONE SAPPHIRE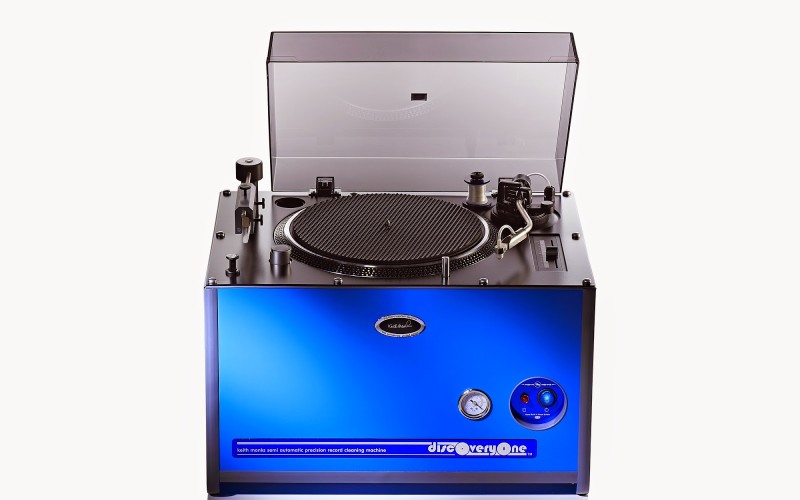 W historii ludzkości nigdy do tej pory żadna automatyczna zmywarka do winyli nie była w stanie konkurować urodą z Penelopą Cruz, Natalią Portman i Anją Rubik. Aż do dzisiaj. Przed państwem delirycznie piękna, hipnotycznie doskonała i bezapelacyjnie perfekcyjna pralka do płyt za 2495 euro w limitowanej serii 45 egzemplarzy wypuszczonej przez firmę, która pucuje albumy dla samej BBC
Celebrating 45 years of the original – the Keith Monks Record Cleaning Machine
Keith Monks Audio today unveiled the new discOvery mini One Sapphire Limited Edition Record Cleaning Machine. This exclusive model takes all the benefits of the discOveryOne so successfully launched in 2013, and then improves on it. The Sapphire is the smallest ever Keith Monks and features a vacuum gauge, hinged lid cover and the Keith Monks Classic precision wash system built in. Each Sapphire machine and its accompanying certificate are individually numbered, and both display a reproduction Keith Monks original signature.
The discOvery mini One Sapphire is a limited edition of 45 production units worldwide.
Keith Monks discOveryOne machines bring the original record cleaning technique developed with and so prized by the BBC, the US Library of Congress and the British Library National Sound Archive in a compact, easier and more affordable package. Jonathan Monks – The Record Doctor and son of Keith – will be demonstrating the new limited edition Sapphire at CES 2015 in Suite 29-139 of the Venetian Hotel.
Key Features: discOvery mini One
· New extra compact footprint – the smallest Keith Monks: easier than ever to site at home or in store
· New retro sports car style vacuum gauge – fascinating focal point as well as useful performance monitoring
· New hinged lift-up smoked translucent lid cover
· Reproduction Keith Monks original signature on exclusive oval plaque
· Exclusive numbered certificate with reproduction Keith Monks and hand signed Jonathan Monks signatures
· Beautiful deep blue cabinet – exclusive to the Sapphire
· Strictly limited to 45 production units worldwide.
Key Features: discOveryOne series
· Tried and trusted technique from the originators of electric record cleaning
· Zero Recontamination – the fluid and the part of machine touching the record both only ever used once. The only technique that guarantees consistently perfect results, every record, every time
· Original Keith Monks Point Suction Precision Clean vacuum system
· Both sides of an LP completely clean in under 3 minutes
· Semi-automatic operation – very simple and intuitive to use – perfect for self service by customers in Keith Monks cleaning centers
· Auto off at end of dry cycle – "human intervention" now down to just a few seconds per side.
· Automatic reel out of suction thread
· Auto shutdown when waste jar is full
· Quietest electric record cleaner
· Whisper quiet medical grade diaphragm suction pump – compact version of the BBC specification vacuum pump
· SuperSilent professional direct drive turntable
· Classic Keith Monks precision wash system with built in Mini Cooper wash pump
· Every drop of contaminated fluid removed
· Fresh, unused, uncontaminated cleaning fluid for every record
· Fresh, unused, uncontaminated contact with machine for every record
· All professional and medical grade parts engineered for long life and reliability
· Almost all the automation of newer techniques – in half the time.
The timing is also perfect as the new structure of the company comes into effect. The success of the discOveryOne though welcome has proven a challenge for the old structure to keep up with. Training of new staff in administration as well as technical and production is nearing completion and will produce a marked improvement in response and turnround times.
The limited edition discOvery mini One Sapphire will be available from selected Keith Monks specialty retailers while stocks last, in the US for $3795, in Europe for Euro 2495, and in the UK for £1995.
Background
Jon and his father both agreed on the three key issues of record cleaning: Firstly, the washed record must be left completely dry and free of all contaminants accumulated both before and during the cleaning process. And secondly, to ensure regular usage the experience must be as pleasurable – and quiet – as it is effective. Jon's new design stays faithful to these original vital concepts while adding and enhancing a few of his own.
Washing the record is a simple process of applying cleaning fluid using the on-deck Mini Cooper washer pump and classic Keith Monks precision wash system. The original Keith Monks Point Suction nozzle then vacuums up all traces of fluids and contaminants – but unlike the traditional Keith Monks machines, it automatically shuts itself off at the end of the side. So the user needs spend only a few seconds operating the machine for each record side.
The recommended Keith Monks discOvery Natural Precision cleaning fluid is always fresh and previously unused, and contact with the record during the Precision Clean vacuuming process is by a virgin piece of buffer thread that is constantly renewed. This combination promises Zero Recontamination, making the Keith Monks the only system to guarantee consistently perfect results on every record cleaned.
A critical point that many miss is that a record cleaner must be quiet enough to enjoy the record you've just cleaned, while you are cleaning the next. Without this simple and obvious feature, record cleaning becomes a chore and fewer records are cleaned. The discOveryOne Sapphire is the quietest electric record cleaner (below 37dB C weighted 1metre).
Vinyl record sales are growing worldwide and more enthusiasts including younger age groups are finding, or experiencing again, that vinyl records deliver music and emotion that most newer playback systems seem to have missed.
BBC News recently reported, 'More than one million vinyl records have been sold in the UK so far this year – the first time the milestone has been achieved since 1996". Close to 10 million records were sold in the USA in 2014
Pre-owned records are a fabulous source of music often at very attractive prices and here a good record cleaner is ideal for restoring the best performance. Cleaning also improves the performance from new records as it removes the excessive mold release agent frequently left after manufacture.
Keith Monks. "Making records sound better since 1969."