SIR GEORGE MARTIN SIGNATURE CUSTOM EARPHONES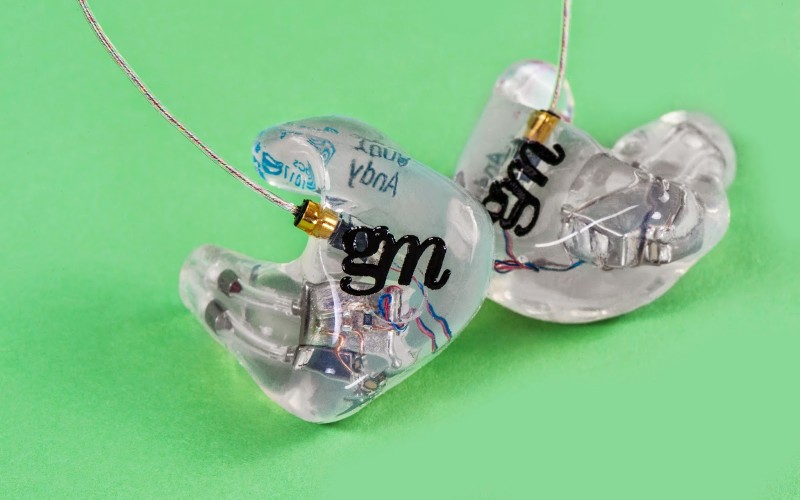 Limitowana seria monitorów sygnowana nazwiskiem legendarnego producenta Beatlesów. Powstały przy współpracy Meridiana, kosztują 2250 funtów, część dochodu zostanie przeznaczona na fundusz wspierający niesłyszących
Introducing the Sir George Martin Signature Custom Earphones
27th February 2015 – Great British brands pool resources to create unique earphones to raise money for Action On Hearing Loss, the UK's largest hearing loss charity.
Banbury – Advanced Communication Solutions (ACS) is delighted to announce its partnership with other leading British companies Meridian Audio and Asprey to create 1,000 very special sets of limited edition, bespoke moulded earphones, endorsed by legendary Beatles producer Sir George Martin, with a generous donation from each set going towards funding vital research being carried out by UK charity Action on Hearing Loss.
ACS-GM-2Further enhancing the package is a signed, limited edition portrait of Sir George painted by legendary drummer and painter Gilson Lavis.
The concept of the Sir George Martin Signature Custom Earphone was sparked by Sir George's desire to encourage research, education and awareness of the life-changing impact of noise-damaged hearing loss. After a discussion between Sir George and ACS founder Andy Shiach, this unique collaboration was formed to protect people's hearing and raise vital funds for Action on Hearing Loss, the only UK charity dedicated to funding research into treatments, devices and cures for hearing loss and tinnitus.
"The George Martin Signature Series earphones designed by ACS are at the cutting edge of earphone technology allowing you to experience the music you love with clarity at a safe sound level. I am also very grateful to ACS for supporting Deafness Research UK's important work with a generous donation from the sale of each set of George Martin Signature Series earphones." Sir George Martin
ACS-GM-PackageThe result is the launch of this unique earphone package, which is based on the ACS Pro-Audio Custom In Ear Monitor Series. Each earphone contains three perfectly balanced miniature speakers – a large dedicated bass speaker for sub frequencies and upper bass, a mid-range speaker for low and high midrange frequencies and a tweeter for the high frequency range. A three-way crossover directs the correct frequency range to the right speaker, with all of the speakers and electronics housed in ACS's renowned soft silicone custom ear mould. Cabling is taken care of by ACS's new revolutionary Linum® cable series, which was designed by Danish micro cable specialist Estron®. Each cable is made up of 6 litz wire conductors of 7 individual strands, with each strand constructed from silver plated copper with enamel coating, ensuring no colouration of the sound and an extremely reliable connection. The earphones are delivered with an innovative UK developed and manufactured hearing dose management unit, HDMPro, designed to keep the output from the earphones within the limits set by the EU noise at work legislation.
To package this quintessentially British product, Asprey, who since 1781 has developed into the finest British jeweller and luxury goods house, were commissioned to design and manufacture the beautiful, individually hand-crafted presentation case that accompanies each pair of Sir George Martin Signature Custom Earphones.
Meridian Audio, winners of the Design Council Outstanding British Product Award an unprecedented three times and who continue to push the boundaries of sound, also add British excellence to the offering. Their new Meridian Explorer2 digital to analogue converter (DAC) unit is also included, allowing users of the 1,000-run earphones to hear digital music in a way they never imagined.
To further enhance the uniqueness of this exclusive product, legendary UK drummer and painter Gilson Lavis was commissioned to paint Sir George's portrait and a signed and numbered print is included as part of this very Best of British offering, making this product a truly once-in-a-lifetime exclusive.
The 'George Martin Signature Series' is a strictly limited edition. There will only be 1000 pairs available worldwide with a UK SRP of £2250.00 including a donation of £250.00 to charity Action on Hearing Loss.
Considered one of the greatest record producers of all time, Sir George Henry Martin CBE has touched the lives of millions of people through music. Sir George, two-time Ivor Novello and multi-Grammy award recipient, played a significant role in the meteoric rise of The Beatles. He produced two of the greatest Bond themes in 'Goldfinger' and 'Live and Let Die' and has amassed the most No 1 singles of any producer in the world. This legendary gentleman has given so much to his craft in his pursuit of perfection but the many years spent in studios, listening at high volume levels has taken it's toll on his hearing. In an irony of the cruellest kind, Sir George is no longer able to enjoy listening to music.
About ACS
Over the past 20 years, ACS has built its reputation as one of the world leaders in delivering the best hearing conservation and safe, high-end audio products. Many years ago, ACS founder Andy Shiach's hearing was permanently damaged through noise trauma in a rehearsal studio and his music career was abruptly ended. His desire to stop what happened to him happening to others led to the establishment of ACS and today, tens of thousands of people protect their hearing with ACS products. Many performing artists around the globe use ACS custom made in ear monitors. These technological marvels produce an incredible audio experience that allows artists and musicians to deliver a live performance while listening to studio quality sound at a safe level. Visit: www.acscustom.com
About Action on Hearing Loss
Action on Hearing Loss (formerly the Royal National Institute for Deaf people, RNID) is the UK's largest hearing loss charity. The charity runs hundreds of community services across the UK; a national information helpline and friendly online advice forums. It provides personalised care for people who are deaf with additional needs; and campaigns to improve equality and life choices for deaf people as well as to help people protect their hearing. Action on Hearing Loss is also the only UK charity dedicated to funding research into treatments and cures for hearing loss and tinnitus. A 'Cinderella' condition; for every person affected by hearing loss, just £1.34 is spent on finding a cure. Visit: www.actiononhearingloss.org.uk
About Meridian Audio
Meridian Audio, based in Cambridgeshire, UK, was founded in 1977 by two music lovers: psychoacoustics expert Bob Stuart and design engineer Allen Boothroyd. With almost 40 years of innovation and development of consumer home entertainment systems offering exceptional performance, Meridian Audio is recognised as a world leader in high-quality audio and video reproduction. Meridian developed the world's first audiophile CD player, digital surround controller and digital loudspeaker; and the MLP lossless packing system included in Blu-ray Disc. The company's award-winning optical disc players, DSP loudspeakers, video systems, streaming and personal audio products are unique in the industry, maintaining a super-quality digital signal from the studio to the home, using advanced digital signal processing to deliver natural sound and crystal-sharp images.